Welcome to the 57th episode of The Author Hangout, a podcast designed to help authors, especially self-published and indie authors, with marketing their books and improving their author platform. Authors struggle with various aspects of marketing and we are here to help!
"When the producer sees that you have a segment that's really great and that is going to be good for his audience and you're an expert then it's a no-brainer."– Rob Kosberg
Radio and Media for Authors
In this episode, we talked to bestselling author and owner of Bestseller Publishing, Rob Kosberg, who shared some great tips about how he exploded his book sales and business by getting on the radio and using other media like that to promote his book.
Listen to the Show / Podcast
Podcast: Play in new window | Download (25.0MB)
Subscribe: RSS
Episode Resources:

Intro
He's an international, best-selling author, speaker, entrepreneur and marketing coach who teaches others how to create professional best-selling books that they can use to grow their income through lead generation strategies, free publicity and speaking engagements. Besides authoring the popular book Life After Debt, Rob founded bestsellerpublisher.org and has appeared on a number of prominent media channels including NBC, CBS and Fox News. Here to share his story is the creator of the Trademarked Publish. Promote. Profit. Program, Rob Kosberg.
How did you become an author and publish your first book?
This is Rob's story:
"I don't come from the publishing or writer/author background. For me, it was much more about a means to an end. Now I fell in love with it but that was kind of a roundabout circuities course if you will. So in the early 2000s, I owned a real estate company, actually three companies in Florida in the real estate industry. I owned a real estate company, a mortgage company and a title company and we were doing over a $100 million a year in closings. My full income was about $2.5 million a year, I owned millions of dollars in real estate. All those things sounds terrific of course until you remember what things took place in 2007, 8 and 9 and we got devastated… I was in a group that had suggested a marketing group, I've always been somebody interested in learning to market my business, grow my business, be successful and several of these guys were authors and had built significant business and real authority statuses as authors and they suggested I'd write a book and so long story short, I wrote a book Life After Debt in 2008 to help give me some authority and credibility in a new industry for me where I didn't know anybody. I didn't have a list, I didn't have any authority and that was in the financial services industry. So I made every mistake imaginable. I wasted tens of thousands of dollars, I hired a ghost writer that was a failure. I just was a rookie, I made all the mistakes and but eventually I got the book written. I launched the book and the book became successful. It became a bestseller and it started positioning me for media that I had never really done before and I latched onto radio, I had been offered speaking engagements and different things."
What is your most recent book or project?
He shares his latest project:
"Bestseller Publishing was a blessing in a sense to me because it was never a plan. It came to me and in some ways I'm so thankful for the challenges I went through because I would not have ended up here and what I do, I love and so basically started because in 2009, 2010, 2011, people just started coming to me and saying, "How did you do it? How did you reinvent yourself? How did you grow this business in the worst economy in our generation?" I said the truth, I said I did it with a book and so people started asking me, "I don't know how to do that. Can you help me to do it?" And of course a lot has changed in the 4 years since we started in 2011 but basically I just began with all the mistakes that I made and said if I could shortcut, create a shortcut for people that doesn't cost them the money and the time that it cost me, then this could really be a blessing and a benefit to them and so Bestseller Publishing was born. Of course it's morphed over the 4 years but we work with two basic types of people and that's the person that already has a book and maybe the book isn't as successful as they wanted it to be or it just isn't published yet and so they need some help there. The other type of person is someone that's been wanting to write a book for some time, for a number of reasons, some of which I've mentioned, other reasons as well and they need help in writing the book. We call it publish, which is the writing face. Promote, which is making it a bestseller. Then profit, which is getting all authors positioned on TV, on the radio and that kind of thing."
Rob also shared a case study from Bestseller Publishing, so be sure to listen to the podcast to hear this case study.
How can authors get their books in front of different media?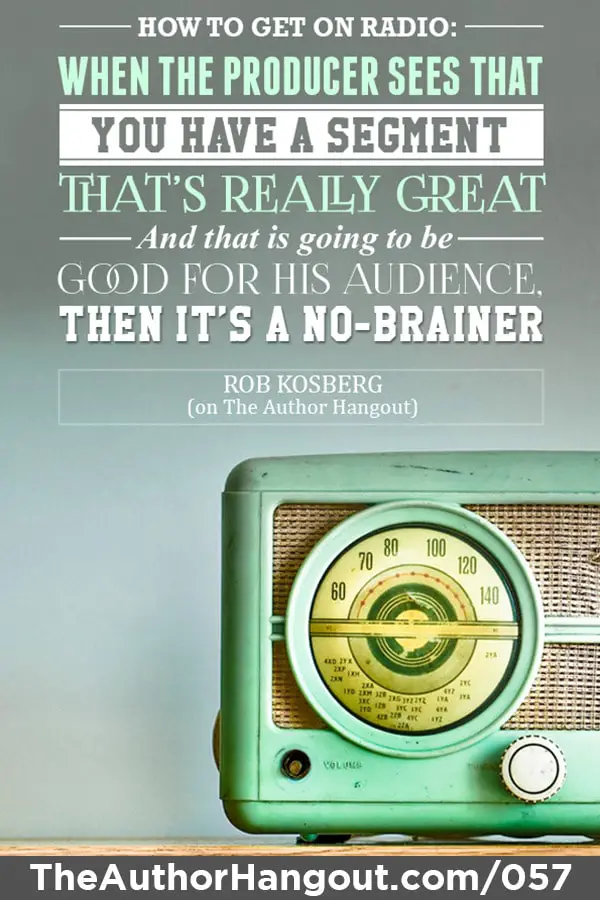 It really is easier than you might think, but it does take some work:
"You have to think about what the producer at ABC, NBC, Fox, wherever, what the producer is looking for. So the producer has a job and the producer doesn't want to get fired and wants to be promoted, wants to go to a bigger market place, to do that, they need to book really interesting guests that will be interesting to their public, to their audience and that aren't going to make a fool out of them and make them look like idiots for booking them. I mean it's just human nature right? So what you have to give to the producer is, and we call it, I have a couple of things on my blog where we have our media formula if you will, you have to show the producer that you're an expert on your topic. So the first way you do that is you're a bestselling author. Immediately producers understand that authors, especially bestselling authors are experts. Now that isn't enough because they want to make sure that you're not going to make a fool of yourself on TV and that you have a segment or a segment proposal that is attractive to the audience. So you start with expert status then you create a segment proposal that is attractive to the producer's audience. When the producer sees that you have a segment that's really great and that is going to be good for his audience and you're an expert then it's a no-brainer. All you have to do really is get that message in front of producers and they'll book you over and over and over again."
What one marketing tactic is really working well?
He shared a great tactic about giving away your book:
"If you have other opportunities, take for example that, lets say you have a series of books and you want to get people interested in your series, well giving away the first book in the series, if it's awesome, is going to help build your audience to buy book 2, book 3, book 4, book 5, book 8, etc. So all we were doing was building our audience, giving the people that really wanted more than a book, they wanted help, an opportunity to get help from us and it works, it worked in 2008, 9, and 10, it works today for our authors."
He also shared a great reason to give away your book for free, so listen to the podcast so that you don't miss out on that.
If you started over today, what 3 things would you tell yourself to help you sell more books?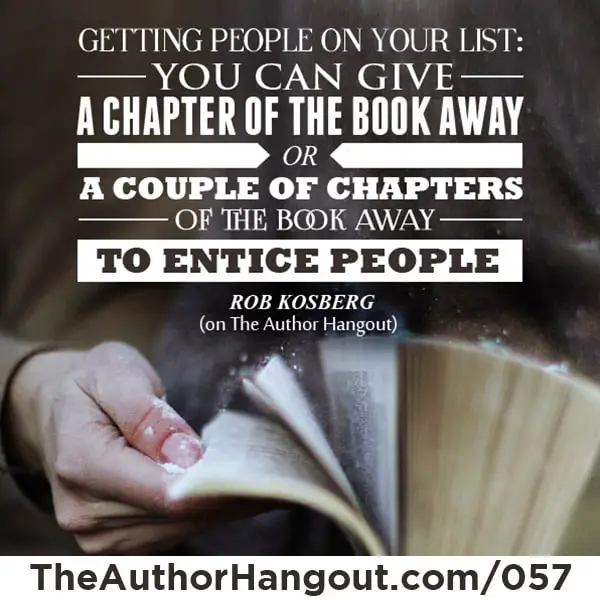 Here's Rob's take on our popular question:
"The first thing I have to do is I have to the capability to via website and simple automation to offer something to people so that they would want to be a part of my list, build an email list to people. It's not expensive to do that and there are very simple tools that you can use to do that without giving the book away. You can give a chapter of the book away or a couple of chapters of the book away to entice people to do that. I'm going to give, I'll give 3 things like you're asking but they all roll together. The second thing that I would do is again, if I don't have a list or an audience, what I have to do, is I have to put my book in front of the audience and so I'm going to do that through a couple of strategies. I'm going to do that through the strategy of social media, we love social media. We advertise on Facebook every single day, we do linked in marketing for my business, we use Twitter. Fantastic ways, free ways and you could also do paid advertising to get your book in front of the right audience because you don't want to just put your book in front of everybody, you want to put your book in front of the right audience so the second strategy would be, I would focus on social media and I would use social media to put my book, no matter what genre it is in front of the audience that has already proven to be interested in that genre."
His 3rd tip is really great, so don't miss out and listen to the podcast or download the transcript below.
How can people connect with you?
"The best way to connect with us is via our website. Our website is http://bestsellerpublishing.org or .com, either one. My office is in Pasadena if anybody ever wants to call in, they're certainly welcome to call and ask us any questions. We have a full staff here, Monday to Friday, 9 to 5, our office is (626) 765-9750 but if someone just wants to look around our website and see our different media stuff and lessons that I've taught then http://bestsellerpublishing.org is a great place to get to know us."
Please Leave Us A Review
Just like authors do with their books, we need reviews for our podcast! Reviews for our podcast help other authors to learn about and learn from The Author Hangout. Can you take a moment to leave a review for our podcast? If you don't know how but are willing to leave a review, please go here to learn how to leave a quick review for our podcast. It will only take a minute, but it will help a lot.
Thank you so much!
How To Listen
There are many ways to listen to the show:
Other Episodes
Get caught up on the other episodes of The Author Hangout that you may have missed: