Welcome to the 132 episode of The Author Hangout, a podcast designed to help authors, especially self-published and indie authors, with marketing their books and improving their author platform. Authors struggle with various aspects of marketing and we are here to help!
Book Marketing & Book Launches
In this episode, we were joined by bestselling author and pro book designer, Joel Friedlander. He shared some awesome insights for authors needing to market their books. He also talked about how to have a successful book launch.
Listen to the Show / Podcast
Podcast: Play in new window | Download (41.4MB)
Subscribe: RSS
Episode Resources:

Featured Quotes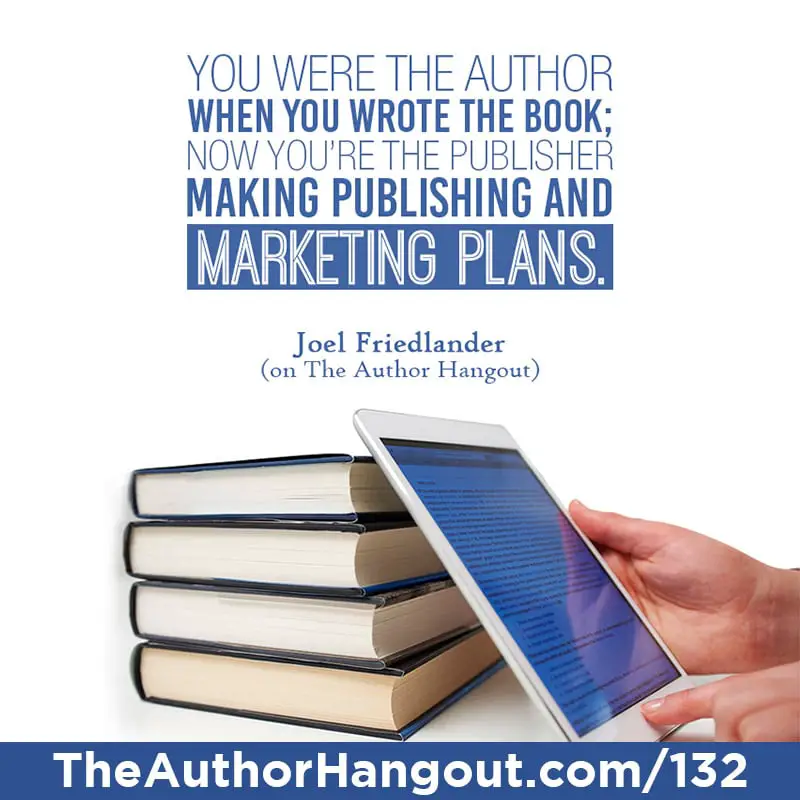 "You are the ultimate authority on when that book is ready to go out. Is your marketing lined up? Have you really explored the market that you intend to sell it to? Do you have connections in that market? Has the book really been edited professionally? I'm telling you that if you only have a limited amount of funds to spend on your book, spend it on editing. Nobody wants to read an unedited book. So it's back into your seat as the publisher. You were the author when you wrote the book; now you're the publisher, and you're making publishing and marketing plans. So that publisher part of you is the one that has to decide, is this book ready for primetime? Am I ready to put a significant effort into making this book successful? "
"The only way you're going to find readers is to try to put your book or pieces of your book or stories you've written into the hands of as many people as possible. Now, sometimes that means giving them away, and I highly recommend giving books away, giving stories away, giving samples of your writing away. Because you're kind of a fisherman. You're fishing. This is your bait. You're looking for who is going to bite on your particular view of the world, your way of writing, your take on your genre, whatever it is. There are people out there who are going to respond; it's your job to find them."
Please Leave Us A Review
Just like authors do with their books, we need reviews for our podcast! Reviews for our podcast help other authors to learn about and learn from The Author Hangout. Can you take a moment to leave a review for our podcast? If you don't know how but are willing to leave a review, please go here to learn how to leave a quick review for our podcast. It will only take a minute, but it will help a lot.
Thank you so much!
How To Listen
There are many ways to listen to the show:
Other Episodes
Get caught up on the other episodes of The Author Hangout that you may have missed: