Welcome to the second episode of The Author Hangout, a new "Hangout on Air" designed to help authors, especially self-published and indie authors, with marketing their books and improving their author platform. Authors struggle with various aspects of marketing, and we are here to help!
"Thanks, Tara and Shawn! Many interesting and helpful points shared."– Terre Britton
"Thank you – this was very helpful!"– Heather Stang
"This was a great and informative episode. Thank you so much."– Alison G. Bailey
"Thanks. Looking forward to the next one."– Kori Miller
"Book Marketing Strategies for Future Bestselling Authors"
Our second episode of The Author Hangout features Tara Meyer-Robson, a bestselling author, who joined us to share some of her tips that she used to help turn her book into a bestseller.
Watch the video below, or scroll down to read some of the key points from the show, and even handpicked tips from the comment section of the Hangout event!
Resources Mentioned in the Show
Listen To The Show
If you prefer to listen to the show, or to download the show for later listening on your phone or music player, then use the audio below:
Podcast: Play in new window | Download (34.9MB)
Subscribe: RSS

About Our Guest
Tara Meyer-Robson was traditionally published, but was soon shocked when her publisher wasn't really marketing her book. She took matters into her own hands, and combined some solid grassroots book marketing tactics and her great work ethic, and turned her book into a bestseller!
Luckily, the steps she took are available to all authors, whether they are traditionally published, self-published or with an indie publisher! It just takes a little bit of work, some hustle, and you too can turn your book into a bestseller!
Watch the show above to learn a little bit more about her story, and some great tips that you can use to follow in her path!
What motivates you to help authors?
"I saw so many authors out there struggling like I was. I saw so many authors… with a dream, they went through all of the hard stuff to get the book written, edited, and published, and then smacked into a wall, and just could not get that beautiful book marketed."
She also goes onto to talk about some of the other horrors she was seen happen to authors…
Watch the show so that you don't get sucked into these scams.
Tara became a bestseller before self-publishing became popular…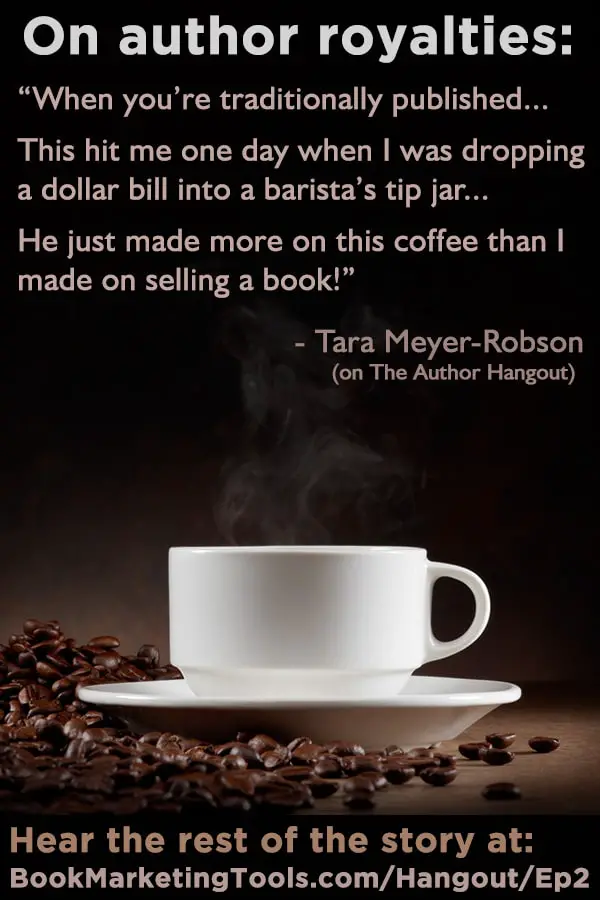 Even through Tara became a bestseller using her tactics BEFORE the self-publishing revolution began, she talks about why the tactics still work:
"That's the great thing. I think the landscape for authors is changing dramatically, with self-publishing, print on demand, and even ebooks have come into their own. Now all of these non-traditional marketing techniques work even better honestly, than they did when I started out… That only empowers authors more to make more of a difference in their own promotional marketing plans."
Shawn and Tara then go into discussing royalties in the traditional publishing landscape.
If you're considering whether you should publish traditionally or self-publish, you HAVE to hear Tara's story about the Starbucks tip jar! It was funny and tragic at the same time!
How hard is it to get published?
Tara answers:
"It's really easy to get published… if you create your platform before hand."
She then talks about what you need to do before you're even published. Luckily, in today's self-publishing landscape, you can do all of the same steps to build your author platform, and get a much higher % of the royalties. You can sell your book cheaper, and still make more on a per-book basis than most authors who are traditionally published do.
You're going to need to build your author platform either way… start building it today!
See the video for more discussions about the traditional publishing route.
What are the most effective promotions sources?
Tara answers this question from a viewer:
"The most effective promotional source, especially if you can do this before you go to a publisher or publish for yourself… if you can start to set yourself up on interviews… blog talk radio is great to start to go out to hosts to start to create an expert status for yourself."
Tara then talks about how to reach out to blog talk radio hosts, even if you're a fiction writer and how to showcase yourself as an expert, even if your genre is mysteries.
Also: One of the viewers of The Author Hangout, Kori Miller, is the host of Back Porch Writer, a blog talk radio show that showcases authors! Check out the show at: http://www.backporchwriter.com and connect with them to hopefully be featured on their show and reach some readers!
What's the worst experience you have had with book marketing?
Tara tells the story of a bookstore she went into, to try to market her book, and the bookstore owner hiding in her office, refusing to come out. You have to hear it to believe it!
Watch the show to hear her describe it!
What type of budget do you recommend for a new author?
"If you learn the right techniques on how to do a correct marketing plan, you really don't need to earmark a very large budget at all."
She talked about alternative options that people try to sell you that cost quite a bit. She also provides some great ideas in the comments of the event page for marketing ideas for authors in various genres.
Click here to check out the event page.
What can people do to market their books?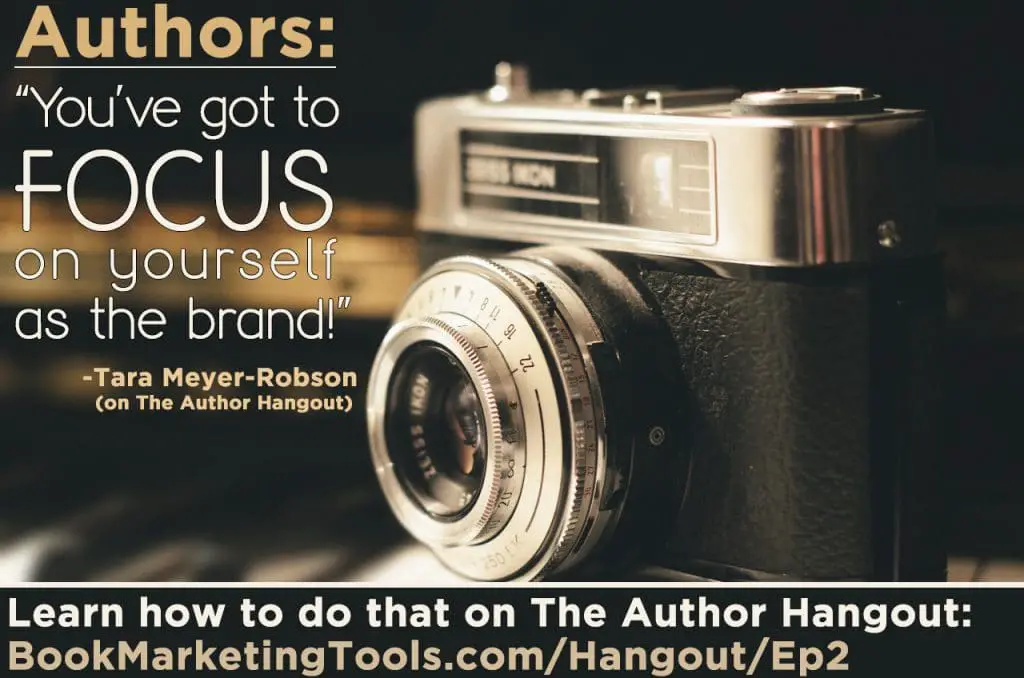 While this is a very expansive topic, Tara dials in one tip that goes along with the tips she shared earlier in the show:
"Get together a 1 page media kit… it needs to have a show topic, a catchy headline, a bio, and a few questions for a host. Start looking at radio shows, internet radio shows or real radio shows, it doesn't matter, and start hitting them with that information. Make it as easy as possible for the host to book you."
Promoting yourself and your book is the key to selling books. Reaching out to radio shows as she had talked about earlier in the show and again, is a great way to get the word out about your book. You can also reach out to blog owners. They want stuff to write about, so if you approach them about doing an internet/guest post/promo for your book, they may be pretty receptive and that is a new audience that you can reach with your book!
A second tip from her was to get yourself on HelpAReporterOut.com. She has had a lot of interviews and promotion from being registered on there.
Tara also goes into a few more tips, so watch the video to learn those tips!
What is the online marketing campaign?
Tara talked about an "online marketing campaign" on the show, and a viewer asked the question above.
Here is Tara's answer:
"You are basically harnessing the power of joint ventures, of connecting w/ other people who are basically going to offer some free stuff, and also send out details to their list. You want to concentrate it all in one day, making it impossible for people to not shell out the [money] for your book."
She talks briefly on the show about this method, but it's pretty involved, which is why she wrote a whole book on it.
You really need to check out Tara's book, Bestseller in 1 Day! She discusses how to partner with others to make a massive splash on your promotion day.
Click the button below to see her guide that walks you step-by-step through this process:
Click here for Tara's "Bestseller in 1 Day!"
About Tara's Book: Bestseller in 1 Day
Tara talked a bit about her book, and how it can help you, in the comment section of the event:
"In the Bestseller in 1 Day! program I show you each step of how to do everything yourself in major detail, even for tech newbies who don't feel like they know anything. I also have it all set up to show you exactly how to do each step whether you have a PC or a Mac – with screenshots.

Basically, I tried to break everything down so that for the $89 for the product (which is super, super cheap – other programs are $700 and above for less complete info), an author can easily do everything him- or herself, if they are simply willing to give a few hours a week to the process."
Click here for Tara's "Bestseller in 1 Day!"
Tara on stepping out and marketing yourself.
Tara was super helpful after the show, answering questions on the event page:
"It is always SO scary to have to try to push yourself forward outside of what is comfortable – and I have to tell you, the first time that I sent out pitch to radio shows, I was sick to my stomach with nerves. The fear of failure and rejection can get to all of us, and as writers, our passion is to write or inspire people (or little ones, in your case) – not to have to market or put ourselves out there. Unfortunately, in this day and age, if you don't allow people to see and hear you, then no one will even look at your book. However, when they see and hear your lovely personality, they are going to be drawn to your books."
Does this motivate you? Step out there and promote your books!
Can you be an expert, even if you're a fiction author?
In the video, Tara talks about reaching out to radio shows and positioning yourself as an expert. A great question came in via the comment section about being an expert, when you're a fiction author. Here is Tara's response:
"I will tell you that you CAN be an expert even if you are a fiction writer! You have a lot that you know and can talk about that would be of interest to others – that's one of the most critical things I can tell you right now – that you can be an expert and that people will listen to you. It's important to shift from marketing your book to marketing yourself, which ends up making people trust and like you, and then they buy your book. It's a super-critical difference that I have to help all kinds of authors – fiction or non-fiction, but it's SO important to your success!"
What can you do to position yourself as an expert? What radio shows and blogs are you going to reach out to in order to build your brand as an author, and promote your books?
Don't miss out on Tara's "Bestseller in 1 Day!"
If you found any of these amazing tips from Tara helpful, you really need to check out her book, "Bestseller in 1 Day"!
She walks you through, step-by-step, through the exact steps she took to turn her book into a bestseller and sell 700 books in 1 day!
She is ultra-detailed, so even if you are not tech-savvy you will know exactly what you need to do for your book!
It works for fiction books, nonfiction books… really, any book!
Learn more about Tara's "Bestseller in 1 Day!"
Did you get something out of The Author Hangout?
If so, share this page and the video with a friend. I am sure you know another author who needs to hear these tips, strategies, and idea!
Please share it with them! They will be so glad you did!
Please Leave Us A Review
Just like authors do with their books, we need reviews for our podcast! Reviews for our podcast help other authors to learn about and learn from The Author Hangout. Can you take a moment to leave a review for our podcast? If you don't know how but are willing to leave a review, please go here to learn how to leave a quick review for our podcast. It will only take a minute, but it will help a lot.
Thank you so much!
Other Episodes
Get caught up on the other episodes of The Author Hangout that you may have missed: