While most of the writing and publishing process is a solitary effort, the same cannot be said for marketing. You need a group of enthusiastic people who will readily volunteer to serve as your mouthpiece, spreading the word about your books and—in turn—expanding your audience and reach. In marketing terms, we call this group a "street team."
Establishing a street team is the perfect way to mobilize your community in an effort to promote a book launch, author news, and more for a surge in visibility, early reviews, and sales that could potentially lead to bestseller status. In exchange for these benefits, you provide value through advanced reader copies, bonus content, free swag, prizes, and other awesome giveaways.
How do you go about building an active and highly engaged street team, though?
That's simple. Just follow this guide.
Step 1: Plan
Working with a street team might feel like herding cats, so it's important to keep organized from the start. Use a spreadsheet to keep track of scheduled tasks, as well as what your street team is doing both in the field and online. You'll be better able to manage your team, keep them accountable, and track a particular campaign's effectiveness.
Step 2: Recruit
You need a small army of excited people who will support your endeavors as an author. This means digging into your network of connections to find potential evangelists and influencers who would be willing to help you promote. Before you do that, though, you'll need to define your recruitment approach.
An Inclusive Versus Exclusive Approach
This decision is about striking a balance between quantity and quality. Although you don't want to be overly selective, you also need to be aware that these people are going to be representing you. With that in mind, will you open your street team application process to everyone and select readers on a first-come-first-served basis or will you be more exclusive and offer membership based on certain factors? This can be a tough decision when you're first starting out because all you want to do is gain traction—and gain it fast. There's absolutely nothing wrong with an inclusive approach as long as you're accepting people with a genuine passion for your work and your message. After all, you don't want to enroll someone who's just in it for the free goods—someone who's unlikely to provide much promotion in return.
If you choose an exclusive approach, you might want to assess criteria besides enthusiasm. Factors such as motivations, how much time applicants have to help you, whether they have an email list, and the size of their overall audience base or specific social media following can help determine whether a particular person is a good fit for your team. If, for example, you require a blog post as part of your participation rules, then you'll want to ensure you only accept applicants with an active blog. There are numerous factors against which you can evaluate potential street team members, so be sure to consider your launch goals when deciding on your approach.
What About Size?
Another important aspect you'll need to consider is street team size. Will you put a cap on how many people you'll accept? If so, what's the golden number? When answering these questions, it's critical to keep in mind that the bigger the group gets, the harder it will become to manage without building a support team to help. Sure, 500 people sharing your book launch with their networks makes the prospect of a viral campaign a little more realistic, but it's also almost impossible to keep track of all that's happening without driving yourself into burnout. A good minimum to shoot for is around 100 people to ensure decent engagement and activity.
How to Gather People for Your Team
Ideally, you'll approach people who are already enthusiastic and engaged with you and your writing career. Tapping into your inner circle and then moving on to communities with like-minded readers and authors is often the easiest approach. Prior to recruiting members, you'll need to ensure you have a street team landing page in place with relevant copy, such as an inviting message to join your team, what your goals are as an author, the benefits of being a team member, your expectation of participation, street team rules, and how to apply. You should also have a system set up for collecting emails and a recruitment email.
Some basic recruiting tactics include:
Reaching out to family and friends who'd be willing to donate some of their time to your launch campaign
Tapping into your email list if you've been building one
Letting fans and followers on your social media platforms know about your team and encouraging them to apply (make sure that you've first spent time building relationships and goodwill by sharing useful, timely, and relevant content, offering unique insights into related topics, and engaging in conversations with your fans)
Asking people who have previously given you feedback whether they'd be interested in joining (they're more likely to promote your launch since they already feel part of the process)
Recruiting your book club members, writing group, and other community connections
Partnering with other writers who'd be open to joining your team and having you join theirs
Creating a blog post with a call to action for readers to join your street team
Soliciting street team applications from previous or existing students if your book is a spinoff of a course
Reaching out to reviewers of any previous books you've written
Adding a link in the back matter of your book so that those who enjoy the read and want to contribute in other ways know where to go
If you've been building your fan base and have a good rapport with people, you should find the recruitment process relatively simple.
What Do I Say to Recruit My Street Team?
Great question.
To help you out, here's an email template you can copy, paste, and then customize for a book launch:
Subject: Want to be part of something special? 
Hey [Insert name], 
I'm so excited to announce that on [Insert launch date], I'll be launching my new book, [Insert title]. It's about [Insert book description or brief book pitch]. 
Here's the thing: 
I need help spreading the word. I'd love for you to be part of that, which is why I'm personally inviting you to join my launch team. 
Here's what's in it for you: 
[Insert list of benefits] 
All you have to do is: 
[Insert list of requirements] 
Your participation will not go unrewarded. In addition to the awesome freebies and swag listed above, team members will receive special gifts for completing certain tasks. There will also be loads of opportunities to win prizes. 
Apply now at [Insert link to your street team application form]. I'm only accepting [Insert maximum team size] special people before I close the group, so don't wait! 
Here's to a successful launch, 
[Insert name] 
One final thing: give your team a fun and relevant name so that they feel they're part of something cohesive and significant. Signaling out a specific group of people is a fantastic way to personalize the experience, build community, and create a sense of excitement. It's a small tactic, but it can have a big impact. 
Step 3: Regulate
Make sure you establish team rules and codes of conduct. While you don't want to be too strict, you also don't want members to bombard their audience with promotional messages or take part in other behavior that could negatively impact your work. You should add this list to both your landing page and the platform where your street team members gather so that it's readily available for reference.
Here's an example:
(Insert Street Team's Name)'s House Rules
Rule #1: Be kind to each other.
Rule #2: Do not use offensive or violent language.
Rule #3: You are not obligated to participate in every task or anything that makes you feel uncomfortable. At the same time, please do not harass anyone else who does not want to participate. 
Rule #4: Do not respond to negative reviews. Everyone is entitled to their opinion, so we want to be respectful of that.
Rule #5: Do not violate any copyright or intellectual property rights.
Rule #6: Do not spam other team members or readers with your own work, commercial solicitations, or the work of another author.
Rule #7: Please do not post link bait, files containing viruses, or discriminatory or sexually explicit content.
Rule #8: If you choose to run a contest, please clear it with me first. Contests should be run fairly and ethically at all times.
Rule #9: Keep things positive and have fun! 
*I reserve the right to remove any member who does not follow these rules. In addition, non-active members will be removed periodically to be fair to active members and to keep the group safe from scammers and content pirates. 
Step 4: Screen
Vetting your street team will ensure you weed out people who are already on other street teams, aren't as enthusiastic or committed to promoting your work as you'd like, and aren't a good fit for your crew. Setting up a simple application process is the easiest way to gather information and screen applicants. Fortunately, online form builders like Google Forms, Wufoo, Cognito Forms, and JotForm make this fairly simple.
In addition to standard questions like requesting the applicant's name and email address, here are several other questions you could potentially add to your form:
Where are you located?
What's your postal address?
Are you a member of any other street teams?
Do you have a website?
Which social media platforms do you use?
Do you have an email list?
Do you have a podcast?
Do you have a blog?
How large is your audience?
Why do you want to be part of my street team?
Besides leaving a review, how else would you spread the word about my book?
How often are you able to review or promote my book launch?
Where necessary, be sure to add form fields so that applicants can provide links to their website, blog, social media profiles, and other relevant platforms.  Keep in mind this process is all about cultivating the right members for your team, especially if you've chosen an exclusive approach to street teams.
Step 5: Assemble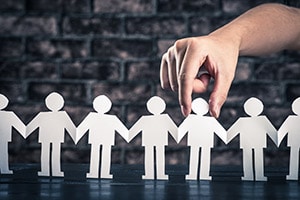 You need a central hub for your street team where you can privately share information, establish rules, share ideas, get feedback, collaborate, conduct challenges, and more. A hub will not only give you the ability to communicate with everyone at once, but it'll also allow you to interact directly with your team and build personal, authentic connections. As a bonus, your team members will have a place to bond with each other, as well as get fired up for your launch.
While there are several ways in which you can create a central hub, a closed Facebook Group is an easy and cost-effective way to get the job done quickly and hassle free. In fact, Facebook offers an ideal platform for housing a street team and facilitating interaction as all members are guaranteed to receive notifications when you post an update. You don't have to bombard their email boxes with notifications and you can make strategic use of Facebook Group features like polls and message pinning. You also have an opportunity to brand the group page, making it look festive and fun without having to build out a private platform.
No matter where you set up your group, consider enlisting someone to help you moderate activity. Building an engaged and active street team can be overwhelming and time-consuming. The last thing you want is for people to feel neglected because you're too busy managing every part of the process.
Step 6: Equip
Street team members are doing you a favor, so you'll want to make it as easy as possible for them to promote your book.  This means equipping them with a promotional kit they can use to spread the word and gain attention. Kits and other resources can include both physical and digital materials such as:
Website banners
Book images
Book information including product page links and descriptions they can copy and paste
Promotional copy and templates they can use for emails, social media posts, blogs, and website postings
Promotional hashtags they should use on social media platforms
A list of relevant keywords
Bookmarks
Brochures
Fliers
Postcards
Don't forget that you'll want to establish social proof before your book launches (ideally within the week of publication to build buzz and rankings), so you should include an advance review copy, as well.
To make the process super easy, consider creating a promotional checklist and adding it to your kit. Be sure to include specific dates by which certain tasks should be completed. You ultimately want a unified effort that's going to create a massive wave of attention.
Step 7: Engage
The greatest investment you can put into your team is time and attention. If you can establish and continue to show real value, create human interactions, and produce relatable and interesting content that engages your members, you'll quickly discover people are willing to keep the cogs in your publicity machine turning.
How can you do that?
Answer questions
Join in and create conversations
Create weekly activities or challenges
Set up quizzes and polls
Make your content visual
Build excitement with a launch countdown
Keep them in the loop with updates
Give them plenty of opportunities to interact with you directly
Most importantly, you should make your objectives clear. Keep reminding people of the goals you're working towards so that you not only create a sense of accountability but also drive momentum. Help members become emotionally invested in accomplishing your goals so that they share in your excitement when you reach certain milestones. Keep things light and fun while encouraging your street team to be inventive and creative with the promotional tactics they bring to the table.
Step 8: Reward
Just as important as forming clear expectations, it's essential to establish a reward system for your team. Since being on a street team is a voluntary position, you'll want to ensure you show your appreciation to the people who are putting in the most time and effort. You'll also want to provide incentives that motivate your team to take action.
Whether you decide to reward people based on a points system, the completion of certain tasks and challenges, or in random raffles and contests, here are some cool ideas for prizes:
Signed copies of your books
Special mentions in your book
Gift cards
Kindle e-readers or similar devices
The right to be or name a character in a future book
Branded swag
Be sure to set reminders so that you don't forget to reward deserving individuals at the right time.
In the Name of Transparency
In the initial stages, you'll probably see a good amount of action from your street team. Unfortunately, you're also likely to see diminishing returns as response declines over the course of several book launches. People get tired. Attrition happens, but just because your cheering section dies down doesn't mean you shouldn't leverage this tactic. Instead, you need to re-strategize. Overhaul your street team emails, restructure your reward system, and brainstorm new ways to turn fans into loyal advocates and reviewers. You also have the right to remove inactive members.
To avoid street team fatigue and other issues from cropping up, it's best to check in with members periodically and ask their permission to do it all again. You should also find out what you can do to make the team better and what isn't working at all. You can easily do this by polling members between launches and conducting reader surveys. If you do it right, the chances are they won't only participate again, but they'll also recruit people they know who love your books too.
Is A Street Team Right For Launch?
There's no denying that incorporating a street team into your outreach efforts is a smart and effective strategy. While this tactic isn't a magic recipe for an instant bestseller, it will give you exposure to readers who would never have heard about you otherwise. The good news is that the larger your group grows and the more reciprocity there is during your interactions, the fewer benefits you'll have to offer to gain action from your team. In addition, the reviews you receive from your street team will help future book releases and make the entire process easier than when you first delve into self-publishing. For as long as you're an author, the people on your street team will remain your closest allies.
Have a question about building a street team? Be sure to drop it in the comment box and we'll try to answer it. Don't forget to also grab a free copy of our book launch success checklist by clicking the image below.