Welcome to the 54th episode of The Author Hangout, a podcast designed to help authors, especially self-published and indie authors, with marketing their books and improving their author platform. Authors struggle with various aspects of marketing and we are here to help!
"We've got to start to think of ourselves as a personal brand."– Mimika Cooney
Using Video To Promote Books
In this episode, we were joined by author and entrepreneur Mimika Cooney. She shared some great tips for promoting your book, especially how she uses video to promote herself and her books.
Listen to the Show / Podcast
Podcast: Play in new window | Download (22.8MB)
Subscribe: RSS
Episode Resources:

Intro
She's an accomplished digital marketing expert broadcaster and author who's on a mission to help out entrepreneurs build sustainable businesses doing what they love. As a professional photographer, she has authored two popular books including Boutique Baby Photography and Photographing Newborns. Besides hosting Mimika TV and teaching online courses in marketing, branding and video marketing, she regularly speaks at photography and businesses conventions where she trains other small business owners. Here to share her story is the founder of Mimika Cooney Inc, Mimika Cooney.
How did you become an author and publish your first book?
"How it all started is I've always been on online marketing back in the days when website and the Internet first came out. As you can tell, I'm not from around here, I'm from South Africa originally. My husband and I started a web design company back in '98 and we had the opportunity to move from South Africa to England for our online business before the days of Google where you had Internet directories and people searching online. Basically I developed my marketing skills really when it came out and started to taste and try things. Being a creator, I've always loved reading, writing and photography that I fell in love with photography as a career. Now it came as a shock to me that when you want to do something you love and you're pursuing something to learn how hard it was to break that door. Now back in England, now we're looking at about 2002, 2003 when I decided I wanted to go from being a mom with a camera and to start to really make a business out of this and learn the craft of photography…"
What is your most recent book or project?
This is what she is working on now:
"I've written 2 books now, the last one came out, it was 2014 so about just almost about a year ago and basically having built a name for myself and a brand within the photography industry, I was really known as the baby photographer because I had decided to really focus on my niche and so for me, writing has always been one of those things. Like you have this play going on in your head, you can see the characters or how you want the conceptive to go down but for me the hardest struggle has been the procrastination of getting it done, like actually getting yourself to sit down and write. I mean I always say, "I had 18 months of stress and 6 weeks of writing." These are the mistakes I would have learned, I would have not made myself lose so many nights, sleepless nights and because not really having a pen is like I had a general idea and once I laid it down, I thought this is great. This is what I know and everybody's going to want to know what I know and of course this relates to business stuff. But what I didn't realize is that I hadn't really figured out what the market wanted to learn and sort of answered and positioned the way that my book was as a brand in the marketplace. Just like throwing it out there and they will come, but it doesn't work anymore. Unfortunately just the way the industry has become, it's so competitive that unless you are speaking to a very particular person with a very particular need like you explain the avatar of today's show. It's very hard for you really to gain attraction and not just that, it's to create what we call tribe or a following because as authors, people want to hear from you because they want to read your books and follow your social media posts and check out your blog. They want to get to know you as a person especially when it relates to being a personal brand because as authors we are right? People either like our style of writing just like a style of photography. There's either one thing that speaks to you or it doesn't and so I think that's a big mistake. I learned in why I'm so passionate in teaching and helping other passionate entrepreneurs really position themselves so when you come up with a launch whether it's a written book or a video or a course, you know exactly how to position yourself in the mind of the consumer so then when you press ready, set, go, you could buy people of their claiming to give you money."
What one marketing tactic is really working well for you?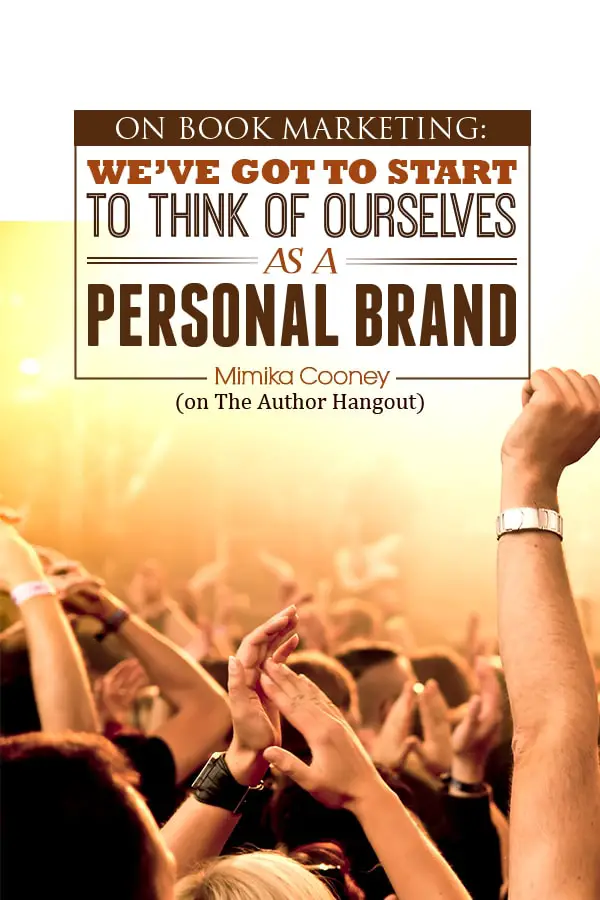 Mimika is using one tactic that is working well for her:
"I'm starting to see really good traction in video. Now a lot of us, as writers, you feel like "Oh, I don't want to be in front of the camera", like "Oh I don't know what I'm going to say" but I really think for any kind of author or entrepreneur to really make a mark on today's market, to really get traction in marketing is to really connect with people and I think for authors, people who like to read books like to be able to connect with the story and the person behind the book that I really think that are focusing on sharing your vision or who you're talking to from a personal perspective will really help to make the connection so it doesn't seem like just buying a commodity, because no one wants to feel like their book or their project is a commodity. But if we are doing what everybody else is doing, it's very hard for us to stand out. So my number one tactic for now is to really think of yourself as an author as a personal brand. Now we're not talking about, I know Apple has been used a ton of times but even like the Kardashians. Even if I don't really care to watch what they're doing, they built a whole empire around the brand of what they stand for, what they offer and people are coming to them just to help sell their products. So we've got to start to think of ourselves as a personal brand and how we are positioned in the mind of the consumers. So if someone is going through the Amazon and is looking at the suggested books or looking through the reviews and wants to find a book to read, I mean for me, I love listening to books on audible and I'm always wanting to see "Is this for me, is this speaking to me, and what is the difference between, say marketing books or a dime a dozen?" But how do you stand out from being different as your point of view, right?"
She also shared some great tips on how to use video to promote your books.
If you started over today, what 3 things would you tell yourself to help you sell more books?
"So the first thing I would consider is that I made the assumption that when I had signed with a traditional publisher that they would handle all the marketing thinking, "Oh the hardest part for me is just to write it and once I've written it, you know I've gone over the galley and everything is ready to print and hit send. Great, now all the orders are going to come flooding in." No, don't assume that other people will do the hard work for you. You really have to take ownership of doing your marketing and promoting yourself because when authors are a dime a dozen, books are a dime a dozen. You have to think of how you want to position yourself and it did help that the books I wrote were in a very small niche like baby photography professionals is a very small niche, there's only a few people who actually, where if you did marketing 101, it's like a very broad topic. So really what I would tell myself is before you start writing, is to start really listen to what people have to say. Listen to their problems, particularly talking about if you're doing…I'm not talking about a novels or biographies that's more about if you're doing a business book especially, because instead of building something and hoping it will come, you need to build something people want so even if it means adding an extra chapter or maybe making something sound a little more simplified because it might seem easy to you but may be confusing to someone else is to really start to taste the waters before you finish the whole product because no matter what we create in this world whether it's a book or a course or a product, there's no point in going through the effort to create it realizing nobody wants it. So I would really say to start building by following and email lists sooner than I did hoping that I could rely on what the publisher's arm was in getting it out through distributors because it was, for me, it was really disappointing realizing that it just didn't sell like I expected it to."
How can people connect with you?
"Since I specialize in helping other entrepreneurs who are passionate about sharing what it is they do and I teach video marketing and if you want to get a free branding assessment guide I do have it on my website at http://www.mimikacooney.com and you can follow me on Facebook, Instagram, Twitter, I'm everywhere, just search for name Mimika Cooney and I also have a free Facebook group that I'm an administrator of called Brand Story Marketing so if you want to hash out ideas, we have a very supportive engaging group. You click to apply to make sure that you're legitimate and not somebody spammy and then we'll add you to the group and just really conversations and of like-minded passionate entrepreneurs that really want to build a business from their passion and I hope you can join me there."
Please Leave Us A Review
Just like authors do with their books, we need reviews for our podcast! Reviews for our podcast help other authors to learn about and learn from The Author Hangout. Can you take a moment to leave a review for our podcast? If you don't know how but are willing to leave a review, please go here to learn how to leave a quick review for our podcast. It will only take a minute, but it will help a lot.
Thank you so much!
How To Listen
There are many ways to listen to the show:
Other Episodes
Get caught up on the other episodes of The Author Hangout that you may have missed: