Welcome to the 69th episode of The Author Hangout, a podcast designed to help authors, especially self-published and indie authors, with marketing their books and improving their author platform. Authors struggle with various aspects of marketing and we are here to help!
"The number one thing that was the biggest career changer for me was to make the first book of the series free."– Eva Pohler
Marketing A Series of Books
In this episode, we were joined by bestselling author, Eva Pohler. She shared some great tips about how she went from an author who was barely selling any books, to an author who is now able to quit her job and become a full-time author.
Listen to the Show / Podcast
Podcast: Play in new window | Download (18.5MB)
Subscribe: RSS
Episode Resources:

Intro
She's an Amazon bestselling author with multiple titles to her credit including psychological thrillers such as The Mystery Book Collection and the Purgatorium series. She also writes two incredibly popular teen fantasy collections based on Greek mythology including The Vampires of Athens and The Gatekeeper Saga. When she's not plotting new ways to captivate audiences with her thrilling and addictive stories, she teaches writing and literature at a university in San Antonio. Please welcome, successful indie author, Eva Pohler.
How did you become an author and publish your first book?
"I always wanted to be a writer and when I found that query letter after query letter after query letter and rejection after rejection after rejection, and then I even got somebody, a really topnotch New York agent asking me for revisions and that I'm not going anywhere, my heart was broken. And then I started reading about authors that were doing it on their own and though it was scary for me because I thought I might be throwing away a possible career in traditional publishing if I went ahead and self-published myself, I just finally decided that I would take to a book five manuscripts I've already written and publish them, see how it went."
She also shared some great inspiration for authors who may start off slow, and how to grow your readership.
What is your most recent book or project?
"Right now I'm working on a third book in my mystery book collection. It's called Mystery House. And when I first got started writing, I didn't understand how helpful it would have been to stay in a single genre and develop a platform with a single brand, I didn't know about that. When I first started writing, I just wanted to write what I wanted to write. And if I could go back in time, I would change that. I would just write in a single genre and build this whole brand around it because what happened is I ended up having to pick between my two types of work. I write teen fantasy and I write psychological thrillers and I ended up picking the teen fantasy because I was selling more initially."
Can you tell us about a time when you really struggled as an author?
"The summer before Kindle Unlimited was launched, just before that, I was selling an average of 30 to 50 units a day which was not amazing but it was a nice, solid, steady income flow. And I was going along happily thinking I'm just going to keep building up and up and up and when Kindle Unlimited came, my sales dramatically decreased. There were days when I was only selling — I remember one of my all-time lows was five units in a day and I haven't seen that since I first got started. And I was beginning to think, okay, maybe this was a pipe dream. Maybe this was a temporary successful venture that was now going downhill and there was nothing I could do about it because all the power was in Amazon and all these other things that were outside of my control. So now I was reevaluating and wondering should I just focus more on my teaching and just let the books that I published, just whatever happens happens. But I couldn't give up. I had already worked so hard on this and had experience so much happiness and joy from this that I just started researching more and more ways to increase my marketing strategies."
What one marketing tactic is really working well for you?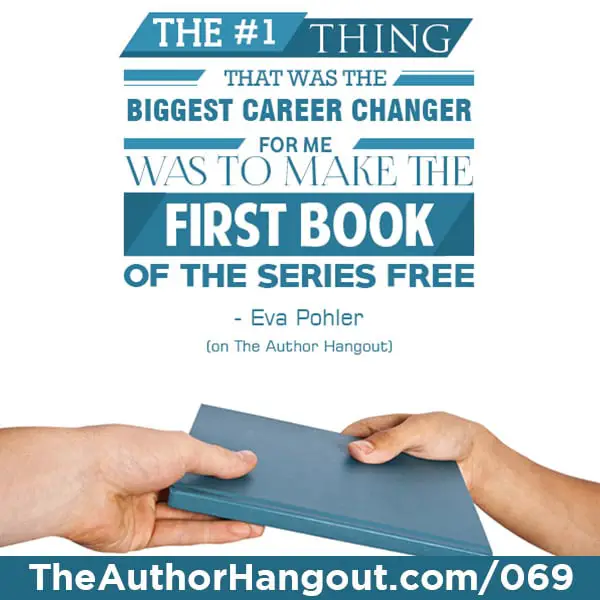 Here is Eva's tip that will work for other authors:
"The number one thing that was the biggest career changer for me was to make the first book of the series free. At the time I was very reluctant to give away something I worked so hard at, but everybody there at that indie conference that was successful, the common denominator was that they all had first in series that was free. So I thought I really had to give it a try and as soon as I did, I saw immediate results because at the time I already had two others in the series out and it wasn't long before I was bringing the fourth out, which I hadn't planned on writing a fourth but another thing I learned was that longer series will propel you up high. So I decided to take what was a three-book series and turn it into a six-book series and Gatekeeper Saga is still my bread and butter. It's still the bestselling books that I had even though I had 14 out."
If you started over today, what 3 things would you tell yourself to help you sell more books?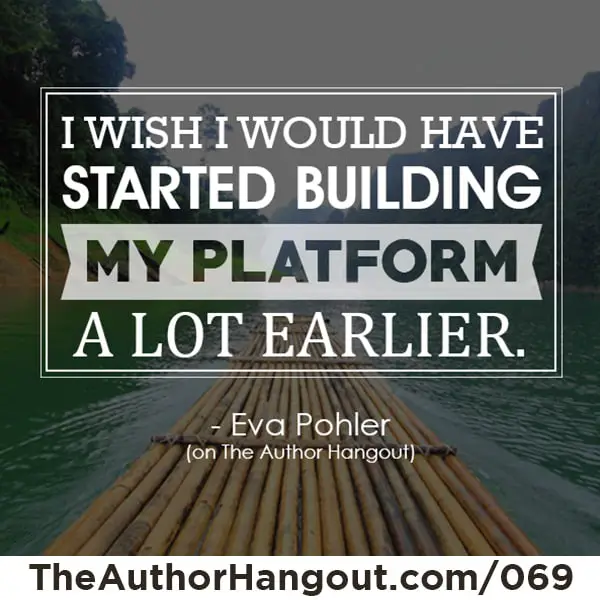 Here are Eva's 3 tips:
"Number one, I wouldn't invest any money in print ads. I spent a lot of money in print ads, in different magazines that readers might come across, like in the Kirkus Reviews and the — I don't want to name a bunch of them but print ads flop. Second thing, you don't have to travel all over the country to find your readers. I wasted a lot of money on the airplanes and in hotels going to events where there's such a better, more effective way to meet them online, through Facebook ads, Twitter ads, Instagram, things like that are a better investment for meeting readers than travel. And I think the third thing I would have told myself was to start my newsletter early. I gave away hundreds of thousands of books through BookBub where I could have had an invitation to join my newsletter and offer this free book in exchange that I didn't do back then. I didn't start working on my newsletter until just maybe a year and a half ago or less than that and I wish I would have started building that platform a lot earlier."
How can people connect with you?
"Please come find me at my website, at evapohler.com and you will find other links to see me on Twitter and Facebook and Pinterest and Goodreads and all of those other fun places."
Please Leave Us A Review
Just like authors do with their books, we need reviews for our podcast! Reviews for our podcast help other authors to learn about and learn from The Author Hangout. Can you take a moment to leave a review for our podcast? If you don't know how but are willing to leave a review, please go here to learn how to leave a quick review for our podcast. It will only take a minute, but it will help a lot.
Thank you so much!
How To Listen
There are many ways to listen to the show:
Other Episodes
Get caught up on the other episodes of The Author Hangout that you may have missed: