Welcome to the 7th episode of The Author Hangout, a "Hangout on Air" designed to help authors, especially self-published and indie authors, with marketing their books and improving their author platform. Authors struggle with various aspects of marketing and we are here to help!
"Watched and listened with interest. Thanks for the info."– Barbara E. Barber
"Great show as usual! Thanks for bringing us such insightful guests who address the many barriers that we regularly face in getting our books out to the public."– C.E. Wolff
Sell More Books With Email Marketing
We have talked about email marketing and building an email list in almost every episode, because it really is that important to successful, long-term book marketing. Now, we'll devote an entire episode to helping you FINALLY learn how to set up an e-mail list and how to use it effectively. Learn about setting up a mailing list and how to use it to sell more books!
We were joined by award-winning author Randy Ingermanson. He wrote the book on writing fiction, and he has built mailing lists both as a fiction and nonfiction author, so no matter what genre you're writing in, he has some great tips and knowledge about building an e-mail list.
Enjoy the show!
The Author Hangout – Episode 7: "Sell More Books With Email Marketing"
Listen to the Show / Podcast
Podcast: Play in new window | Download (30.8MB)
Subscribe: RSS
Episode Resources:

What does it mean to be a strategic author?
Marketing your books is tough enough, but when you aren't being strategic about it, it is a lot tougher. Randy discusses the struggles authors face, and how to overcome those problems:
"There's really 3 problems that we have to solve as authors. The first problem is that nobody knows we exist, the second problem is nobody cares about us, and the third one is, nobody wants our book. Those are problems, but they all have solutions. I really should say, nobody knows about you YET, nobody cares about you YET, and nobody wants your book YET. The purpose of marketing strategically is to solve all three of those problems."
He then discusses how to actually solve each of those problems, in order, as well as the distinct phases of marketing. Watch this part of the video because this is probably the most important part of understanding book marketing and the rest of the ideas in this show.
Who can convince me to start doing email marketing?
This great question from one of our viewers got Randy to pull out some stats from a blogger who posted his stats last year from a product launch, and here are those stats:
"Since he is a blogger, he announced it on his blog. He is also deeply connected with social media. He tracked very carfeully where the sales actually came from. Here's what he found: 3% of his total sales came from his affiliates. Another 3% of his sales came from all of his social media efforts combined. 7% of his sales came from his blog posts. 87% of his sales came from email. Isn't that amazing?"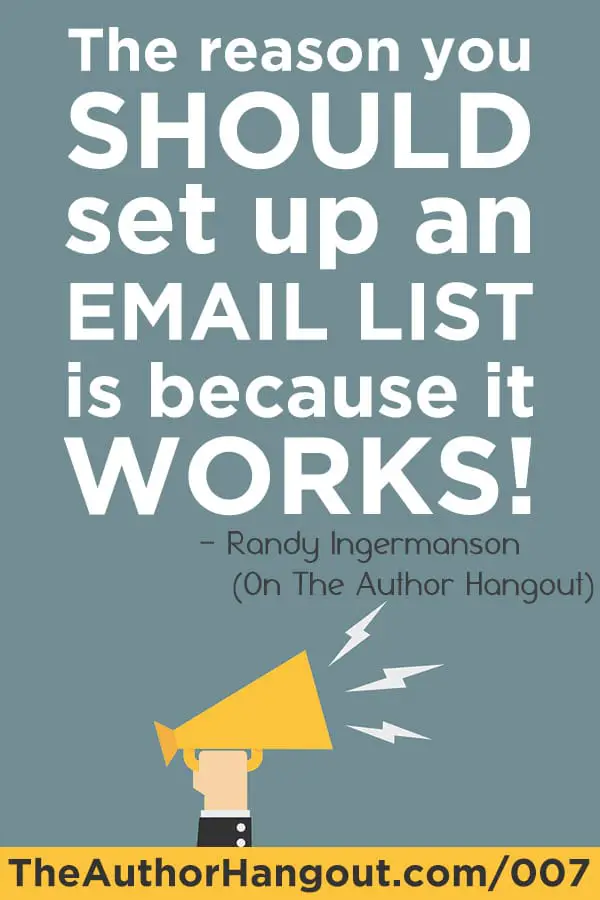 While your book may not necessarily have the same sales percentages as this blogging product, the overwhelming power of using email marketing is the key takeaway! Even if the numbers were halved, that would still be 43% of his sales coming from email marketing. If you properly build a list and use it to engage with your readers, and to sell when the time is right, an email list will definitely out-do any other marketing efforts!
Randy summarizes it with this:
"The reason you should setup an email list is because it works fantastically better at the third step in the marketing process, which is conversion."
Still don't believe us? See Tim Grahl's quote in this episode of The Author Hangout about how much better email converts for authors than other sources many authors spend their time on.
Where do we find that initial audience?
Since an email list works so good at converting people, how do we get people onto our mailing list?
"Different people find their audience in different places. Some people find that Facebook works fantastically well for attracting people and then they just funnel those to their website where they can sign up for your mailing. Some people find that Twitter is a great way to attract people. Some people find that their website works great, some people find that blogging works great. All of those are great at attracting people."
No matter what you use, it is a specific tactic. Randy then explains how to put these tactics together to attract, engage, and convert people to create your "marketing machine". See the video or listen to the podcast to learn more about this concept.
Can I put something in my book to attract people to my mailing list?
Since we can't get a list of buyers from Amazon or Smashwords, one of the better ways to get people onto your mailing list is to use the back of your book. If someone makes it to the back of your book, they are going to go somewhere. You should direct them where to go.
"Here's what I do at the end of my ebooks. First thing I want to do is to get them to buy the next book in the series. As soon as they finish the book, I have a page titled 'Continue the Adventure', and it has a link directly to the sales page for the next book I want them to buy. I don't give them a list of every book I have available. That's giving them too many choices."
Randy also goes into the 2 other very important things he includes in the back of his book as well, so be sure to watch the video so you don't miss out on those!
If you want other ideas for what to put in the back of your book as a call to action to get the reader to go somewhere beneficial for you, you can read our blog post: Put Calls To Action In The Back Of Your Books
Will building an e-mail list be an overnight success?
Randy has 8000 people on his e-mail list, but this didn't happen overnight. He had some solid initial success and you will learn why… see what he says about this:
"It was a bit of an overnight success. I think my first month I had 500 subscribers. But, I had a bit of a running start because I was consistently hanging out on writers email loops [his audience]."
This is a key… he was already hanging out with and engaging with his audience. He was sharing information, being helpful. Then, when he launched his mailing list, people WANTED to give him their email, because they knew he could provide them value.
Are you currently engaging with potential readers? Where do people who read your genre hang out online? Where do people who are interested in your nonfiction topic hang out? Begin engaging with them there. You aren't try to sell to them where you are engaging with them.. you are just engaging with them and getting them to know who you are so they become interested in you.
To learn more about this topic of finding your readers online, watch Episode 3 of The Author Hangout, "How To Find Your Readers".
What do you put in your mailing list emails?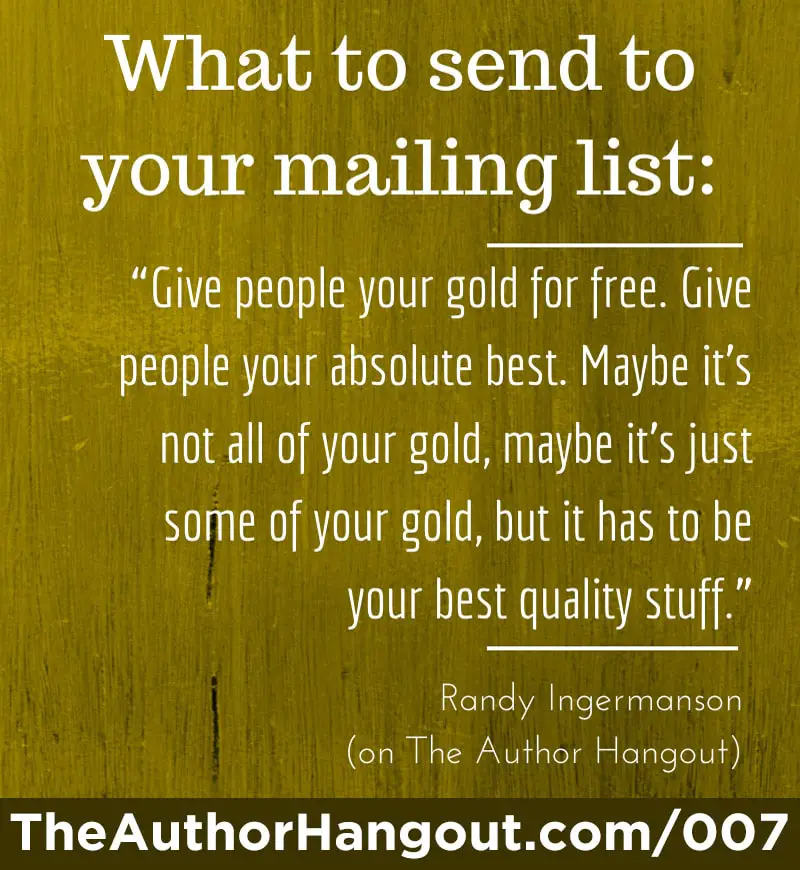 Randy wasn't asked this directly, but he wanted to make sure readers knew what to put in your mailing list emails.
"One of my principles of an email list is every month, it's my best stuff. I have this theory that you give people your gold for free. Give people your absolute best every month. Maybe it's not all of your gold, maybe it's just some of your gold, but it has to be your best quality stuff."
What does that mean for you? Can you offer short stories to your readers for free to get them engaged? One popular tactic that some fiction authors use is to write a short story of the back story of their main character. Maybe a scene from their past or something. Offering this for free is a great way to hook your readers and to get them on your mailing list. Then, you can provide other short stories, excerpts, art from your books, and more to keep them engaged. That way, when you do try to sell your next book to them, they are excited.
What email service do you recommend?
"I recently switched to Mail Chimp. The reason I switched to Mail Chimp is that they seem to have the best deliverability statistics in the industry. All of the internet service providers deliver their mail at very rates because they trust and respect Mail Chimp. They know Mail Chimp is working hard to keep the spammers out. You really want high deliverability rates."
If you are interested in signing up for Mail Chimp, you can do that here. They offer a free plan which is great for authors just getting started. You won't start paying unless you want premium features (which are nice but you don't need to start out), and until you have a certain number of subscribers.
Another option is Aweber. They have been one of the industry leaders for a long time. Click here to learn more about Aweber.
What is the psychology of giving something away for free?
If you're giving them this great content in your e-mail list, why shouldn't you sell it?
"Free I think works very well with fiction and nonfiction. The reason is that it removes the obstacles to that conversion phase. It is easy to attract someone to your website. It costs them nothing to click on a link and come to your website. If they are actually going to buy one of your products, that costs them something ,and most people don't want to do that. When someone has something and they are giving it for free, it removes that barrier. It removes the speedbumps to trying it out."
Giving stuff away free in your email list is a great way to get people onto your mailing list.
Giving your book away for free, either the first in a series on a permanent basis or a short term free book promo, is another way to get people to read you. Then, some will join the mailing list, and you will be able to sell more books to them later because they now like and trust you, because they were able to learn more about you from your free giveaway.
Our eBook Submission Tool allows you to submit to 30+ free ebook sites in a matter of minutes, to help make your free promo a success! Learn more about that tool here.
Please Leave Us A Review
Just like authors do with their books, we need reviews for our podcast! Reviews for our podcast help other authors to learn about and learn from The Author Hangout. Can you take a moment to leave a review for our podcast? If you don't know how but are willing to leave a review, please go here to learn how to leave a quick review for our podcast. It will only take a minute, but it will help a lot.
Thank you so much!
How To Watch/Listen
There are many ways to watch and listen to the show:
Right here… You can watch the video above or listen to the audio version as well!
You Tube… You can go here to watch the video on YouTube! Be sure to subscribe so that you don't miss future videos.
iTunes… Our podcast is up and running on iTunes! Click here to listen to past episodes and subscribe for free to be notified of all future podcasts!
Stitcher… If you prefer Stitcher for your podcast listening, you can listen to our podcast here.
Other Episodes
Get caught up on the other episodes of The Author Hangout that you may have missed: