This is a guest post from Marcie Colleen. She is an education strategist, and wants to help authors learn how to tap into the thriving education market. She offers some great ideas and this type of thinking and marketing is exactly what can set your book apart! Fiction, nonfiction, it doesn't matter!
As an Educational Strategist and Consultant, I have had much success in helping authors position their books for the educational market, while also providing them with other avenues of income. And although I work mostly in children's literature, I want to talk today about how supplemental educational materials can assist in marketing any book, be it geared toward adults or children, fiction or non-fiction. It's really about "thinking outside the box".
Additionally, it's about "thinking outside the book" and looking at YOU!
Think ahead: Brand yourself!
Hopefully your first book will not be your last, so working with educational materials can help position YOU as an important player in today's marketplace. After all, book after book, you want to be someone that readers come back to over and over again.
First off, let's be clear as to what I mean by "supplemental educational materials." These materials are tools created for your readers with the purpose of providing insight and further learning. I am talking about Teacher's guides, lesson plans, activity sheets, video tutorials, and the like.
So how can educational materials help you market yourself and your book?
1. Be an expert. You have written a book. Be it a fictional or nonfictional book, you are an expert in your field. Therefore, educational materials can help others that see you in that way. Even sharing your "road to publication" story or discussing your research strategies can be of value. Do not overlook the "how" and the "why" of your book, in addition to the themes and issues within its pages.Experts are often wanted as guests in college courses, professional development conferences and other speaking engagements.
2. Be an educator. Lesson plans and other educational materials can provide you access to the School and Library Markets. It has been said lately that retail sales of books have been on the decrease, while school and library markets thrive. Does your book have educational value? Could it be aligned to the Common Core State Standards? You might be surprised.
Teacher's guides and education materials are useful instructional tools. But additionally, they validate the academic weight of your book and serve as excellent marketing tools to get you and your books into classrooms and libraries, at a time when school budgets are ever decreasing and the demands on teachers are increasing.
If you don't have the teaching chops yourself, hiring a curriculum writer to create materials for your book will ensure more school and library visits which, in turn, can provide a nice side income.
3. Be a resource. Giving educational materials away for FREE increases your platform. Tutorials, webinars and downloadable materials can be easily—and inexpensively–created and available on your website, therefore, driving readers to your site, mailing list, or blog and making your name one that others trust. FREE?! Foolish, right? Not when the tools are supplemental, meaning that the goal would be to drive a book sale, as well.
Take your book marketing to the next level!
Often, when we think about marketing materials we think of postcards and flyers, in addition to incessant Tweets and Facebook posts about our books. These are all great tools to getting the word out, but offering something of real value—something your readers can learn from or relate to–goes a few steps further and allows you access to additional markets as well.
Education is not just for children and children's literature. We live in a world brimming with and striving for information. Although it might mean a small financial investment on your part to create these materials, in the long run it could be the best marketing strategy you could take on. So, think outside the traditional mailbox and set yourself–and your book apart!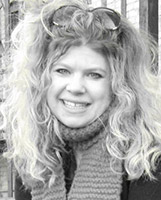 Marcie Colleen is an Education Strategist, providing one-on-one consultation guiding authors and illustrators to best position their books for school visits and educational use. She is a former classroom teacher and curriculum creator turned Picture Book writer. Her Teacher's Guides, which align picture books and middle grade novels with the Common Core and other state mandated standards, have been praised by both teachers and librarians. Her Teacher's Guide for Picture Book Month, Why Picture Books Belong in Our Classrooms, validates the use of picture books across EVERY curriculum and provides teachers with a hands on approach to adapt any picture book for educational use. Her work with Picture Book Month has been recognized by School Library Journal and the Children's Book Council. Marcie is also a proud contributor to How to Promote Your Children's Book by Katie Davis, now in its second release. Visit her at www.thisismarciecolleen.com to discover how Marcie can help you—and your book—navigate the world of education.