Welcome to the 8th episode of The Author Hangout, a "Hangout on Air" designed to help authors, especially self-published and indie authors, with marketing their books and improving their author platform. Authors struggle with various aspects of marketing and we are here to help!
"Thank you! I learned valuable techniques today."– Miranda Innaimo
"Excellent webinar. Thank you so much."– Trish Jackson
"Fantastic episode as always."– Allison G. Bailey
"Thank you so much. Keep up the good work. Very informative!"– P.V. Ariel
"How To Build Your Author Platform"
One of the hottest buzzwords in the indie publishing world is "author platform" (which is technically a buzz phrase). But, many authors are confused about what this really means, what does it entail, and even if you do understand, how do you build an author platform? Luckily, the answer is to your question is here!
We were joined by Carole Jelen, a book publicist and an author, and we talked about how to build your author platform. We discussed how to run your self-publishing business as a business, what an author platform is, the two different kinds of marketing, and how your author platform works together to promote your brand and your books!
The Author Hangout – Episode 8: "How To Build Your Author Platform"
Listen to the Show / Podcast
Podcast: Play in new window | Download (28.3MB)
Subscribe: RSS
Episode Resources:

What are some of the biggest changes in the publishing industry?
Carole talked a bit about her experience having seen the the changes for an entire generation.
Here's her take:
"The biggest thing in publishing that has happened for authors is empowerment. It's a wonderful era. It's a fantastic time because everybody can print and bind their own books and bring it to the world and sell their own book."
She also talked about how these awesome changes have also created chaos, and the struggles it has caused for many authors.
"It has become harder for the quality author to rise above the noise level. This is a big problem, with 300,000 titles published every year, how your title is going to get attention is really the issue."
She also talked about the traditional payment model for authors, and what authors need to do in this new publishing landscape. Watch the video to find out more.
What is the big deal about building an author platform?
Carole doesn't pull any punches:
"If you want to sell books, you have to become known. If you want to build a career, you have to build a readership that going to be looking for what you want to write in the future as well. You want to have a readership ready for your 2nd, 3rd, and 4th books. If you're a writer, this is a dream come true. This is what a platform will do for you."
She also talks about how important an author platform is both for self-published authors and for traditionally published authors.
Is building an author platform different than traditional marketing?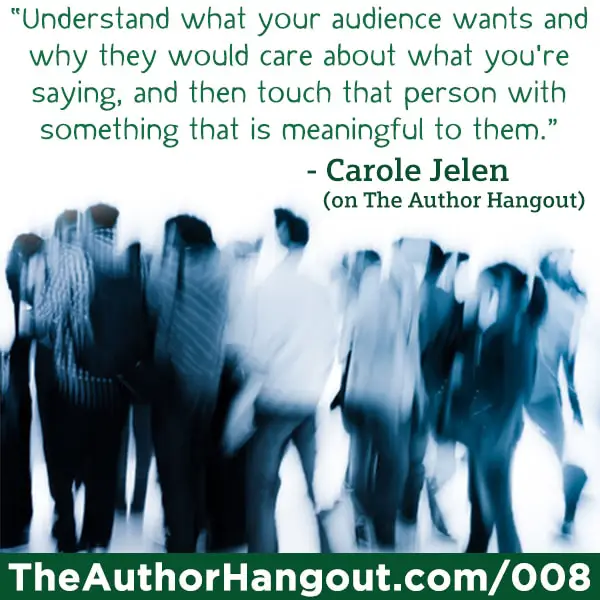 This was a great question and Carole really got to the meat of it with the push/pull idea…
"There is a fundamental difference… Push and pull. If I take my book and I push it at you and push it at you, 'Buy my book!, Buy my book!' I am going to get a high rate of click off. I am on every major social network and i see a huge mistake authors are making and that is 'Buy my book. Read my blog.' and that is not creating author platform. That's the push method. 'The pull' is to understand what your audience wants and why they would care about what you're saying, and then touch that person with something that is meaningful to them."
She then discusses how people react to the push method that most authors do, and an idea about how to create your author platform to pull readers in.
Seriously, don't miss this concept. It is the key to marketing your book effectively. If you're just saying "Buy my book!" no one will buy it. If you want more ideas on what to tweet about and talk about on social media that isn't "buy my book", read our blog post, 5 Things For Authors To Tweet About (That Aren't "Buy My Book!").
Also, watch the video for a great discussion on how to think like a business (because you are business if you're a self-published author), and how to create an elevator pitch/proposal for your own book. There are many benefits to this, so don't miss that section!
Are authors easy to convince that they need a platform?
While the original question spoke about traditionally published authors and convincing them that they need a platform, many self-published authors don't see the need or have other issues with the idea of marketing and building a platform.
Here's Carole's response to that:
"One of the resistances is 'time'. If you're a writer, you want to write. You don't want to promote, and so you don't have the time. My answer to this is, 'Do you brush your teeth?' Whatever you do every day, work on your platform. That consistent effort of that amount of time every day over time builds your platform."
The key is to spend a little bit each day. Cristian Harber, our guest on Episode 3 "How to Find Your Readers" had a very similar quote! Watch/listen/read that episode here.
What is a clear definition of "Author Platform"?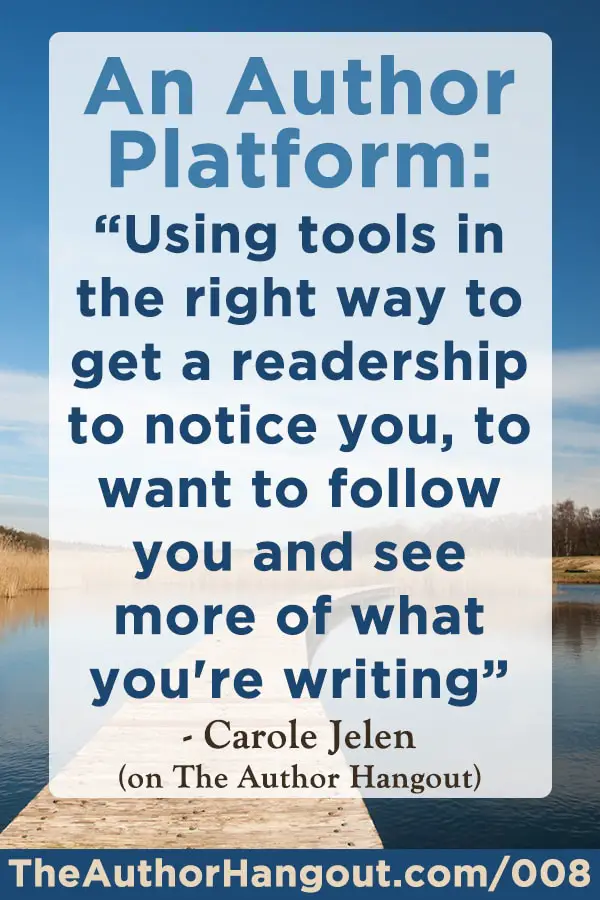 Carole talked about how there is conflicting opinions among blog posts, forums, etc… she then brings us a solid definition:
"An author platform is basically a combination of using tools in the right way to get a readership to notice you, to want to follow you and see more of what you're writing."
Carole's book then goes into detail, step-by-step about which tools to use, and how to put it all together so that you have a well-oiled author platform working for you. Learn more about this awesome book complete with checklists after each chapter here.
Why does an author need an author platform?
Carole dives into this by looking at the alternative…
"Does this push method of 'Buy buy buy my book!', does that work for you or is there a better way? Maybe some people will work in combination of the two, but the better way is to always pull in interested readers."
This is the key. As mentioned before, your self-publishing business is a business, and you need to treat it like one. Watch the video for a great discussion on profit and loss, return on investment, and more.
What are the new rules in the digital landscape?
Carole talks about how people get caught up in just using tools but are missing a key aspect:
"The new rules are basically the concepts underlying the use of the tools. Use of the tools is just one half of the story. If you don't understand the concepts underlying the use of the tools, you can really miss the boat."
The key takeaway? Just using Twitter or just using Facebook isn't enough. You need to know why you're using it, and how to use it most effectively.
Carole then explains why the power of groups online is a key tool that many authors overlook. Be sure to watch the video or listen to the podcast to learn more about this.
Where is the best place to share aside from my book?
This question from a viewer reaches to the heart of sharing about your author journey, about yourself, and creating that engagement with readers, instead of just saying "buy my book!". Carole talks about how if you build your author platform right, it all works together and the synergy that is created:
"You author platform is centered on your website where you have your blog. You start with the website and blog and that's where you're sharing. All of the spokes go back and forth, from your networks, from your presences, back and forth, to your website and to your blog. Think of that as your center, and the rest of your work as spokes leading to it."
The key is to be sharing about you and about your book on your website, and then leading people to your website from Twitter, Facebook, your Amazon author page, and other areas. Your website is also pointing to all of these areas, so the synergy that is created from setting your website as the hub is key. Carole's book goes into all of these different spokes, and how to interact on them. Seriously, invest in your business, and buy this book.
Please Leave Us A Review
Just like authors do with their books, we need reviews for our podcast! Reviews for our podcast help other authors to learn about and learn from The Author Hangout. Can you take a moment to leave a review for our podcast? If you don't know how but are willing to leave a review, please go here to learn how to leave a quick review for our podcast. It will only take a minute, but it will help a lot.
Thank you so much!
How To Watch/Listen
There are many ways to watch and listen to the show:
Other Episodes
Get caught up on the other episodes of The Author Hangout that you may have missed: