Welcome to the 63rd episode of The Author Hangout, a podcast designed to help authors, especially self-published and indie authors, with marketing their books and improving their author platform. Authors struggle with various aspects of marketing and we are here to help!
"Build relationships with the other authors and support each other."– Tyler Basu
Create Relationships With Authors
In this episode, we interviewed author Tyler Basu, who shared some great advice about how partnering with other authors can really boost sales for your books and their books. He also talked about maximizing your book description and other great book marketing tips.
Listen to the Show / Podcast
Podcast: Play in new window | Download (24.8MB)
Subscribe: RSS
Episode Resources:

Intro
He's a coach, author, podcastor and the founder and publisher of Lifestyle Business Magazine, a publication aiming to give lifestyle entrepreneurs insights and strategies to help them succeed. As an author he has written and published 4 books including the #1 Amazon bestseller, Lifestyle Business Blueprint, where in it you learn how to build a successful business that gives you the freedom and lifestyle that you dream of. Please welcome lifestyle entrepreneur, Tyler Basu.
How did you become an author and publish your first book?
"I've always enjoyed writing but I actually got into real estate a few years back and it was while I was getting into real estate that I started to do some things online. I started with blogging. Then I created a podcast back in 2013 and just started interviewing all these entrepreneurs and I started learning about online business. I was doing that on the side for a couple of years while still working in real estate. I managed to self-publish a couple of books on Amazon during that period before finally taking the leap and leaving real estate to start my own business which you mentioned in the intro there, the magazine, which is The Lifestyle Magazine. In the process of interviewing all those entrepreneurs and learning all that they've been doing, and myself implementing some of those things, whether it was blogging or podcasting or writing books and so on. I decided to take a lot of those strategies and write about them in the book and then include about a dozen case studies of various people that I interviewed who built their business using those strategies. So I had those just to show how those strategies were implemented. Not just share the theory or whatever but actually give them some… tell the stories and the real life examples. That's how the book came together."
What is your most recent book or project?
Tyler talked a bit about his most recent book, Lifestyle Business Blueprint, and how he approached it:
"This one did do the best and I have to credit some of the people that I featured for that. I decided to do a case study route. As I mentioned, I included 12 different case studies in the book. Before I actually wrote the book, I went and emailed a bunch of the people that I had interviewed for my podcast. I said, "Hey, I'm planning to write a book, it's going to be about this topic, I want to include some case studies of people who have implemented some of these things that I'm going to talk about just to help show the reader what's possible with these strategies. Would you be interested in being a case study?" The first 12 emails that I sent off, I was expecting to get some rejections but all 12 people said "yes" so I was, "Okay, great!" This might work. So I had to get to working and write the book once I had those commitments from those people. But they were all excited to help share when the book went online."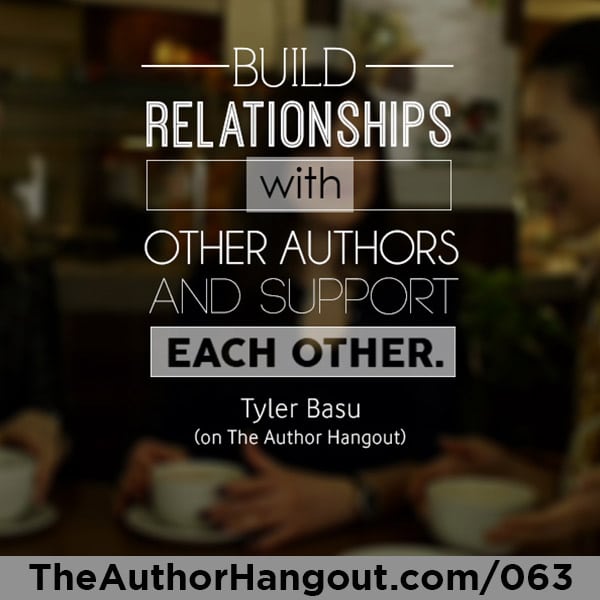 But, what about for fiction authors? How can that type of strategy work for them?
"It goes back to having a personal network of like-minded people, people with similar goals… The best thing you can do is build relationships with other people. Especially in whatever your genre or whatever your niche is. Build relationships with the other authors and support each other. Maybe leave a book review for each other. Maybe share a post for them on social media and so on. Do some things to help build their brand and help them get some exposure and they're most likely be happy to do the same for you. Investing in those relationships before you come up with a project or the next book will always help because the moment you ask somebody for a favor, they'll be happy to do it when you're doing something for them as well."
There's a great discussion about Tyler's digital magazine, with an awesome business suggestion for fiction authors.
Can you tell us about a time when you really struggled as an author?
"One of the big struggles is perfectionism. I definitely think of myself as a perfectionist. I don't ever want to create something and put it out there if I feel like could have done better or I didn't give it my all. Whatever I create, I really try to do my best at the time. That can sometimes push deadlines back a little bit. Or I start off with a really ambitious deadline but end up realizing that wasn't realistic unless I'm willing to compromise quality, I'll have to be flexible with my deadline. A tip there would be to give yourself adequate time. If you know that writing is going to be a challenge or if you know that editing is going to be a challenge, the formatting…whether you're doing it yourself or getting somebody else to help you through that process. Give yourself adequate time so that you're not feeling frustrated if you're not meeting your deadlines."
What one marketing tactic is really working well for you?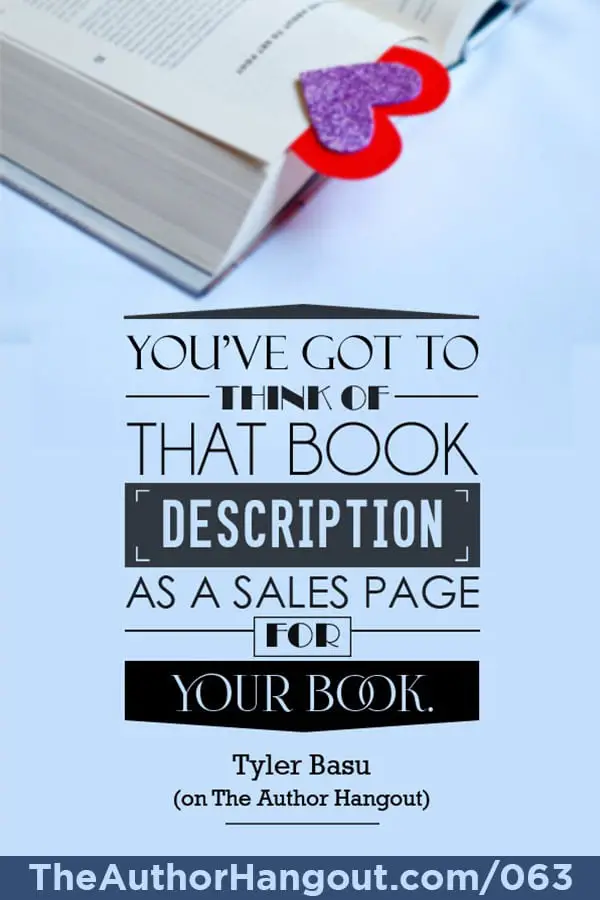 Tyler gave a few tips, but this one was great:
"There are a couple of things you can do for a book on Amazon that seem to make most of the impact or the difference in terms of sales and exposure… [one] thing that I see that's often underutilized is the description for a book. On Amazon you get to write a description that's 4,000 characters long. Sometimes I see people put 2 sentences and that's it. That really does a bad job of selling your book. You've got to think of that description as a sales page for you book and you may not have to hire a copywriter to write that for you but at least give a really good and thorough description of what the book's about. Especially for non-fiction, bullet points or what somebody's going to learn from the book are great. Even for fiction, do your best to write as much as you can in that description."
If you started over today, what 3 things would you tell yourself to help you sell more books?
"I would focus on building an email list and really building up my personal brand as an author. I didn't figure out that books were a great way to actually build your audience. I was only focused on the royalties in the beginning. "Holy cow, this is a great way to make some royalties." I didn't think about the whole building a brand and nurturing a relationship with my readers long term. The thing about Amazon, and some online marketplaces as well, is, if somebody buys your book, you don't know who that is and you may never have a way of contacting them again. So, if you can put something in your book that says, "Hey, come over to my website, I've got some resources. I've got some free stuff I can give you if you join my newsletter." Now you've got your readers on a newsletter. When your next book comes out, you can tell those people on your newsletter and you can do that over and over again."
He shared another great tip, plus be sure to listen to the podcast for a great challenge and a bonus from Shawn.
How can people connect with you?
"You can get in touch with me through my website at http://tylerbasu.com. There's some information about my books. Contact information links to social media and all that stuff. If you did want to check out the magazine that just hit the app store, just search for Lifestyle Business Magazine in Apple's app store and it'll pop right up."
Please Leave Us A Review
Just like authors do with their books, we need reviews for our podcast! Reviews for our podcast help other authors to learn about and learn from The Author Hangout. Can you take a moment to leave a review for our podcast? If you don't know how but are willing to leave a review, please go here to learn how to leave a quick review for our podcast. It will only take a minute, but it will help a lot.
Thank you so much!
How To Listen
There are many ways to listen to the show:
Other Episodes
Get caught up on the other episodes of The Author Hangout that you may have missed: