Welcome to the 14th episode of The Author Hangout, a "Hangout on Air" designed to help authors, especially self-published and indie authors, with marketing their books and improving their author platform. Authors struggle with various aspects of marketing and we are here to help!
"The marketing part of it, for us, it's part of the art. Because for me, true marketing is not a dirty word. It's getting the people most inclined to like what you have to offer, to touch as many of those people as possible."– Sean Platt
The Business of Book Marketing
Writing is just the first part of the equation. You have to write a book in order to publish it. You then need to market your book after you have published it in order to sell more books. Many writers are great at the first part, they figured out the publishing part, and get stuck when it comes to marketing their books.
In this episode, we were joined by Sean Platt from Sterling & Stone. He has published several books in fiction and nonfiction, and he is always pushing the boundaries and trying new things. Most importantly, he is a workhorse, and is publishing several books a year and maintaining a high star rating! He talks about how he makes that possible, his thoughts on topics such as book pricing, marketing strategies, and treating your books as a business.
The Author Hangout – Episode 14: "The Business of Book Marketing"
Listen to the Show / Podcast
Podcast: Play in new window | Download (45.1MB)
Subscribe: RSS
Episode Resources:

How Sean Platt Got Into Self-Publishing
Sean gives us a little bit of insight into how he got started in the self-publishing business:
"I've actually only been writing for 6 years; before that, I had a flower shop, I had a preschool. I've always been kind of an entrepreneur. I've never had an actual job. And I really never thought I could write. I dropped out of high school, so that just wasn't – like, I wasn't a writer. But I married a really, really awesome teacher, and she always encouraged me to write… "
He quickly segued into Kindle book pricing because it was a hot topic when he was first getting started…
"In fact, the thing that we got criticized for most last year was pricing The Beam at $9.99. And that was a simple business decision for me. I was shocked that anybody had an opinion about it one way or the other. What I price my stuff is totally up to me, but everybody had an opinion about it… we know what we want to get for it; we know what it's worth to us, and so we're going to put it out in the marketplace and charge that, and we're either right or wrong. But it's okay, it's our choice. And we're fortunate to have so much inventory, we have so many books out there that we really can play and really test and do stuff like that."
Sean has 2 totally amazing pieces of information here: 1) Price your books how you want… but that also goes along with 2) He is at a point in his business where he can experiment with stuff, because he has a lot of books out there. Both of these are gold, but they must go together to make sense.
He also explained his initial marketing plan:
"I wanted to get five or six books in there by Christmas, because I knew it was going to be a very, very merry Christmas for indie publishing when people – that big wave on December 25th, all these new Kindles, and then people were going to fill them the last week of the year. I wanted to be on those brand new Kindles. So I needed to get my first stuff to market, and not just to market, but five or six titles. And they had to be great, because if they weren't, I was going to suck, and all the people who were better than me were going to sell and I wasn't. It's very simple math, right? "
You Write With Other Authors – How Does That Work?
"What we found, the way we write together, it really is a case of 1 plus 1 equaling just many, many times more than 10. It really is great, because we're all doing what we're best at."
He goes on to describe the process they use for one of their imprints. If you're interested in writing with another author, then you definitely have to listen to the podcast or watch the video to hear this process.
Looking At Self-Publishing As A Business
One of the key things that drives all of the decisions that Sean Platt makes as a self-publisher, all goes back to looking at it as a business. here are is how he sums it up:
"Yeah, we're very business-minded, and we treat it like a business. And I think that's one of the things that hangs up a lot of writers. Yeah, the whole indie trend is great. It's awesome; I love it. I want to French kiss it every day. It's given me a really cool life. But it's not for everybody."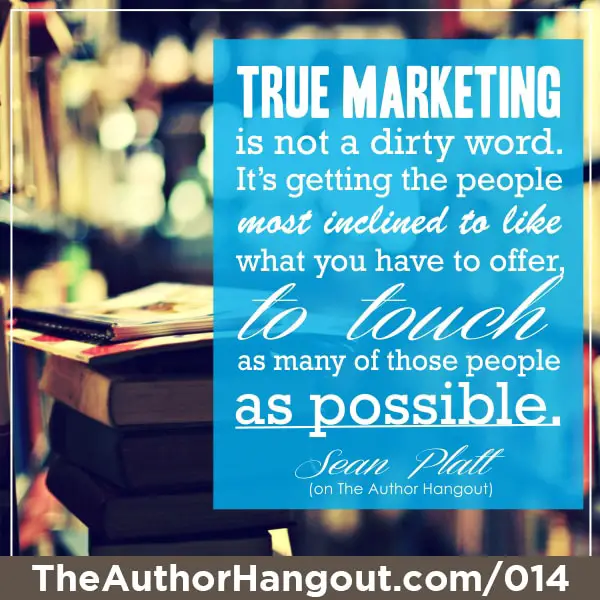 He then touches on marketing, the part many people get hung up on in their self-publishing business:
"The marketing part of it, for us, it's part of the art. Because for me, true marketing is not a dirty word. It's getting the people most inclined to like what you have to offer, to touch as many of those people as possible."
Diving Into Sean's Storytelling/Writing Process
Sean & his writing partners created a month-long look into their writing process called Fiction Unboxed, and here's what got them started:
"That whole thing that you thought your whole life, where storytelling is this mystic thing you've got to climb to the top of the mountain — everyone is a storyteller… We know stories. We tell stories to our children, we tell stories to our friends. We told stories to our parents growing up. We all know how to tell stories, but for some reason, we don't believe that we can actually tell a story. I think it's just practice. Yes, some people are naturally going to be better at it than others; some people are going to understand language and narrative and flow and dialogue and all of that. But it is a craft. It is something you can work on and get better at and pay attention to, and make those incremental improvements. So we just wanted to demystify storytelling, so by putting our money where our mouth was, we were going to record our process live for 30 days. "
Learn more about these awesome 30 days, recorded in full detail, for you here: Fiction Unboxed
How His "Write. Publish. Repeat." Method Works
Sean and his partners wrote a book called "Write. Publish. Repeat." that explains their process of writing much more so that you can sell more books. Here is his thoughts on the subject:
"The old model, the legacy model, the traditional model, is to publish a book a year, max, in one genre. The percentage of the market who just gobbles books, they're reading more than that from their favorite authors. And if you give – the worst thing you can do is have a reader fall in love with you, and you have nowhere else for them to go. And if you think that one book or two books or three books will feed you, then that's just expecting for lightning to strike, and you can't build a business around that. Like I said very early on, it's just math. The simple math is, the more books you sell, it feeds itself."
He goes into the math a little bit more, showing how important it is to publish more books:
"If you put out let's say three books a year, and you do that for 5 years, you've got 15 books out there; that's a catalog. If a reader finds you and falls in love with you, they've got 14 other books to go spend money on and pay their attention to. If you write a book a year or a book every 3 or 4 years, you don't have a chance. I don't want to say you don't have a chance; of course you have a chance. But it's so much harder to earn the attention and then hold onto it. It just is."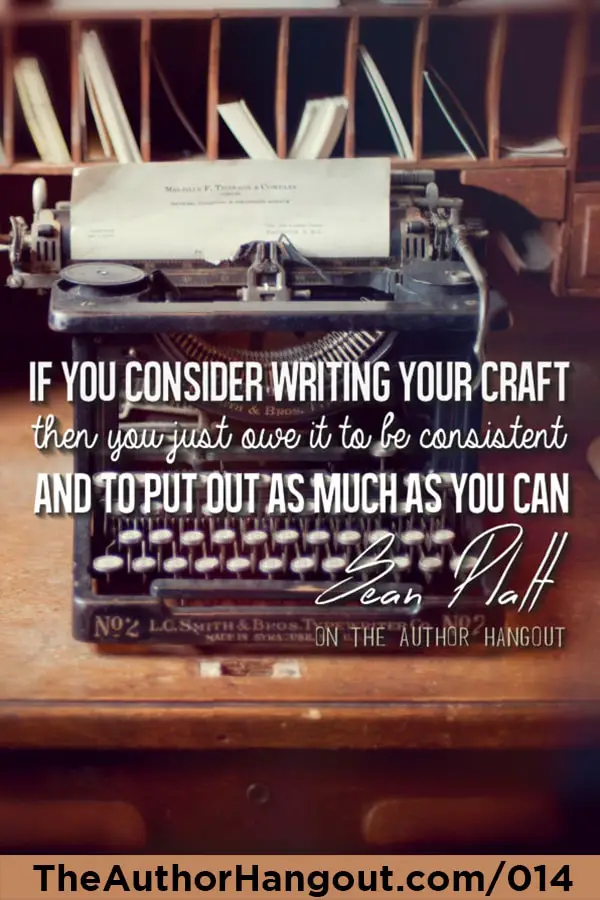 And, he brings it away from the business aspect of it, focusing on the craft of writing:
"If you consider writing your craft or your business, then you just owe it to be consistent and to put out as much as you can. I'm a good storyteller because I tell stories all the time. I'm a good writer because I write all the time. And so I think that I've grown tremendously in the 3 years that I've been publishing, because I'm constantly doing it."
Selling Books From Your Own Website
We chatted with Sean about his new website for his publishing company and how he is selling books from his own website. Listen to the interview to get all of those details about what they are doing.
They are selling the books from their own website and we asked if it was viable for all authors to do that:
"Absolutely not. I think that all authors have to look at what their goals are, what their assets are – we have a lot of books, so we have a lot of flexibility in the different things that we want to try. If I had three books right now, I would not be interested in developing the direct selling mechanism at all, because it's hard."
Building An Email List The Right Way
Sean talked about the difference between a subscribers list and a buyers list, and you don't want to miss that distinction, so be sure to listen to the interview!
He also talked about how to get people onto your list:
"Just starting with a subscribers list, absolutely. You have to do that. If you want to succeed as an indie author, that's non-negotiable. It's as non-negotiable as having a cover on your book. It really is. The thing about a list is that everybody has a list. Everybody's starting a list. Every author has a list. So what do you do to stand out from the other authors? How are you better? Give them better stories, give them longer stories, give them hangouts. Do something that other authors aren't doing, and don't be afraid to truly be yourself. Don't be afraid to be vulnerable. Don't be afraid to over-give while you're still building your name and earning their attention, because if you don't have it, you don't deserve it and you're probably not going to get it."
Wrap up
There is so much more in this interview! It has tons of great insights about how they are thinking about their publishing business and a lot of the mindset, tactics, and long-term strategies that they are implementing in order to truly succeed with this business!
Just emulating them may not be possible for you, but if you can take steps to publish more books and see the types of success that they are seeing, then it is definitely worth it to hear what they are doing!
Please Leave Us A Review
Just like authors do with their books, we need reviews for our podcast! Reviews for our podcast help other authors to learn about and learn from The Author Hangout. Can you take a moment to leave a review for our podcast? If you don't know how but are willing to leave a review, please go here to learn how to leave a quick review for our podcast. It will only take a minute, but it will help a lot.
Thank you so much!
How To Watch/Listen
There are many ways to watch and listen to the show:
Right here… You can watch the video above or listen to the audio version as well!
You Tube… You can go here to watch the video on YouTube! Be sure to subscribe so that you don't miss future videos.
iTunes… Our podcast is up and running on iTunes! Click here to listen to past episodes and subscribe for free to be notified of all future podcasts!
Stitcher… If you prefer Stitcher for your podcast listening, you can listen to our podcast here.
Other Episodes
Get caught up on the other episodes of The Author Hangout that you may have missed: