Welcome to the 37th episode of The Author Hangout, a "Hangout on Air" designed to help authors, especially self-published and indie authors, with marketing their books and improving their author platform. Authors struggle with various aspects of marketing and we are here to help!
"If you're doing [self-publishing] all on your own, just remember that you've got the job of like 50 people and you've got to do it right."– Adam Cushman
Book Trailers for Book Marketing
In this episode, we interviewed Adam Cushman from Film 14 (previously Red 14 Films), a company that helps authors make stunning book trailers. He talks about using book trailers of course, as well as great tips for marketing, especially on how to use social media properly, including tips for specific social networks.
Listen to the Show / Podcast
Podcast: Play in new window | Download (22.3MB)
Subscribe: RSS
Episode Resources:

Intro
He's the novelist and film maker who co-founded Red 14 Films a literary trailer production company that creates live action cinematic book trailers to capture the plot, voice and tone of a story without compromising the reading experience. Besides receiving the Best Short Film Award at the New Media Film Festival for the Whipping Club starring Eric Roberts, his trailers have been featured in numerous publications including the Huffington Post, Publishers Weekly, USA Today and more. Please welcome the author of the novel Cut, Adam Cushman.
How did you get involved in the book industry and how did you become an author?
Here is how Adam got started:
"Sure, my background is, I have a strong background in fiction writing as well as film making. I've been doing that my whole life. Been sort of going back and forth. Always working on one literary project to one film project. Usually around the same time. So, falling into the book trailer realm was sort of a natural step in a lot of ways although it was largely accidental when it happened. Basically I hadn't…like a lot of people even today, I hadn't really heard of a book trailer when I first started. Through a friend of mine who had a novel, he knew I was a director. He asked me if I would make one and I said, "I would love to but I don't know what that is or what it would constitute." So he directed me to a few that were online and what I discovered was that the book trailers themselves have been around for a number of years starting around 2002. 2003 is when it started to pop up online using the term "book trailer". In my research I found that there wasn't a great deal of quality put into them. There was a lot of still frames slapped together, that type of deal and the feeling that I felt was, "Ok, it needs some sort of video content so anything will do" but it wasn't really getting the results that I think they were looking for. I found a lot of freedom creatively in the first one that I did and people responded to it. Having a number of friends with novels, they inevitably came to me and said, "Could you do the same thing for my book?" The company was born at that point."
He also talked about how his company helps authors like you:
"I think first and foremost, these are mostly queries that we get from authors, it's just a question of affordability. Especially if you're talking about live productions. That's really the thing we wanted to nail down when we first got started. We were saying, "Let's offer some sort of a live action alternative but make it affordable." That's really the thing, we all in Red 14 have a background in film production. We were all, for the most part, film makers and writers ourselves so we understand. At the same time we understand that the costs are just astronomical for some of these things so that's really what we pride ourselves upon is keeping costs as low as we could possibly make them so that it's accessible to all authors at whatever level."
For a price range and much, be sure to listen to the interview.
What benefits and results can I see from a book trailer?
"It depends. It varies author to author but for the most part, issues that come up are, they're looking at a trailer to boost sales or they're…just direct book sales and conversions or sometimes they have a fan base and they feel this is a way to promote the book but also something to give back to their fans that's visually pleasing. There's also a lot of, especially in the Y.A. genres a lot of thought put to what the movie is going to look like, how they can better enhance their pitch package. Trailers, it seems like, especially if they're live action and faithful to the novel, that's often a really nice tool to then use later. To pitch producers, to pitch movie executives so that what you're getting is somewhat a scalability from the trailer that you have. It's not, I think the term "trailer" is largely a misnomer at this point only because I don't think you're going to get the full benefit of them if they're just designed to trail the release of your book. Rather, the full benefit comes from the permanence of it. The fact that it's there throughout the run of your book as long as your book is available they'll have that video component to come to. So it adds up."
He talks a bit more about the permanence of the trailer and how it compares to other forms of advertising.
What challenges do you see authors facing?
Here is one that Adam sees:
"With self-publishing you're faced with all the challenges a big publisher would face but they would have a whole team and you're pretty much on your own, so it's a question of say, "I'm going to do this the way it's done. I'm going to hire an editor rather than self-edit", you know what I mean? "I'm going to make the cover as dynamic as possible and go through a few rounds…" It can be expensive so I think one of the main things they're looking at is cost and, truthfully there are quite a few self-publishing companies who have capitalized off of that. It's possible that a lot of authors are paying more than they should and definitely for more than they're getting."
Another one that Adam talks about is finding readers:
"People for the most part respond to photographs and they respond to videos online especially in terms of what they're going to share. So the challenge becomes, for us and for the author really is making a video that's not necessarily a direct advertisement, that's not following the commercial model necessarily only because I just don't think people share that stuff. I don't think people are going to take the commercial and say, "Oh, I'm going to send this to my friends." If it's spammy which, let's face it, even a lot of the book trailers even now are that's why they don't get a high view count because of the approach."
He shared some great tips about advertising on Facebook, Twitter, and even Reddit! Listen for some tips on advertising on each of these platforms.
If you started over today, what 3 things would you tell yourself to help you sell more books?
He talks about generic marketing you see from people:
"There seems to be almost a fast food approach to a lot of this. Companies that do it all for you and so forth. I think that's a mistake. I think that can often lead to a generic marketing campaign."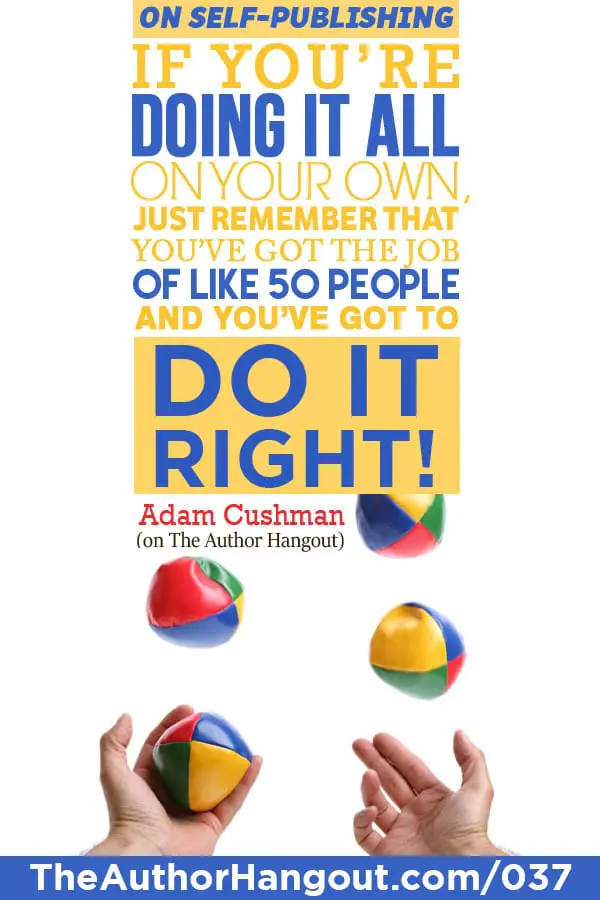 He also talked about self-publishers trying to do it all by themselves:
"I would say the same thing as far as the publishing aspect of that question. If you're doing it all on your own, just remember that you've got the job of like 50 people and you've got to do it. You've got to do it right. I, for example, know a lot of self-published writers who have self-edited book. I don't think it was meant to be done that way. Having an editor is a good thing and they a huge important part of the process. Same with the proof-reader and everything else."
Seriously, it is SO important that your book looks professional. If you do not know how to do cover design, then get someone who does. You want your book to stand out, in a good way.
Lastly, he talked on how to use social media correctly.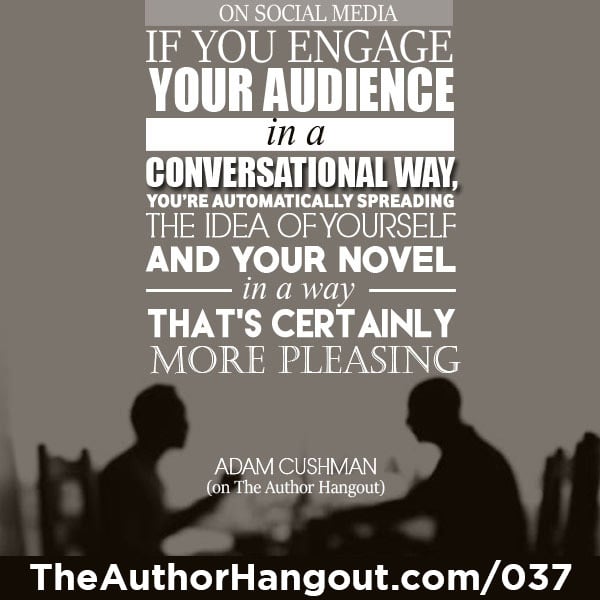 This is something that many authors get confused by, but he makes some good points:
"If we're talking about social media, what social media really even is because it's not going to work as a platform to advertise the way you think advertising is supposed to be done. It mostly works by going in there and starting a conversation. If you can do that and if you can find a way to engage your audience in a conversational way, you're automatically spreading the idea of yourself and your novel in a way that's certainly more pleasing. But, just cuts down on the level of noise out there like I said. You can go on Twitter or Facebook and just see so much direct advertising, "buy my book, like my page" and it just doesn't really work that way. So I would say, definitely find ways to engage your audience in conversations and that sort of advertises for you."
How can people connect with you?
"Definitely, our website is http://red14films.com/ anyone can reach me directly by email. My email is [email protected] and I encourage anyone even who has questions or thoughts about the form (book trailers) I know it's new. I know there's still a lot of questions people have about the form. What to do with trailers and so forth. I'm happy to answer any questions. Further, I would say, granted, we tried to make it as affordable as we can, it's still not affordable for everyone, and so for those authors that couldn't afford even a basic hook trailer, all hope is not lost. There are ways to do it yourself. I'm certainly available to offer advice and tips on how to that effectively."
Please Leave Us A Review
Just like authors do with their books, we need reviews for our podcast! Reviews for our podcast help other authors to learn about and learn from The Author Hangout. Can you take a moment to leave a review for our podcast? If you don't know how but are willing to leave a review, please go here to learn how to leave a quick review for our podcast. It will only take a minute, but it will help a lot.
Thank you so much!
How To Listen
There are many ways to listen to the show:
Other Episodes
Get caught up on the other episodes of The Author Hangout that you may have missed: