Welcome to the 15th episode of The Author Hangout, a "Hangout on Air" designed to help authors, especially self-published and indie authors, with marketing their books and improving their author platform. Authors struggle with various aspects of marketing and we are here to help!
"I think the biggest benefit is just that extra exposure. Even if you don't land direct sales right away, you're getting lots of people seeing the cover of your book, seeing your name, so that by the time they might see it recommended on Amazon or hear about it from another friend and say 'Oh yeah, that makes sense.' The more you hear about it, the more you get it in your mind: 'This must be a book everyone's talking about.'"– Alana Terry
Blog Tours for Book Marketing
One of the most popular ways to promote a book was doing a book tour. You would visit various places to talk about your book, read from the book, sign copies of your book, and more. Now, with digital publishing, the concept of a book tour has changed. Now, you can virtually visit many different blogs and sites dedicated to books, all from the comfort of your home, and reach a wide audience, in what is called a "blog tour".
We were joined by bestselling author Alana Terry, who discusses blog tours and her experience with them. She shares how she has done them in the past, how she does a blog tour now, and some tips and tricks for those authors looking to do their own blog tour!
The Author Hangout – Episode 15: "Blog Tours for Book Marketing"
Listen to the Show / Podcast
Podcast: Play in new window | Download (28.0MB)
Subscribe: RSS
Episode Resources:

Introducing Alana Terry
Alana Terry shared a little bit about her journey, starting out trying to go the traditional publishing route and being discouraged, but getting some encouragement from winning writing contests, so she pursued self-publishing, and the rest is history!
Listen to the episode to hear more about her story!
What is working for you in book marketing?
Alana talks a little about how she found out about blog tours and how she got started with doing blog tours.
"I didn't have any sort of following or even a Facebook page or anything when I first published, so I just typed in something like 'book publicity', found some things about blog tours. My first blog tour right when I had my new release was a paid service. Probably ended up paying way too much, but learned a lot about how blog tours work, and since then have run my own blog tours and have had a lot of success with that."
What is a blog tour?
"Basically a blog tour is the same idea as a book signing tour where the author traditionally, in the old-fashioned style, would go to book stores or libraries or other venues, and people would come and buy the book and the author would sign it or the author would read a little bit. This idea is taking that concept and doing it virtually, so the author doesn't have to go anywhere and the readers are just blog followers. There are thousands, probably hundreds of thousands of fiction blogs, if you write fiction, or blogs regarding any niche you might be writing in."
That is a huge market for promoting your book!
"So basically the idea of a blog tour is you find a certain number of review blogs or blogs in your niche market who will do interviews or a review or things like that about your book so that their readers can be exposed to what you're doing."
What kinds of blog posts are included in a blog tour?
Alana shares with us a lot of the different options that are available in a blog tour:
"The very best, in my opinion, kind of blog post to have would be a review. That's when the blogger has actually taken time to read your book cover-to-cover and gives their opinion about it and also includes links to buy it… Probably the next popular would just be a spotlight post where you, the author, would give the blogger all the information about your book, including a cover image and synopsis and buying links, and all they have to do is put it up on their blog. Lots of bloggers like to do author interviews. Some do things like first chapter reveals, so you can put the first chapter of your book, or at least a segment of your first chapter, up on blogs so people can read it. These are all different kinds of posts. I've even done a couple character interviews, where the blogger will ask a character of yours some of the questions, and you answer in character."
How similar is this to doing a press release or media kit?
"It's a lot more social because you can interact both with the bloggers and with the bloggers' readers. One thing that's important if you do do a blog tour, it's good etiquette and it's also just a nice gesture to go and read through comments of people who have commented on the blogs, who have exposed your material. It's a little bit more two-way than something just like a press release, where you send it out and hope people do it."
This is key… blog tours offer a way for two-way communication, and interaction with readers. Yes, it takes a bit more time, but you can create real fans, because they know they are able to connect directly with you.
What are the benefits of doing a blog tour?
Obviously, we want to know what the benefit are, especially since blog tours are a bit of work. Here is what Alana shares about some of the benefits of doing a blog tour:
"The biggest benefit is just that extra exposure. Even if you don't land direct sales as high as you'd like to right away, you're getting lots of people seeing the cover of your book, seeing your name, so that by the time they might see it recommended on Amazon or hear about it from another friend and say 'Oh yeah, that makes sense.' The more you hear about it, the more you get in your mind 'This must be a book everyone's talking about.'"
She also talked about a few of the other benefits from the blog tour, so be sure to watch the video or listen to the episode to catch these other benefits.
Have you done a blog tour for your own books?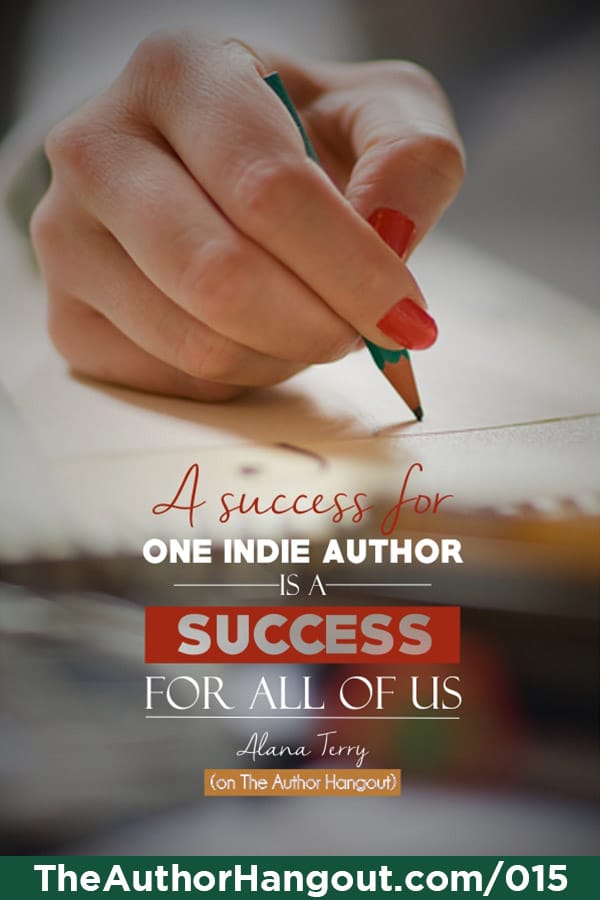 Here's her story of her first experience with a blog tour:
"My first novel, The Beloved Daughter, like I said, I didn't know anything about marketing but I felt strongly that it was a book that deserved an audience. So I paid for a professional blog tour service. Didn't see at all in increase in direct sales, but in a really indirect way, I think a lot of the success the book has found is a result of that. One of the bloggers I met recommended it and nominated it for an award, which it won, which led to a huge increase in sales, because it was an award through a retail outlet. So the retail outlet was recommending it to all of their 600 something stores. So that was really neat. Things like that, you might not see the results the next day. When you do, that's great, and there are some blogs, like I said, that have a high enough readership that if you're featured on that blog, you can see a direct sales peak. But even when that doesn't come, there can be other real great benefits. I've also made several good blogging friends. Several of them have beta read for me in my following novels, and I've really enjoyed their feedback."
Alana on "beta readers"
"Beta read is the idea that before I get this out there, I want some feedback, so a lot of self-published authors, myself included, will actually hire a story editor to give feedback. Beta read is more that I just want a reader; you don't need to be a professional author or reviewer or editor. I just want your feedback, so here's my – it's not quite a rough draft; you want it pretty polished – but 'Here's my work in progress. Can you read it and give me your feedback?'"
She then talked about how getting beta readers is an important part of the process, and one very specific example of how having beta readers is helpful for editing, as well as making sure you dial in your characters.
What are the pros and cons of using a blog tour service?
Here are the pros:
"It's definitely something to consider, going with a service, especially if you've never done a blog tour. Even though it was pretty expensive, I really don't regret doing it that way at least the first time, because I learned a whole lot about how the system works. The benefits of hiring a service to do it are you can get exposure to blogs that you might not know about…Whereas when you go with a service, they already have established relationships with reputable blogs. It's not always the case, but as a generality, you might end up on some more high traffic blogs if you go with a professional service, because the blogs that have thousands and thousands of followers might not have time to read every single email they get from every single author. And then just the organizational: when you hire a blog tour service, they help a ton with all the organizing and scheduling, and that's probably the biggest time-consuming part of doing it yourself. So those are all the pros of using the service. "
Here are the cons:
"In addition to the price, you don't quite get the same degree of social interaction because you're always going through the blog tour service instead of connecting directly with the bloggers. You have a lot less say in what kinds of blogs you're set up. For example, I write Christian fiction, but sometimes in the service I hired, my book was thrown up in blogs for everything from erotica to thrillers to second grade readers. It's just kind of a catchall, and I don't feel like those are quite as beneficial. So you don't get as much say in what kinds of blogs you're on. I found when I went through the service, I had a lot more busywork in terms of guest posts and interviews."
She also had some more pros and cons in the interview, so listen to the episode on iTunes or watch on YouTube (or above) to hear the whole interview.
How hard is it to set up a blog tour?
"When you're first setting up, it's very hard. When you have nothing and you need to find the bloggers and interact with the bloggers and read all their review – they have certain protocols that they have to go through. It takes hours and hours. Once you get past that first blog tour, you save your database of bloggers, you save all their email addresses, it gets easier and easier each time."
The book on blog tours
Alana wrote a book on blog tours, and she talked a little bit about that book:
"The book is called How to Promote Your Book with a Blog Tour. I tried to keep it pretty straightforward so that it can be for nonfiction or fiction, for self-published or traditionally published. I talk a lot about the pros and cons that we just mentioned of doing it yourself or going with a service. I think even if you're going with a service, there's helpful information about that, because there's a lot of things to do getting ready for it and following up on it that the blog tour service might not fill you in on. And especially if you want to do it yourself, it gives a real detailed, step-by-step – probably 12, 15 points of 'here's how you do it.'"
If you are interested in blog tours and want some more information on it, you can get Alana's book here:
Wrap Up
This was a great interview and if you've never heard of blog tours, if you have but you weren't sure what they were all about, or even if you have done a blog tour before, Alana has tons of great information.
We also talked about building community, interacting on your own blog, and more! Be sure to watch or listen to the episode so you don't miss all of this great advice!
Please Leave Us A Review
Just like authors do with their books, we need reviews for our podcast! Reviews for our podcast help other authors to learn about and learn from The Author Hangout. Can you take a moment to leave a review for our podcast? If you don't know how but are willing to leave a review, please go here to learn how to leave a quick review for our podcast. It will only take a minute, but it will help a lot.
Thank you so much!
How To Watch/Listen
There are many ways to watch and listen to the show:
Right here… You can watch the video above or listen to the audio version as well!
You Tube… You can go here to watch the video on YouTube! Be sure to subscribe so that you don't miss future videos.
iTunes… Our podcast is up and running on iTunes! Click here to listen to past episodes and subscribe for free to be notified of all future podcasts!
Stitcher… If you prefer Stitcher for your podcast listening, you can listen to our podcast here.
Other Episodes
Get caught up on the other episodes of The Author Hangout that you may have missed: