Welcome to the 41st episode of The Author Hangout, a podcast designed to help authors, especially self-published and indie authors, with marketing their books and improving their author platform. Authors struggle with various aspects of marketing and we are here to help!
"It's also about owning a relationship with your readers that's really important, like having a mailing list and a Facebook page, being on Twitter and blogging as well and being able to communicate with people directly."– Mark Edwards
Keeping The Readers You Get
In this episode, we interviewed bestselling author Mark Edwards. He shared a lot of great tips that he uses to keep readers. Doing a lot of marketing only to get one sale doesn't make much sense. Don't miss these great insights that will show you how to keep the readers you work so hard for.
Listen to the Show / Podcast
Podcast: Play in new window | Download (25.5MB)
Subscribe: RSS
Episode Resources:

Intro
He's the bestselling author, of crime and psychological thrillers including What You Wish For and Because She Loves Me. While he's also co-authored several other popular books, his first solo novel, The Magpies topped the Amazon UK chart at #1 and has sold more than 250,000 copies alone. Here to share his story is an author who has found immense success in both the self-publishing realm and the traditional publishing world, Mark Edwards.
How did you become an author and publish your first book?
He talks about his initial process trying to get a publisher:
"I started writing about 20 years ago when I left university I'm in my mid-forties now. I spent a few years writing novels and submitting to agents. Before, it took me 2-3 years to get an agent. I got encouragements straight away from agents so I kept going because I was always getting encouraging words however, it's not quite there yet. Now I've got an agent. She's going to get a publisher and it's going to be easy. But it wasn't. She couldn't get me a publisher and eventually dropped me so I'm back to where I started. But during that time I was on a TV show on the BBC in the UK about aspiring writers and it kind of shows me with my agent and her submitting my manuscript to a publisher and her calling me to tell me that they've rejected it and all that stuff."
He then talked about his continued rejection, and then how he decided to try to self-publish…
"I must have been spending 2 or 3 hours a day on top of my day job doing marketing during this very intense period. We managed to push Killing Cupid up the charts very, very slowly. Then in April that year we published our second book which was called Catch Your Death, which was a virus thriller, and that's when things suddenly took off. To cut a long story short, Catch Your Death got to #1 overall in the UK on Amazon and Killing Cupid got to #2. For about a month we had the #1 and 2 slots on Amazon over here. It was just amazing. It was very emotional actually. After all these years of not making it and finally getting that…I guess to get that validation that stuff that I or we have written was good and is doing really well."
What is your most recent book or project?
He talked about his latest projects, including some tips about co-writing books:
"I've actually just finished 2 books. I finished a book called Follow You Home, which is my new solo book. It should be out on June 30th. I finished a book called which is a new one with Louise. I think it worked out well. To be honest, when you co-write with somebody and you only get half the money, it's quite hard to make a living doing that. It would be very hard for us to only do that and also plus I enjoy writing books on my own as well. But it's also great having a co-writer creatively because you get that instant feedback and validation as you're writing. I think one of the hard things about being a writer is when you're writing something you don't really know whether it's good or not. You might have a feeling about it but when you have a co-writer you're sending stuff back and forth all the time and you get that instant feedback. As long as you're honest with each other it's really helpful. I always recommend to people writing with a co-writer. Apart for the financial side of that, it's a great thing."
Can you tell us about a time when you really struggled as an author?
While he already shared his initial struggles, he shares a great insight as to what he currently struggles with despite his success:
"I guess the thing that I worry about is that maybe having all my eggs in one basket. Because I published by Amazon. All my success being in Amazon. And really, all of it or 90% in the UK, what I really want to do is find a way to break out so that I sell more books in the US. I worry that…maybe if I'm…well Amazon is amazing. Pretty much everything that's happened to me, everything good that's ever happened to me is thanks to them. What if people stop…maybe this sounds crazy but what if people stop buying e-books or stop buying Kindles, what's going to happen? So I'm kind of worried. I want to keep my options open and I'm always trying to think ahead so I'm not resting on the laurels and thinking, "I've sold this many hundreds of thousands of books everything's going to be great" because I've kind of had a crash once after a period of success and I'm just determined to work really hard to make sure it doesn't happen again."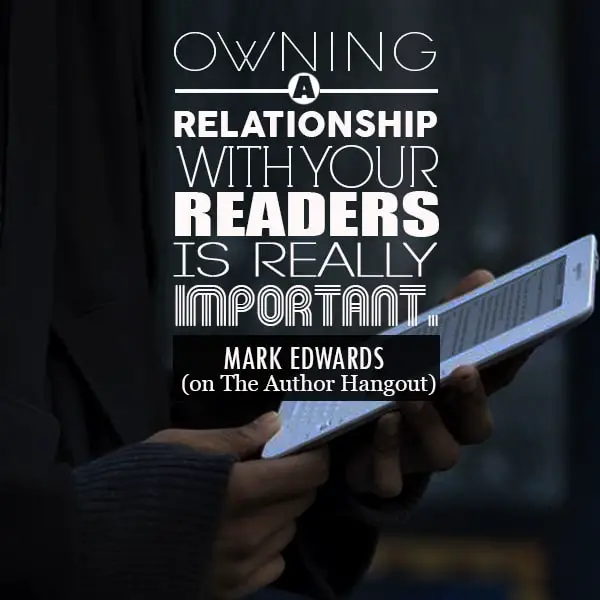 He then shares this gem:
"It's also about owning a relationship with your readers that's really important… having a mailing list and a Facebook page, being on Twitter and blogging as well and being able to communicate with people directly. "The thousand true fans" if you can find them and nurture them and keep them in sight, then you've got a much better chance of success. I really believe in that. I probably spend…these day I spend 90% of my marketing time marketing what you might call retention of wanting to keep your existing readers."
Tell us how you're using Facebook and book groups to keep the readers you do have.
He goes into details about how he keeps the readers he has using Facebook:
"Louise and I have a very active Facebook group. We post on that maybe 2-3 times a week and we don't just do promotion about books. We chat with people. We invite people to give us ideas for character names. For example, there's a pop group we did a competition on our page to come up with the name for the group and we used one of the names one of the readers came up with. We used loads of character names of real people in our Facebook page in our books, which they love. We do loads of signed books giveaways. And we always reply to people. I think one of the beautiful things is when one of the people send you messages on Facebook or Twitter or email, and I get quite a lot, always respond. Just be nice to people. Be friendly and people will remember that and don't just send a standard reply to people as well. When a proper person replies, people are actually amazed when they email me and I reply and I actually respond to all the points to their email. It takes up a lot of my time but I think it's worth it because, first of all I really enjoy it and I really appreciate it when people contact me but also it means that they'll remember me. I'm going to be in their front of mind when they're next thinking about a book to look for or recommend to their friends as well… I think it's just being yourself, being friendly, being nice to people on social media."
He also shares some great tips about connecting with readers in book groups on Goodreads, so listen to the interview so you don't miss that!
Plus, there was a good discussion about how NOT to act on social media.
He finished with this old:
"One thing I found which really helps me get in contact with all the readers is, in the back of my book, I have a letter from the author where I talk about the inspiration behind the book. Most of my books are based on the horrible things that happened to me and I exaggerate and turned into scary stories. In that letter, I talk about that and I always say in there, "Here's my email address" my personal email address and "Here's my Facebook page, here's my Twitter, username" and I say "Please contact me and I always respond." Since I put that letter in the back of my books the number of emails and contacts I get has increased tenfold."
If you started over today, what 3 things would you tell yourself to help you sell more books?
This has become a popular suggestion because it is so true:
"You've got to make yourself look professional. You need a book cover that looks like it could be in a bookstore. It's got to look as professional and slick as possible. It's worth hiring somebody and spending the money to get that cover because that cover can do so much work for you and a bad cover, it doesn't matter how good the book is it won't sell."
He also talked about this passive marketing tip:
"The product description… you've got to really work on it. Make it really sizzle. I managed to double sales within an hour with Killing Cupid by changing the book description and that's what propelled it from it sitting outside the top 100 to 80 for a long time. By changing that description it shot it up the charts. You've really got to get a good description."
Lastly, he gave some more great advice about keeping the readers that you do get, so definitely listen to the interview so that you don't miss this great tip.
How can people connect with you?
"Okay, my Facebook page is https://www.facebook.com/vossandedwards and we've got a website, http://vossandedwards.com/ and I'll give you my email address as well so if people want to contact me. It is [email protected] and I'm always happy to hear from people. I don't know if I can answer all your questions but you can connect with me through there. Also on Twitter I'm https://twitter.com/mredwards."
Please Leave Us A Review
Just like authors do with their books, we need reviews for our podcast! Reviews for our podcast help other authors to learn about and learn from The Author Hangout. Can you take a moment to leave a review for our podcast? If you don't know how but are willing to leave a review, please go here to learn how to leave a quick review for our podcast. It will only take a minute, but it will help a lot.
Thank you so much!
How To Listen
There are many ways to listen to the show:
Other Episodes
Get caught up on the other episodes of The Author Hangout that you may have missed: