Welcome to the 55th episode of The Author Hangout, a podcast designed to help authors, especially self-published and indie authors, with marketing their books and improving their author platform. Authors struggle with various aspects of marketing and we are here to help!
"Write as much as you can and get it published so that you're constantly putting new stuff in front of a reading public."– Maggie James
Writing As Book Marketing
We were joined by popular author Maggie James. She shared insights on writing, marketing your books, building a mailing list, and how writing more IS marketing.
Listen to the Show / Podcast
Podcast: Play in new window | Download (23.0MB)
Subscribe: RSS
Episode Resources:

Intro
She's a former accountant turned full-time psychology suspense author who took the plunge into Indie Publishing after an impending milestone birthday galvanized her into action. To date she has several popular titles to her credit including His Kidnapper's Shoes, Guilty Innocence, and The Second Captive to inspire other budding writers hoping to pen their first book. She also wrote the detailed guide Write Your Novel from Getting Started to First Draft. Please welcome a successful British novelist who put decades of procrastination behind her to follow her dream, Maggie James.
How did you become an author and publish your first book?
Maggie shares some personal insights into her journey:
"It was always my dream as a little girl to be an author. When I was a little girl, all I did was write stories, I dreamt to be a novelist and I never doubted that when I grew up, that's what would happen. Unfortunately it didn't turn out that way. As I mentioned to you, I let decades go by before I actually did anything. The truth was, Shawn, I was actually scared. I was scared to put myself out there, scared of taking a risk. I wanted to write, I wanted it so badly but I was just very, very scared that it wouldn't be successful. Hence, I found myself approaching my 50th birthday at a bit of a crossroads in my life and something just snapped. I thought to myself, "This is enough. I've got to do something about this." So I'm an all or nothing kind of gal. I gave up my job, went off traveling for a year with the aim of coming back with a published novel, not a published novel, sorry, a written novel under my belt and that more or less is what happened. I set off to go traveling, I spent 10 months in South America. Whilst I was there I spent quite a few months in Bolivia and I actually knuckled under and I actually wrote the first draft of His Kidnapper's Shoes and that was a very emotional time for me."
What is your most recent book or project?
Maggie talks about her latest project, and also gives some great insights as to why she is doing it:
"What I've decided to do is to branch away from novels and I'm actually going to write a novella which is a short novel. It's going to be about 35 to 45,000 words long and I'm actually going to make that free on my website, on Amazon, Barnes and Noble, across all sales platforms in a sense, it's going to be a business card for me so that people can get a sample of my writing for a flavor of my books without having to invest any money. I think that's something many budding authors struggle with, they struggle with how to make themselves visible because there are so many books available on Amazon and this is a good way I think of doing it. I'm going to write this short novella so that people can sample my books. Obviously there will be links inside the novella to my other ones and they can just get a flavor of who Maggie James is, what my writing is like, that kind of thing. I'm hoping that will be a good marketing tool for me. It certainly worked for other authors."
Can you tell us about a time when you really struggled as an author?
Here was her recent struggle:
"I think the most recent struggle I had was at the end of last year. I went off traveling, I'm a bit of a travel-holic as you probably gathered, went off traveling for 2 months to Asia and I intended to actually write my book Write Your Novel whilst I was away or at least get going on the novella one of the two, and I plumped for the fact that I was going to come back with the finished novella and for the first time writer's block seemed to hit me. I don't know what it was but I suspected it was because I was actually drained from writing and publishing my 4th novel in a relatively short space of time. Anyway, I found myself really blocked. I found myself struggling for ideas, I couldn't think of a plot I wanted to write about and that really took me by surprise because that's the first time that had happened and I was very much disheartened by that because I felt like I was losing my writing voice. I felt perhaps I've reached, perhaps I've done all that I could do."
Be sure to listen to the podcast to hear how she overcame this struggle.
What one marketing tactic is really working well for you?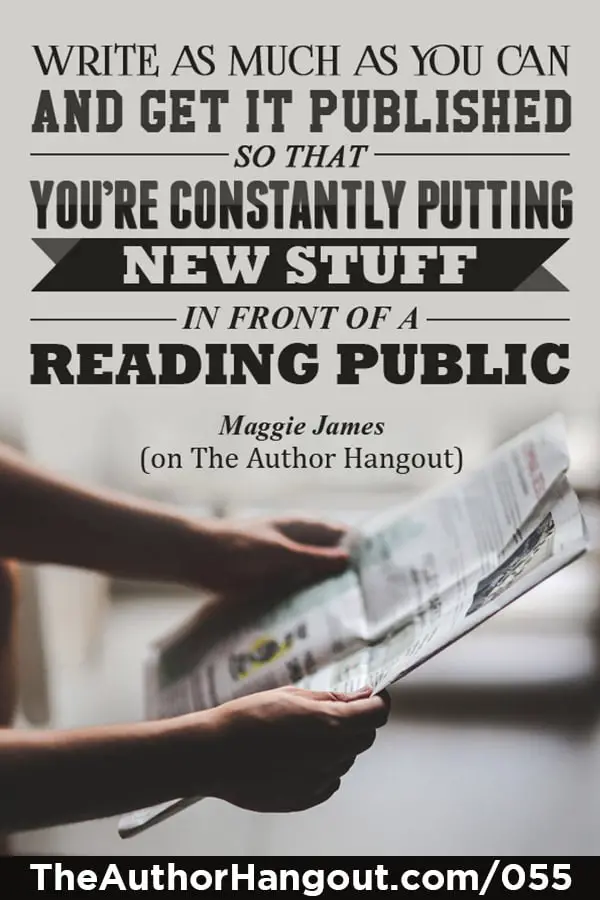 Maggie provides a few tips:
"The way to do it is to actually be as visible as possible on the Internet and the way to do that is to just write as much as you can and get it published so that you're constantly putting new stuff in front. In front of a reading public and I don't think there's any better way of marketing than actually writing, it's kind of a chicken and egg thing really. I've gone down several dead ends when it comes to marketing and spent money on this and that and it didn't work and I think there's only three ways to do it really. One is to write more so you're constantly putting new stuff onto market, which is as authors, that's what we should be doing anyway. The second is to get as many good reviews as you can to some extent that tends to come organically as you put more stuff onto the market, you become more visible, you get more reviews anyway. It's like a snowballing thing and the third thing is to actually grow your email list. Again that's' a cliché authors can advice that but it's very true because lets face it, you know Amazon or whatever, could do something tomorrow which would change the market. They made several well-known changes recently which have either annoyed or delighted authors. So it's important not to be dependent on any one sales platform gigantic as Amazon is, you need to get your own email list and to get that person to your website."
Listen to the podcast to hear Shawn and Maggie discuss what she has done to grow her own mailing list.
If you started over today, what 3 things would you tell yourself to help you sell more books?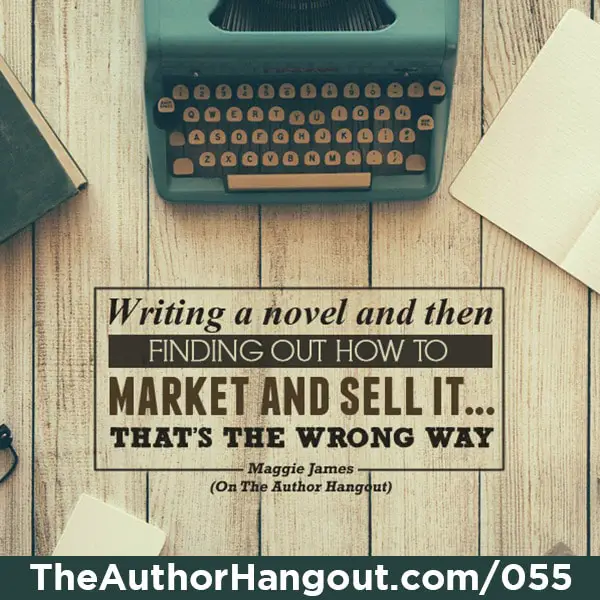 Here is Maggie's take on our popular question:
"I'd have done a lot more reading up about marketing, I would have established my website, I'd have gotten going on that kind of thing. Being much more published and professional on that side of things instead of just rambling on and writing a novel and then finding out how to market and sell it. That's the wrong way around it I think. I certainly think I'd have been much more of…the second thing is, I'd have been much more organized when it came to the actual writing because I just sat down, opened up Microsoft Word and started typing and these days I'm far more organized. I don't use Word anymore, I plan my novels with a lot more depth and detail and with hindsight again I should have, I should have learned more about how to actually structure a novel and the way to go about things really."
If you want her third tip, be sure to listen to the podcast.
How can people connect with you?
"I have a website its http://www.maggiejamesfiction.com. You can find all my contact details there. I'm very active on social media so if anyone would like to connect with me on Facebook or Twitter or Google Plus you go to http://www.maggiejamesfiction.com you can connect with me there. There's also contact form as well."
Please Leave Us A Review
Just like authors do with their books, we need reviews for our podcast! Reviews for our podcast help other authors to learn about and learn from The Author Hangout. Can you take a moment to leave a review for our podcast? If you don't know how but are willing to leave a review, please go here to learn how to leave a quick review for our podcast. It will only take a minute, but it will help a lot.
Thank you so much!
How To Listen
There are many ways to listen to the show:
Other Episodes
Get caught up on the other episodes of The Author Hangout that you may have missed: