Welcome to the 6th episode of The Author Hangout, a "Hangout on Air" designed to help authors, especially self-published and indie authors, with marketing their books and improving their author platform. Authors struggle with various aspects of marketing and we are here to help!
Maximize Your Book Marketing
Book marketing is tricky. Authors think that they should be on social media, but don't really know what to do, how to engage with readers, etc. The problem is, they do not have a plan, a strategy for engaging on social media. So, their efforts are usually ineffective and it takes up more time than it should!
Luckily, in this episode, we are joined by Neal Schaffer, author of "Maximize Your Social". He discussed creating that social media strategy, as well as specific tips and ideas for multiple social media platforms!
Enjoy this episode!
The Author Hangout – Episode 6: "Maximize Your Book Marketing"
Listen to the Show
Podcast: Play in new window | Download (28.8MB)
Subscribe: RSS
Episode Resources

Why is it important for authors to understand current social media trends?
While this is geared more toward nonfiction authors, fiction authors can use some of the same principles about engaging with people:
"30 years ago things were a lot different than they are today. Today it's really about the web. Within the web, it's really obviously about social media. You can build a website and have Google as your prime customer and hope that they index your content, or you can reach out and engage with people that might be relevant to you, to your book, your target audience."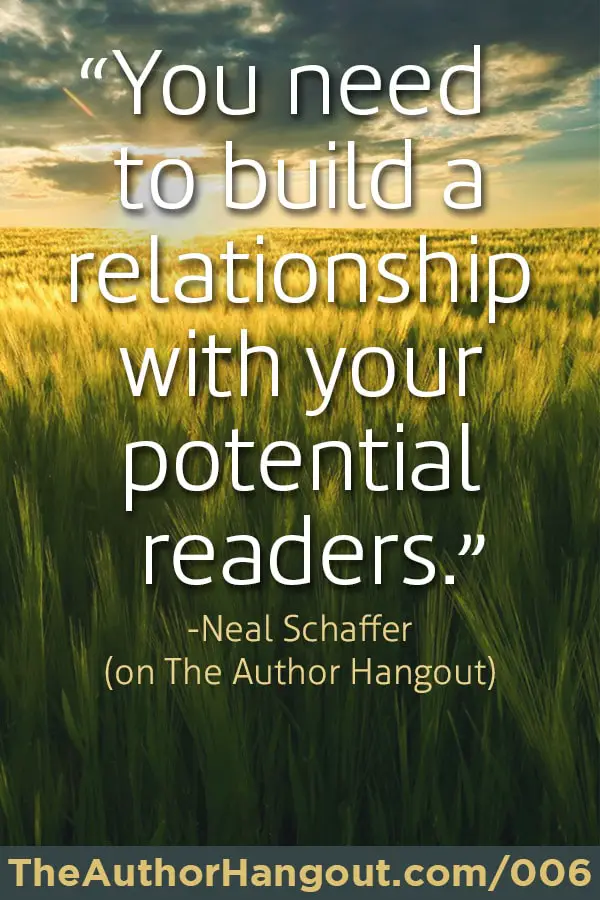 Social media is always changing, but the basics of how to use social media, (hint: engaging with current and potential readers) remains the same.
If you are just using social media to blast information about your book, you are probably doing more harm than good. It isn't about blasting info, it is about engaging and building relationships.
Not sure what to engage with people about? Here's a link to our post:
5 Things For Authors To Tweet About (That Aren't "Buy My Book!")
What are a couple of tools you use to manage your own social media?
Neal doesn't pull any punches:
"You know, the most important tool for managing your social media really is having a strategy."
Neal's book, Maximize Your Social, is what will help you to develop your social media strategy.
If you have a plan or strategy, then you just need to execute your strategy and you will see success when using social media to promote your book and build your brand.
"The tools are meaningless without the objective, without figuring out what you're trying to do."
How does social media strategy differ for individuals compared to a business?
Neal talks about how businesses, like publishers, have full budgets for their PR, that self-publishers just do not have.
"With limited resources, authors really need to understand and choose the [social media] platforms well, choose the time they spend engaging well, choose the time they spend creating well, and have a very tight way of operating to really derive a good ROI (return on investment) from social media. I see a lot of authors wasting a lot of time on social, when they can be doing it more effectively and maybe spending some of that excess time creating more content, creating their next book, or doing other things."
This is HUGE! If you are wasting time on social media without a plan, you are doing just that, wasting time. You have books to write, other types of promotions to do, etc. Social media is important and can be effective, but if you don't have a plan, it is quickly going to be a drain on your time and not be effective despite the increased time spend on social.
He then discusses the fiction writer vs the nonfiction writer, and how each person's audience is different, but how to still develop a strategy for reaching your readers. Watch the video for these insights!
How do I create a strategy to sell more books?
While Shawn didn't specifically ask this, Neal began talking about it because it is a question that authors often ask.
"There's no cookie cutter approach to this… There more you can really think about what you want to do with your book, where you want to take it… It's not just about getting sales. What sort of relationship do you want to create with who? Understanding that information… really establishes a baseline of what you want to do."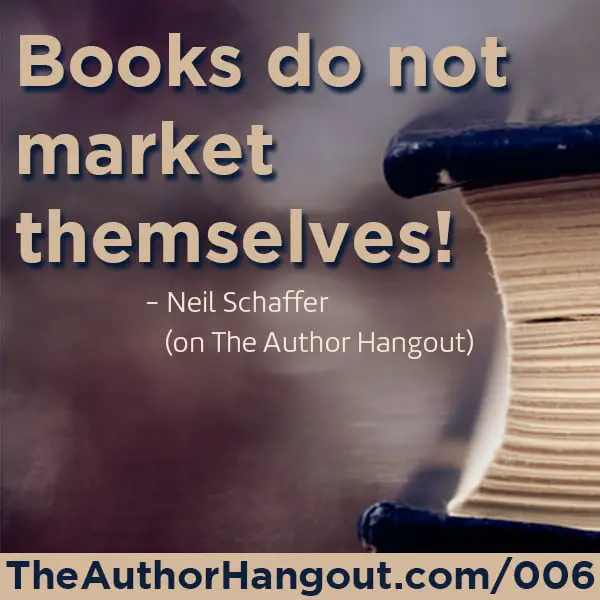 He also touches on something many authors struggle with… they think they are done with the book when they finish writing it, but that can't be farther from the truth!
"As an author I know, we spend a lot of time creating the book. Once the book is out, we think the work is done, when we all know the work is just beginning. Books do not market themselves! It's a lot of effort, and I want to make sure people channel that effort in the right channels."
How do you calculate the return on investment for social media?
Shawn didn't ask this question, but we wanted to highlight the importance of this idea!
"Calculate how much time you spend on social media… The only way to really calculate the ROI of social is time spent. If you spend 25% of your day on social, you better be getting 25% of your business from social, otherwise something's wrong. It doesn't have to be a direct contribution, it could be indirect. But, that's the type of thing you need to be asking yourself."
The best way to maximize your time spent on social media is really to develop a strategy, and we can't recommend Neal's book enough. If you have thought to yourself, "What should I be doing on social media to promote my book?" then you need to read Neal's book. He will guide you through developing that plan.
You can get Neal's book here, and start developing your strategy to be more effective on social media!
What are some of the components of strategy?
They key is to ask yourself these types of questions to really identify your book marketing strategy:
"Who is your audience? Which social networks are they on? If you are going to be on Facebook, what are you going to talk about? Those are a few of the things you should be thinking about."
He also talks about the different kinds of strategies… a content strategy, an engagement strategy, a voice strategy. Watch the video for some examples of more questions to ask.
Neal also highlights a key part of any marketing strategy:
"As an author, there's so many different ways to market yourself. It's really aligning your passions with the marketing channels, because it's going to be more natural, and you're going to do it more often."
How can authors use the various social networks?
This is a very meaty section of the video, where he dives into Facebook, LinkedIn, Twitter, and Google+, and talks about how they can be used for authors. Watch the video to get all of these details!
Don't miss out on some of these specifics! Watch the video for great tips!
What is Facebook Insights, and why is it important.
"Facebook Insights is analytics for your Facebook page. THe most critical thing you can do is see how each of your posts have performed. You may see no likes, no comments, no shares, but then you go to Insights and you may see that you are getting clicks. Without Insights, you'll really never see, not only that, but how many people's newsfeeds did this content reach. It's really critical to see how well you're doing."
He also explained some other situations where you can use Insights to identify the "Aha!" moments that help you understand what you should and shouldn't post to get the most engagement from your readers on your Facebook page, so watch the video to hear these "Aha!" moments.
You will also learn about how to use Twitter chats to engage with a much larger audience.
Show Wrap Up
This was a great show! A lot of strategy and planning, which is not most people's favorite part of running a business. But the truth is, if you skip over this planning step in your self-publishing business, then you're going to spend a lot of time spinning your wheels on social media, wasting time, and not being nearly as effective as you could be if you started with a plan!
Use the questions that Neal proposed in the video and read his book for a complete step-by-step plan for identifying and executing a solid social media strategy!
Please Leave Us A Review
Just like authors do with their books, we need reviews for our podcast! Reviews for our podcast help other authors to learn about and learn from The Author Hangout. Can you take a moment to leave a review for our podcast? If you don't know how but are willing to leave a review, please go here to learn how to leave a quick review for our podcast. It will only take a minute, but it will help a lot.
Thank you so much!
How To Watch/Listen
There are many ways to watch and listen to the show:
Other Episodes
Get caught up on the other episodes of The Author Hangout that you may have missed: