Welcome to the 22nd episode of The Author Hangout, a "Hangout on Air" designed to help authors, especially self-published and indie authors, with marketing their books and improving their author platform. Authors struggle with various aspects of marketing and we are here to help!
"You need to define who your target market is. Who do you want to focus your energy, your time, and your money on to reach?"– Kim Martin
Marketing, Networking, & Publishing
Marketing is a very important part of the publishing process. Sure, you could publish without marketing, but you probably aren't going to sell many books. Luckily, marketing is just being yourself and talking about your book. Networking with other people, while you are writing and publishing your book is extremely important.
We were joined by Kim Martin, the owner of Jera Publishing, and we talked about marketing, how to network with others, and an important part of the publishing process that many self-published authors skip.
The Author Hangout – Episode 22: "Marketing, Networking, & Publishing"
Listen to the Show / Podcast
Podcast: Play in new window | Download (26.5MB)
Subscribe: RSS
Episode Resources:

Intro
Kim Martin discussed the path she took to become a small publisher, and what she does now to help self-published authors.
Listen to the interview to get to know Kim a little bit better.
What should an author be doing to reach their target market?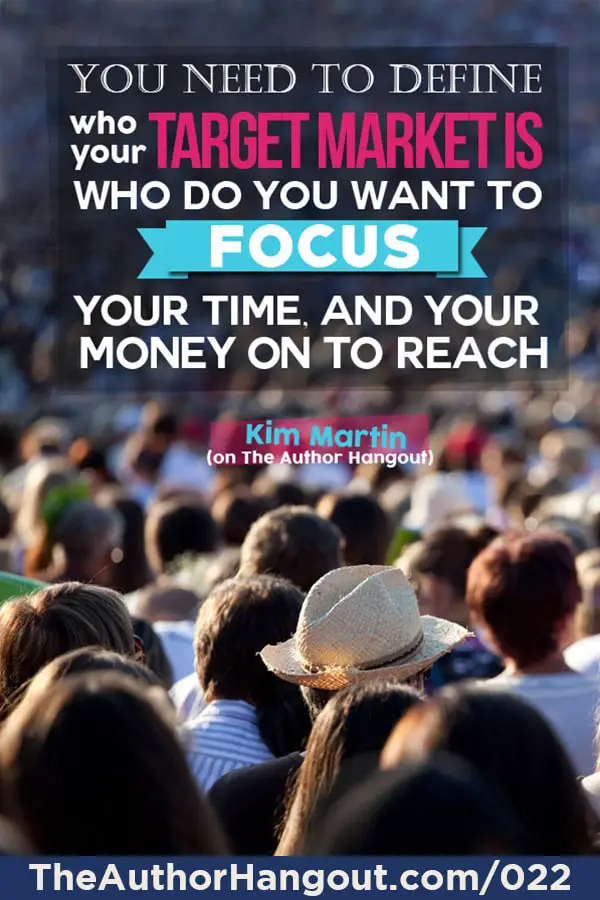 Here is Kim's advice:
"The very first thing you do is you need to define who your target market is. Your target market, people get confused. When you say target market, it's not "hey, who wants to buy my book?" It's who do you want to focus your energy, your time, and your money on to reach? Who's most likely to buy your book? So you need to develop, one, who your target market is. You need to define your goals. You need to get your platform built. You've got to have the basics down before you do anything else."
How does someone self-publish their book?
We know many in our audience already have books published, but there are some who are still writing their first book and are investigating self-publishing. Kim provides some great insights to this.
"The first thing I always say is before you do anything else, you need to educate yourself. What is self-publishing? What do you need to know? And if you're watching this, you're on the right track. You're not just jumping blindly into it. You need to define your goals. Now, the path you're going to take to self-publishing is not the same for everybody. It depends on what type of book you're doing, what are your goals. Is this just a one-off memoir you're doing, or do you plan a whole series of books? Do you want to become a bestselling author? You need to know that. And then you need to set up your business. You may need to get your ISBNs, you need to establish a business publishing company name, you need to get all your legal paperwork in order and all the red tape taken care of. Then if you're still writing your book, of course, you've got to get your book finished, which means you also need to get it edited. Then you need, once you've got your final draft done, you're going to have to get the design part of it done, the interior layout, the cover design, the eBook formatting. And then you need to look at how you're going to print and distribute it. Hopefully you've already established that. Are you going to use a print-on-demand place such as Ingram Spark or CreateSpace, or are you just going to do offset? Then you get it published, you get it through the distribution channels. Then I'll say marketing is the fifth step, but really that comes into play throughout all those other steps. You've got to get the marketing done through all steps of that. Even though I say it last, it's through every process."
How long does getting it published actually take?
Since Kim's company, Jera Publishing, works with authors, it can take a bit of time. Each book is different, but one thing Kim said is extremely important for all authors:
"The editing process is actually the longest process. It's something people forget a lot of times. They're like, "Okay, I want to have this published in a month," and they'll start actually setting dates for launches and things like that, and then they take it to the editor and they find, "Hey, the editor I want is backlogged for 3 months." So editing, you have to allow a lot of time. Sometimes it's a couple months to go through the editing process. And I do suggest you use a professional editor or beg, borrow, and steal some editing services. But you have to allow time for the editing."
How important is it for authors to publish multiple books?
"The most successful authors are the ones that have multiple books. If your goal is to have a series of books, bestselling author, you're not going to do it off of one book. You may hear of one person that wrote one book and became an overnight success, but what did they do? They followed it up with multiple books. Otherwise their sales would've dropped off and that would've been the end of it. So you've got to get your second book, you've got to get your third book. And a lot of marketing strategies, especially with eBooks, really depend on you having a second and a third book out there. You use your first book as a launching pad to get people into your second and your third book. A lot of people give up too soon. They get the first book out there, and maybe they didn't become an overnight success with it, they're not a bestselling author off their first book – I mean, who is? – and they give up. But if they'd just gotten that second book or if they'd just gotten that third book out there, they probably would've made it. So don't give up after your first book didn't make it. Just keep going."
Kim also shares a personal anecdote of how she, as a reader, got hooked on an author's book and because they had multiple books available, she went and bought them all.
What challenges are authors facing when marketing their books?
"A lot of it is they know what they need to do, so they'll do it. Say someone is following all the steps they're supposed to do, they get their platform built, they get their newsletter set up, they've done everything they need to do, but then they're not getting anybody replying to their blog posts, they're not getting anyone engaging with them or following them on Facebook. No one's retweeting their tweets, or they're asking people for reviews like they're supposed to at the back of the book, or they're just flat out asking people, and they've maybe got one or two reviews on Amazon. But no matter what they're doing, they're not getting the response back that they want to get, and that can be very frustrating. But you've just got to keep working at it, keep being patient, and try new things. If you've been posting the same type of thing on Facebook, switch it up. If you've been doing the same type of blog post, switch it up."
Do you have any tips for the introverted author?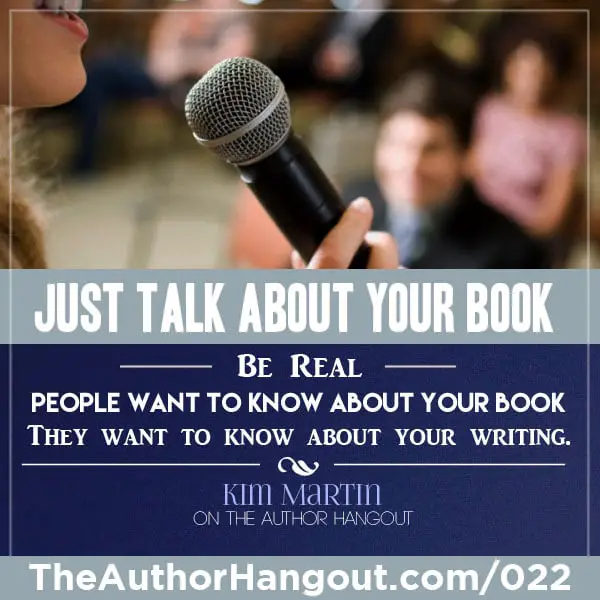 Here's what Kim had to say:
"Start going to local other – you can go to Meetup.com, find other writers groups or groups that – just get out there, and if you really – you just have to keep doing it. Just start talking about things you love, your book and things that drive you. You don't have to be a salesperson. Just talk about your book. Be real. People want to know about your book, they want to know about your writing. I mean, me personally, I used to be extremely introverted, and here I am doing an interview. So you can get over it."
She followed it up with this:
"Networking is I think a great tool that a lot of people overlook. Just start small in your local community, look for networking opportunities that you can go to – either for writing or for business, depending on your book. A lot of opportunities will – you'll develop friendships. That's really what it is. Don't think about it as you're doing this big huge "I'm out there", you're just making friends, and that's what it comes to."
What tools do you use to help authors market their books better?
She first talked about how she makes social media easier:
"When it comes to marketing, it comes back to building the platform and things like that, and talking about social media and time. A lot of people are like "I don't have time to sit down there every single day and do all these social media posts." There's a tool out there I use called HootSuite, and it's a social media planner. You can get all your articles and all your posts together say once a week and schedule them out. So you don't have to be in front of your computer making those posts day in and day out at set schedules. Just get them all together one day, and you can say "I'm going to post this to Facebook on this date and time; I'm going to post it over to Twitter at this date. I'm going to post it over here," and you're going to just schedule it out all at once. Then you just sit back and follow through with the engagement on the posts."
How does KDP Select help authors?
"Just being in KDP Select, it's going to get your book listed so people who have Amazon Prime and a Kindle can download one eBook free per month. So you get that automatically. It's now also automatically enrolling your eBook into the Kindle Unlimited program, which is the new system out there. And even though people are downloading your book for free, you're still making a couple bucks every time, or whatever it is. It varies. Every time someone downloads your book. But it also lets you run the free eBook promotions, where you can set it up, you can plan a day in advance and you say "I want my eBook to be free on this day," and you can do that through their system. I think, if I remember correctly, you get five of those every 90 days, if I'm correct. And that's a really good marketing tool."
Are you doing a free book promotion or a bargain book promotion? Submit your book promotion to ReadingDeals.com.
Is just doing one of these promotions enough?
"It can be as long as you do it right. You have to get the notice out in advance; you have to get people to know about it. If they don't know about it, it's not going to work. So you have to use some kind of – get your book out there to the subscription deal sites that they're going to announce and promote your eBook deal to everybody. You've got to get on Facebook. You've got to work on promoting it. You can't just run the deal and walk away. No one's going to know about it, and you just wasted your time."
Submit to 30+ free ebook sites in just minutes. Click here for our eBook Submission Tool.
She also talked about how to make the most of your promotions:
"It works better if you have more than one book, because like I say when I was talking about the series of books I read, I got one for free, which led me to buying 11 more books and waiting desperately for the next one. So if you have multiple books, you have the first one you're running the promotion on, and the other ones you don't. So it can be. It helps boost your sales rank more, and often people will see their sales spike after the deal is over. So it raises your sales rank, gets you more visibility, it gets you more reviews."
Pen Names vs Real Names
"If your name is incredibly difficult to pronounce or to remember, you may want to consider a penname. Other reasons – it gets a little bit tricky if you plan on doing any in-person marketing, because you have to then – especially if you're having a penname as a female and you're actually a guy, that gets a little awkward. So you have to be real. If you just change your name slightly, maybe an easier to spell and remember last name, people can do that, and it's often that they do. Another reason people will do that is if they write for completely different genres."
What is meta data and why is it so important?
"Metadata is kind of the stuff that's like keywords that are embedded, either in your eBook or in your title or your description. Say if you're going to go to Amazon – especially true for nonfiction books – and you're looking for a book say on Adobe Photoshop. You want to learn how to use Adobe Photoshop. So you would go into the keywords and type in "Adobe Photoshop." Amazon's going to search your book title, your subtitle, your description, your keywords and your tags to look for any books that have "Adobe Photoshop" in there. So you need to make sure that in order for it to come up in those search results, that either your title has "Adobe Photoshop" somewhere in it, or your subtitle, or it's in your book description. So if you don't have that anywhere in there, guess what? Your book is not going to be found. If you're doing a nonfiction book especially. And for novels, if you're doing a book on say Western romance, you have to have "romance" in not necessarily the title, but in the description especially, or maybe a subtitle "A Romance Novel.""
What would you recommend for the brand new author just starting today?
"The very first thing I would say is define your goals. Why are you publishing a book? What do you hope to accomplish by publishing this book? You need to set that down so you have a goal in mind, because someone that's writing just a one-off their memoir about their grandma has no future plans to write any future books, and someone that wants to become the next bestselling author and is going to write a series of novels, how they go about the process of self-publishing is going to be different. So define your goals, figure out what you want to do and why you're doing it, and then go and figure out who your target market is. You've got to have that. And then start going to educate yourself. Take classes, talk to a self-publishing coach, whatever you need to do to learn what the right path for your book is. That's the first question I ask people when they sit down, is tell me about your book and why you're writing it. I need that information to point them in the right direction. So that's what I would say, is figure out what your goals are."
Please Leave Us A Review
Just like authors do with their books, we need reviews for our podcast! Reviews for our podcast help other authors to learn about and learn from The Author Hangout. Can you take a moment to leave a review for our podcast? If you don't know how but are willing to leave a review, please go here to learn how to leave a quick review for our podcast. It will only take a minute, but it will help a lot.
Thank you so much!
How To Watch/Listen
There are many ways to watch and listen to the show:
Right here… You can watch the video above or listen to the audio version as well!
You Tube… You can go here to watch the video on YouTube! Be sure to subscribe so that you don't miss future videos.
iTunes… Our podcast is up and running on iTunes! Click here to listen to past episodes and subscribe for free to be notified of all future podcasts!
Stitcher… If you prefer Stitcher for your podcast listening, you can listen to our podcast here.
Other Episodes
Get caught up on the other episodes of The Author Hangout that you may have missed: