Welcome to the 43rd episode of The Author Hangout, a podcast designed to help authors, especially self-published and indie authors, with marketing their books and improving their author platform. Authors struggle with various aspects of marketing and we are here to help!
"The best type of marketing campaign is something you could do for the long term. This is a business. You don't open up a business and then market it for a day and you're done."– Penny Sansevieri
Long Term Book Marketing
In this episode, we interviewed author and book marketer Penny Sansevieri from Author Marketing Experts. We discussed why a long-term marketing plan is so important, tips for how to engage on social media the right way, and more great tips to help you sell more books.
Listen to the Show / Podcast
Podcast: Play in new window | Download (23.5MB)
Subscribe: RSS
Episode Resources:

Intro
She is a bestselling author, entrepreneur and internationally recognized book marketing and media relation's specialist whose cutting edge campaign often land books on the New York Times Best Seller List. Her most popular titles include; Red Hot Internet Publicity, 52 Ways to Sell More Books, and her latest, How to Sell Your Books by the Truck Load on Amazon.com series. Besides coaching authors and teaching courses on publishing and promotion, she often contributes to publications such as The Huffington Post. Please welcome the founder and CEO of Author Marketing Experts, Inc., Penny Sansevieri.
How did you become an author and publish your first book?
Many of you will be able to relate to this:
"I've been writing ever since, as most of you out there listening will probably be nodding because those of us who love to write have been writing all of our lives. When we were kids we started writing we started writing poetry, God willing, no one will ever see my poetry. Interestingly enough, in 1999 I started writing fiction. That was my first love. Since that time, I've published two fiction books and I've been really focused on writing books about how authors can gain better visibility. Interestingly enough Shawn, when I was first in the industry, I remember this statistic struck me because it was so staggering. 500 books were published every day in this country. This was 15 years ago when I first started my business. Now that number is 4,500."
What is your most recent book or project?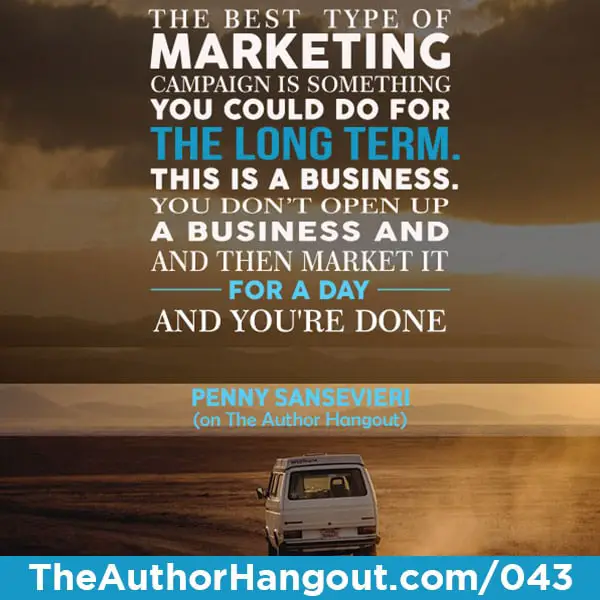 She talks about her business, and then gives a really great tip:
"[In our business,] Author Marketing Experts, we do a lot of different things here. We have a lot of different campaigns. Everything is custom to suit both in budget and in type of book, and the goals of the author. We have some fiction authors who come to us and say, "Look, I've got $600 to spend. What can you do for me?" Frankly, there are a lot of marketing people would say, "Ooh you need to throw a lot of money at a book." Sometimes that is not always feasible because the best type of marketing campaign is something they could do for the long term. This is a business. You don't open up a business and then market it for a day and you're done, you're famous and people are beating a path to your door. That just doesn't happen… The other thing that has become kind really, really crucial is the fact that its hard enough to get people to pay attention to you in this noisy world but one of the ways to gain more access to readers is by knowing how readers are searching and how authors can use in key words can help to bring more eyes to their book which may eventually bring more sales."
She also talked about her book:
"How to Sell Books by the Truck Load was kind of an interesting thing because I sort of stumbled on this information and I spent a year continuing to research. This isn't something that you set and forget because Amazon's website changes and Google changes all the time. One of the things that I realized was that Amazon is actually Google and when you start to look at Amazon as a search engine and not a store, the whole way you list your book starts to skew because you realize that the same principles that apply to getting visibility on Google apply to Amazon. I cover things like finding the right categories for your book, finding the right keyword strings for your book, which is really key and can make a huge difference between a book success and failure. 9 times out of 10, authors have the wrong keywords in the wrong categories. Even books that come from major publishing houses, which shall remain nameless. Those are the two big things I focus on in the book."
Shawn and Penny also talked about Kindle Unlimited and how to approach new programs from Amazon and other sites like Unlimited.
Can you tell us about a time when you really struggled as an author?
Penny has a great suggestion, and it involves failing:
"I think that to some degree as an author I don't know if there is ever an easy route. I hate to say that at some point it ever becomes easy because it is still a business. You have to do something every day. You have to find some actions to keep moving the message forward. But, it does become less confusing. When I wrote the first edition of Red Hot Internet Publicity, which I think I've done 5 editions so far, my biggest mistake with that book was the lack of really knowing what the audience wanted. Sounds crazy as a marketing person. Sometimes it's hard as authors because we are so close to it that we think that everyone must know at least how to set up a page on Facebook, but that's not actually true. A lot of people struggle with that. There is nothing wrong that, but you need to realize it and address it if that what you decide who your book is written for. I will tell you when I came out with the next edition, when I finally took a step back, and sent this to a couple of different editors. I said, "Take a look at this from somebody who is just getting online right now." Which a lot of are, "How can I back this out, how can I back this down a little bit?" I created a better book. I got more speaking gigs. I got more book sales. That was a big challenge for me, but I only learned by putting a book out and frankly, failing."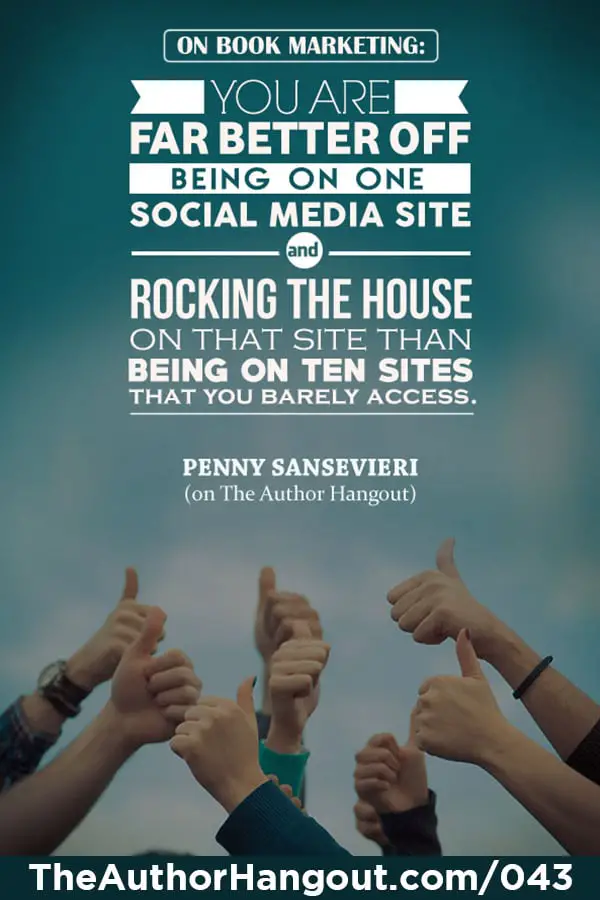 She also shares some very important advice for marketing books using social media:
"I think that one of the biggest pieces of advice I can give to your folks listening right now is when it comes to social media it is the biggest stumbling block for most authors. You are far better off being on one social media site and rocking the house on that site than being on ten sites that you barely access. Having a presence there and not doing anything is like throwing a party and not showing up. It is true. I will tell you, once you figure out what most resonates with your audience this will save you a huge amount of time."
What one marketing tactic is really working well for you?
This is a really great tip from Penny:
"Success leaves clues. One of the best things that you can do for yourself is hop onto Google and start to search for authors in your market. A good search string for that is if you've written some type of a self-help book you would plug in the specific category and author, romance and author, mystery and author, and just start to see what comes up. What I want you to do is take a look at the author's who aren't brands. If you are a fiction author you want to stay away from the Nora Roberts or the James Patterson kinds of things because these folks they can be everywhere and people will follow them everywhere. I want you to look for authors who are on the first page of Google or getting good ranking and I want you to kind of just look at what they are doing. What social media sites are they on? Are they blogging? What does their website sort of look like? Again, don't copy but learn from people who have created a successful plot for themselves because if they are on the first page of Google they are probably doing something right."
She also shared a story about a specific author and how he found a great place to promote his specific book, from using this specific tip, so be sure to listen to the podcast to hear Penny talk about it.
If you started over today, what 3 things would you tell yourself to help you sell more books?
Here are some really great tips:
"As a self-published author, I would say that the cover is way more important than people think. People absolutely judge a book by its cover. I am always surprised at how little time that is spent there. Your book is your resume. Make sure that your book is edited because you will not get a lot of people sharing your book if it's poorly written or poorly edited. That's a big deal. I think the third is that, really spend some time and get yourself a website. Every author should do that. Really spend some time asking yourself some tough questions. "How much time can I spend marketing this book?" "How much time am I really willing to devote to the marketing of this book?" IBPA did a study some years back that said that sometimes it takes up to two years for authors to see some kind of ROI on their investment, on their initial investment. So, you know some people see it very quickly and that's great, but those are rare, as you and I both know. Those three things, you need to figure out are you in it for the long term. What are your real goals for this book? If you just wanted to write a book just because you felt like you wanted to write it, that's great, don't spend $5,000 or $10,000 marketing it."
How can people connect with you?
"You can connect with me at [email protected] and I would love to hear from your listeners."
Please Leave Us A Review
Just like authors do with their books, we need reviews for our podcast! Reviews for our podcast help other authors to learn about and learn from The Author Hangout. Can you take a moment to leave a review for our podcast? If you don't know how but are willing to leave a review, please go here to learn how to leave a quick review for our podcast. It will only take a minute, but it will help a lot.
Thank you so much!
How To Listen
There are many ways to listen to the show:
Other Episodes
Get caught up on the other episodes of The Author Hangout that you may have missed: