Welcome to the 17th episode of The Author Hangout, a "Hangout on Air" designed to help authors, especially self-published and indie authors, with marketing their books and improving their author platform. Authors struggle with various aspects of marketing and we are here to help!
"As far as finding the readers, it's about networking. You get online, you find groups, you just talk to readers, get to know them, just to be social."– Heather Hart
How To Market A Book
Often times, for the writer who wrote a great book and learned how to self-publish their book, marketing their book and all of the things they think that go along with marketing, are all foreign. They struggle with knowing what to do, but luckily, it is quite simple…
Heather Hart, our guest in this episode, shares some really basic tips on what authors should be doing to market their books, whether you are a fiction author or a nonfiction author, and why that doesn't even really matter because marketing is marketing.
The Author Hangout – Episode 17: "How To Market A Book"
Listen to the Show / Podcast
Podcast: Play in new window | Download (22.5MB)
Subscribe: RSS
Episode Resources:

Intro
Heather Hart shared with us a little bit of her background and how she got involved with self-publishing, marketing her own books, as well as helping other authors when it comes to marketing their own books.
Be sure to listen to the interview to learn a little bit more about Heather.
Marketing a mixed genre book
The beauty of self-publishing is that all books don't fit into very specific genres that the traditional publishers would publish. The downside is knowing exactly how to market a book that may cross genre lines. Here's Heather's take on how to do that:
"I say you pick one and market it as that. Amazon does let you choose two categories, so you could do like a romance and mystery. And there's actually – there are those subgenres now where you can mix two of them together. But you really should try to narrow it and keep it to something. Label it and go with it."
How do you find readers for a specific genre?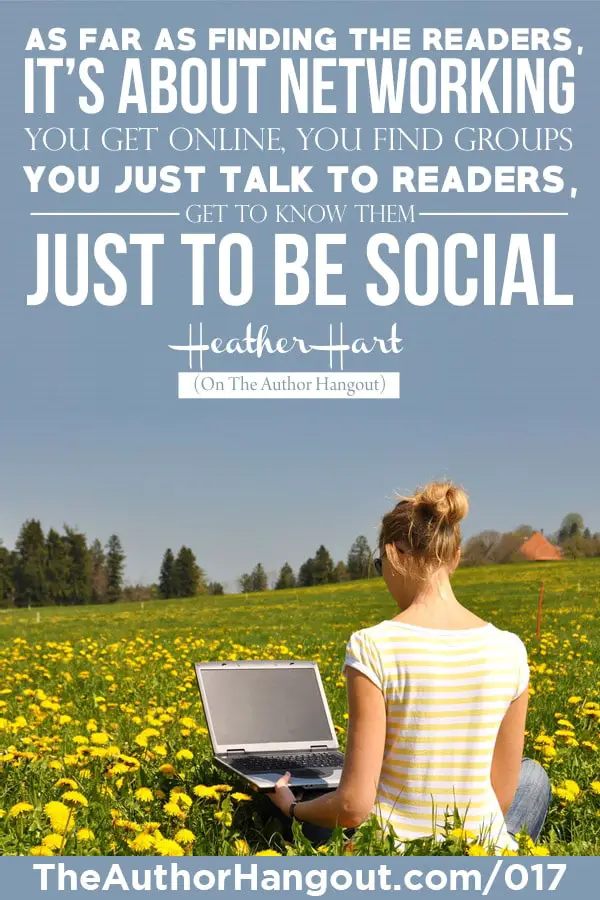 This is the million dollar question that all authors want to know! Heather's makes it extremely simple for you:
"As far as finding the readers, it's about networking. You get online, you find groups; you just talk to readers, get to know them, just to be social. If you get on Facebook, there's tons of Facebook groups, or even on LinkedIn or Google+ or even Twitter now. Just get on there and start talking to readers and getting to know them."
3 Practical Marketing Tips For Getting To Know People Online
Often times authors aren't sure how to approach people online. Heather gives some really great tips on how to do that:
"Writing a blog post, either for your own blog or someone else's, and then going back through and reading the comments and responding to people. That's huge. Just let them know that you are a real person and you do care what they have to say. And then I mentioned Facebook groups; that's been one of the biggest things for me. There are interactive communities on Facebook where you can go and talk to people in that group and just talk back and forth. Don't market your book, just talk to them. So that's the second way. And then I would say email. That's one of my favorite ways. If you start an email list, you can send out emails to everyone who wants to follow you, and sometimes they'll respond to you and you can just talk back and forth."
Is it that simple? Is there a secret sauce?
"It really, in my opinion, it is simple. There is some behind-the-scenes stuff. You do have to set up an email list; you can't just start emailing people, because that's considered spam and it's against the law. You do have to create your Facebook profile and optimize it to actually let people know that you're an author too. You do have to do some behind-the-scenes stuff, write a good author bio and all those kinds of things, but as far as getting to know people, it really is just that simple."
Book Marketing Steps To Do before You Publish Your Book
Heather shares some great ideas, the first of which is keyword research for book marketing:
"Before I finish them, I always do a ton of keyword research. I look for what people are searching for in that genre so I know what words to use in my marketing. That's not all of it, but that's part of the big beginning because you can use that in your book titles, you can use that in your book description, in your tag words on Amazon, to make your book more visible"
She also shared another great tip that not many authors think about:
"One of my favorite things to do is follow other authors to see what they're doing. Because you can see what they're doing that gets results, but you can also see what you should never do, because you can kind of tell when you read something and you're like "Oh my goodness, you posted that?" You know not to make those mistakes yourself. So it's helpful to do that."
What are the differences in marketing a fiction book versus a nonfiction book?
It's inevitable, whenever we share a tip or a guest shares a tip, the nonfiction authors will complain it only works for fiction authors, and the fiction authors complain it's only for nonfiction authors… for the same tip.
Here's what Heather had to say about this:
"I love that question, mainly because it's not as – it's not what you're going to expect, because essentially, you market them exactly the same, just differently. Both authors are going to need to have an email list; they're both going to want to be on social media. They're all going to want to do the exact same things, they're just going to pitch it a little bit differently. So instead of trying to help your audience, you're going to want to relate to them more and entertain them more. With fiction, instead of sending out tips on marketing your book or whatever, you're going to do character interviews, you're going to do – your email list will probably be more like 'I've got a new book coming out,' you're going to do more updates and stuff instead of the 'this is how you do stuff.' It's more social than how-to."
How do you keep finding new readers?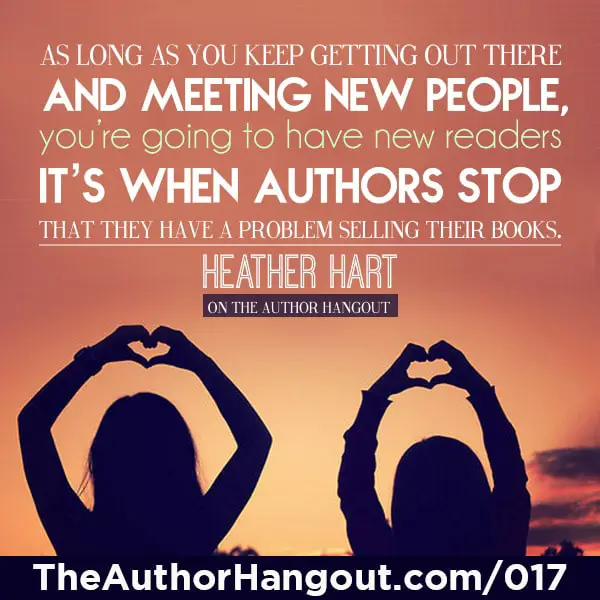 The goal of all marketing is to find new readers… so what do you need to do to get more readers?
"Essentially just keep marketing. As long as you are marketing your book, as long as you're out there talking about it and letting people know about it, there's always going to be a new reader. There's new readers coming around every day. There's not a chance that everybody has read your book. So as long as you keep letting people know about it, as long as you keep getting out there and meeting new people, you're going to have new readers. It's when authors stop that they have a problem selling their books."
What does a book marketing campaign look like?
"I would start off with having a website or a blog and a social platform, so a Facebook account, all those kinds of things. And then from there, you're just going to want to branch out. You're going to want to share book reviews that you've gotten. You can do quote photos, if you know what those are, where you just take a quote from your book and put it with a photo to share about your book. You can do emails to your following. You can write blog posts. Just get out there. At the core of it all, you should have a good author bio that says 'This is who I am, this is what I write, and here's where you can find me or my books.'"
Will it be harder or easier for authors to get exposure for their books in the future?
"I'm going to say that's a double-edged question, because it's going to become more essential to publish good books. Right now there are a ton of self-published books out there that honestly, the authors wrote and published and left. Those books are just going to be left behind. People are starting to recognize those; they can look at a book by its cover and know how much work the author put into it. So those books aren't going to have much of a chance. However, for an author that puts in the work required, that takes the time to publish a good book and then start to market it, the sky's the limit. I mean, we live in an internet age. We've got so many options to market our books. But they also have to realize that offline marketing isn't dead. Getting your name in print is still going to be a key to the future. People are starting to get tired of the internet, they're starting to unplug or unsubscribe from email lists and bulk pings. You need to make sure that you're multifaceted as an author, that you know how to market your book in different ways. You don't have all your eggs in one basket."
Does giving your book away for free work?
Sometimes authors are hesitant to give their work away for free, even temporarily, or as part of an overall marketing plan.
Here is Heather's take on how she uses 'free' in her business:
"For us, it's a builder. It introduces people to us, it introduces them to our mailing list. When they buy that book or when they download it for free, they can find out that they can get our – we have a training called Building Your Book Marketing Plan that you can get absolutely free for signing up for our newsletter list. And that gets them into our system, where we can then start emailing them and communicating with them and just letting them – getting to know them and getting them in our sphere of influence."
Wrap Up
This was a great interview and we talked about a lot of other different things such as using a sales funnel for both fiction and nonfiction books, we talked about getting reviews, and several things, that if you don't have in place right now, you should do as an author right away. Be sure to listen to the interview or watch the video to catch all of these great tips!
Please Leave Us A Review
Just like authors do with their books, we need reviews for our podcast! Reviews for our podcast help other authors to learn about and learn from The Author Hangout. Can you take a moment to leave a review for our podcast? If you don't know how but are willing to leave a review, please go here to learn how to leave a quick review for our podcast. It will only take a minute, but it will help a lot.
Thank you so much!
How To Watch/Listen
There are many ways to watch and listen to the show:
Right here… You can watch the video above or listen to the audio version as well!
You Tube… You can go here to watch the video on YouTube! Be sure to subscribe so that you don't miss future videos.
iTunes… Our podcast is up and running on iTunes! Click here to listen to past episodes and subscribe for free to be notified of all future podcasts!
Stitcher… If you prefer Stitcher for your podcast listening, you can listen to our podcast here.
Other Episodes
Get caught up on the other episodes of The Author Hangout that you may have missed: