Welcome to the 66th episode of The Author Hangout, a podcast designed to help authors, especially self-published and indie authors, with marketing their books and improving their author platform. Authors struggle with various aspects of marketing and we are here to help!
"The key strategy that I used was, I took my phone and I started calling all the people that I know."– Julian Hosp
How To Get 10,000 Preorders
In this episode we were joined by bestselling author and entrepreneur, Julian Hosp. He shared the details on how he managed to get 10,000+ preorders for his book, as a first-time self-published author.
Listen to the Show / Podcast
Podcast: Play in new window | Download (22.5MB)
Subscribe: RSS
Episode Resources:

Intro
He's a professional kite surfer and medical graduate turned sought-after speaker, social media strategist and coach who manage to generate more than 10,000 pre-orders for his first self-published book. 25 Stories I Would Tell My Younger Self shot to be #1 in Amazon Kindle's bestseller list. As a result, he had been enjoying widespread exposure ever since. Today, he's here to share his repeatable secrets for success. Please join me in welcoming an entrepreneur and author who knows how to enter the self-publishing world with a bang, Julian Hosp.
How did you become an author and publish your first book?
"The reason why I call my book 25 Stories I Would Tell My Younger Self and I wanted to lead with the stories was, if I think back at my younger self, my younger self is just like me today was stubborn like nuts. If I had just gone there and said, "Listen my young buddy, you're doing this wrong. You have to do X, Y, Z." My younger self would have never ever listened. But if I told the story first and showed, hey listen, this is what I did and this is what happened so these are the 3 key take-away lessons you should take away from there and you'd better write them down… The 25 stories started at the age of 4. When I was 4 and they finished at the present. I talked about personal experiences and I had quite diverse ones. They go from my childhood experiences with my mom who was really, really hard on me because she grew up out of a farmer's family. So she instilled that hard life of working at an early age. It goes into me doing professional sports. What I learned to hustle really hard. I learned to never give up until something is finished."
Can you tell us about a time when you really struggled as an author?
Julian shared a specific feeling he had of wanting to get his book out there, but he didn't have a marketing plan… can you relate?
"I have to thank one person a lot for that because he was the person who was the very early reader of my book. That was at the beginning…end of July, it was throughout July he was reading a draft. I was still working through it but I wanted him to look and see if the stories are congruent and stuff. He read that and he came back to me and said, "Julian that's a really great book but I know you know a lot of people, but if 600 people buy this book from you this is not going to do anything to you. How are you going to get the word out? He inspired me to really think about how to actually get the word out. Since I absolutely had no clue on how to do this but I'm a really, really hard worker, I read of course. I read and used a lot of the tools that you are also providing."
What one marketing tactic is really working well for you?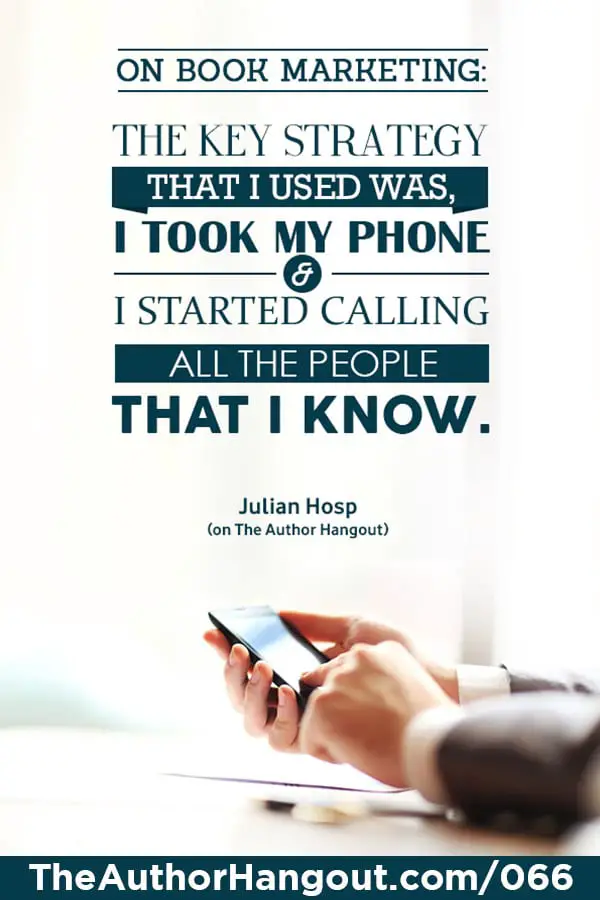 Here is what his strategy boiled down to:
"I took my phone and I started calling people all around the world…all the people that I know and started to talk to them and say, "Listen, I'm not sure if you know, maybe you do maybe you don't but I'm launching my book. My plan is for it to go out in November and I need your support." "I need your support. You need to share my word, you need to get my book. If you just do this one thing, please do this." And it was amazing. I reached out to everyone I know on LinkedIn in person. I reached out to everyone that I know on Facebook in person. I reached out to everyone I know… I actually know not just people that…really in person. I reached out to every single person in my phone. I reached out to every single email contact that I saved and I know in person. In person. I really always tried to relate the individual story to that. It was unbelievable, had people that I would have never expected…total coincidence, I connected to a doctor in the US. That doctor was so fascinated with my story, he pre-ordered hundreds of books just because I connected on a personal level to one of his friends and he was like, "You know what? This doctor will be awesome for you to connect with." This was what it came down to, the same thing happened to me with a friend in Thailand. It was just unbelievable how people…sincerely, they do want to help you."
If you started over today, what 3 things would you tell yourself to help you sell more books?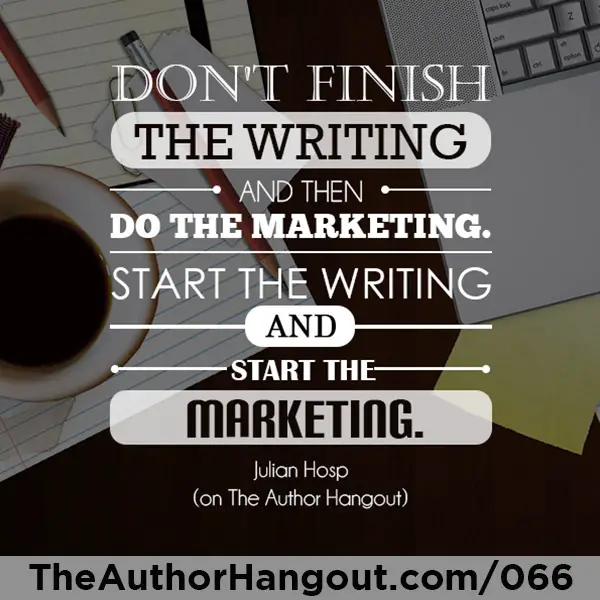 Here is one of Julian's top tips:
"I would have started with everything a little earlier. I think I could have done this a lot more professionally and a lot less craziness if I would have understood in February how important the whole marketing strategy is and it would probably give me a lot faster speed right now where I need to get the traction after this amazing launch and keep the traction. This is what I would do different. I feel that right now, I was really pressing everything in and so if I would have had a couple months more time, that would give me a lot of leeway. So if you're an author or just thinking about writing or have written a book, this is the key thing, don't write and then finish the writing and then do the marketing. Start the writing and start the marketing."
How can people connect with you?
"Best of all, connect through Facebook, https://www.facebook.com/25stories/. I can say thank you Shawn, it was a real pleasure to be on."
Please Leave Us A Review
Just like authors do with their books, we need reviews for our podcast! Reviews for our podcast help other authors to learn about and learn from The Author Hangout. Can you take a moment to leave a review for our podcast? If you don't know how but are willing to leave a review, please go here to learn how to leave a quick review for our podcast. It will only take a minute, but it will help a lot.
Thank you so much!
How To Listen
There are many ways to listen to the show:
Other Episodes
Get caught up on the other episodes of The Author Hangout that you may have missed: