Welcome to the 58th episode of The Author Hangout, a podcast designed to help authors, especially self-published and indie authors, with marketing their books and improving their author platform. Authors struggle with various aspects of marketing and we are here to help!
"I always looked at struggles as opportunities to improve and just really an opportunity to grow."– Danny Flood
Discount Book Promotions
In this episode, we interviewed author Danny Flood. He shared some great tips about using discount and free book promotions to grow your following and earn more sales. He also shared some great tips about how sleep affects your writing as well as outsourcing the publishing of your book.
Listen to the Show / Podcast
Podcast: Play in new window | Download (21.0MB)
Subscribe: RSS
Episode Resources:

Intro
He's a bestselling author, location independent entrepreneur and extensive world traveler who's book, Buy Your Own Island aims to help others find the adventure, passion, love and purpose they seek. Besides co-founding Open World Magazine, the world's number one resource for active lifestyle creators, Danny hosts the Open World Podcast and teaches key business building principles through his books, Hack Email, Hacking Upwork and Hack Your Mind to Become Bulletproof. Please welcome a writer who knows how to step off his comfort zone and take risks, Danny Flood.
How did you become an author and publish your first book?
This is Danny's story:
"After I graduated college about 6-7 years ago I really wanted to be self-employed and I didn't like any of those default career paths so I started my own business. Long story short, I read a book called 4-Hour Work Week, which I'm sure you've heard about. I just really dreamed about traveling and running my own business from my laptop and just getting paid online. I didn't like the idea of being stuck to one place. I took that business, it was an advertising marketing business. I basically had people working for me that was all outsourced. I was working about 10 hours a week and traveling around to 30 countries or so. I realized that I wasn't passionate about that work anymore, so I decided what was going to be next for me. I figured the next contribution that I can make was to write a book. It was something that I've been wanting to do. Something that I wanted to do before I die. One of my life goals. I just wanted to give back. I learned so much. I was writing one book per week when I was running that business and I had a lot of knowledge I wanted to share. The book was a handbook for how to live this lifestyle. How to get paid online and choose your location and go on any adventure you want. The title, Buy Your Own Island, I took that from a…I think it was at the end of one chapter from a book called Cash for Tithing. There was a chapter called Buy an Island, I think it was an advertisement. I took the story from 4 or 5 guys who actually purchased their own island. It was like a big lifelong dream goal. I said, this is a book about helping you to buy your own island or whatever your dream goal is."
He also shared a bit about his writing process as well.
What is your most recent book or project?
Here's Danny's latest project:
"The next book…all my books that I've written since Buy Your Own Island are focused on hacks. They're about building more leverage in your life so that you can do more, so you can accomplish more. The most recent book I wrote is called Hack E-Mail. It's basically all the wisdom that I acquired from doing the PR promotion for my first book. The book I'm focused on now is a book for sleep hacking. I'm been an insomniac for several years. It's kind of my own journey of fixing my sleeping problem, having 3 times the productivity and twice the energy that I have now."
Can you tell us about a time when you really struggled as an author?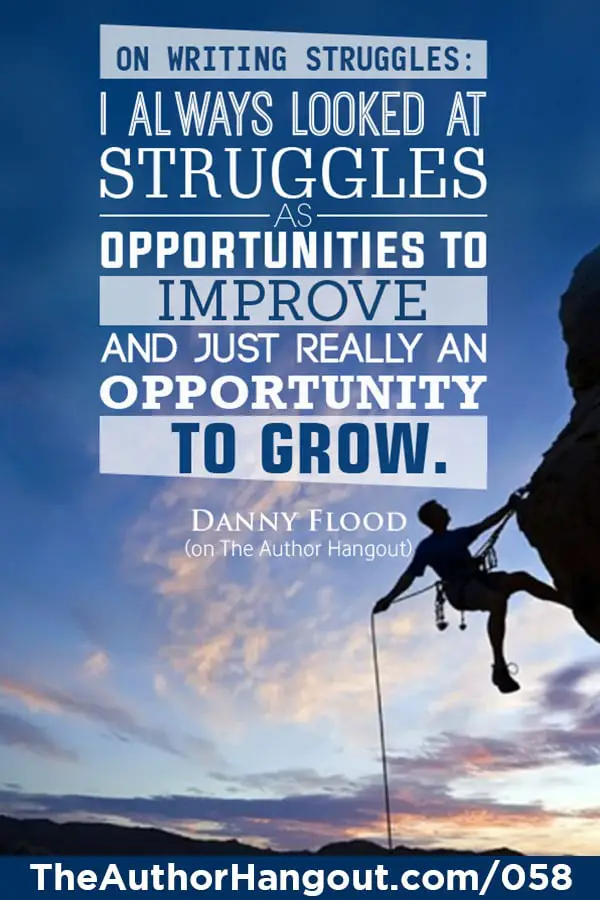 He has a great outlook on his struggles:
"I had a bunch of struggles but I always looked at struggles as opportunities to improve and just really an opportunity to grow. When I wrote my first book I really struggled like, the first entries that I wrote I just wrote whatever I could and when I went back to those after writing the book I had to throw out all of my previous entries because I didn't like the quality. I could never show this to anybody. I just plowed through it. Another struggle when I finished my manuscripts in my Word document was trying to format it in the different versions. I was trying to learn InDesign watching tutorials about pasting pages and trying to get the table of contents set up. That took me several months to learn that and finally I said, "I give up. I'm not going to do this." I hired somebody on Fiverr for about $50 and the product they gave me was something that I could never show to anyone. We had to go through several rounds of revisions and finally I had something that was presentable in the Kindle format. When I first published my book, formatting was a big challenge but once I had the first template, I could use that and apply it to my other books. I can do the formatting for my last 3 books in one day. Something that took me 3 months for my first book I can do in one day now because I understand the process."
What one marketing tactic is really working well for you?
Danny talks about how he used free promotions to get people onto his mailing list:
"Only one tactic… my first 4 books, I did free promotion on Amazon and that's worked pretty well. All of them have risen to #1 bestseller on the B charts, which is good to do as a new author… If you're going to do the free one, what really worked for me is putting an offer for an audio book, for my other book in the title page of the book. That way, at least if I have to give my book out for free at least I can get these people to subscribe to my email list and then I can notify them about future offers. Future books that I'm going to publish and the worked pretty well because the volume before that, I was getting maybe 5 – 10 subscribers per week for my blog but when I started to doing that I was getting between 10 – 20 subscribers per day. For a period of about 2 – 3 months, I was getting 10 – 20 subscribers per day pretty consistently. A big part of that was giving away free downloads. For my Buy Your Own Island, first day we had well over 5,000 downloads. I think it was around 12,000 during the free promotions."
If you started over today, what 3 things would you tell yourself to help you sell more books?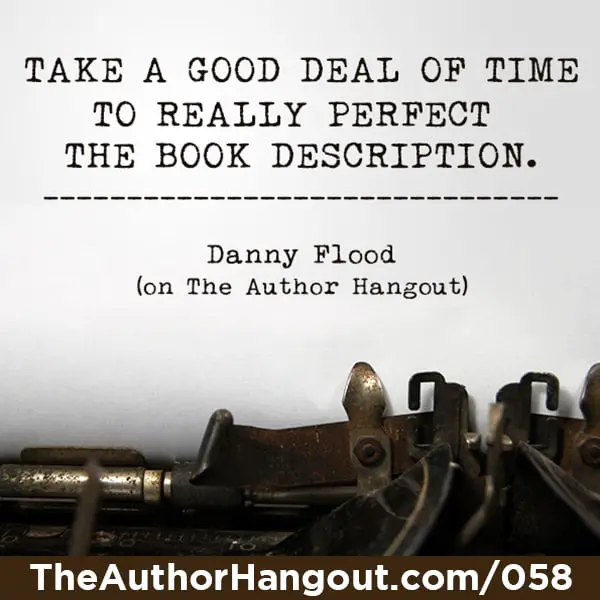 We love Danny's response:
"When I started out I hadn't really thought about how I was going to market the book at all. I started out that I was just going to do some writing first because I wanted to challenge myself and the marketing was going to come later. The marketing was more like an afterthought. I kind of wanted to rush through setting up the book page, which was a mistake. I think people rush through the book description when it's probably as important as any passage in your book, to really take a really good deal of time to really perfect the book description."
This is great! He also shared about running bargain book promotions with some stats about getting really great sales momentum early, so be sure to listen to the podcast for that.
Lastly, he shared a great tip for doing your own cover:
"I just handled all my cover myself. Covers are really important for a book. I think a lot of people do it wrong. They pay over $1,000 for their cover or hire someone on Fiverr. If your eally skimp of the cover, people can tell. What I usually do is I use Shutterstock. You can find some really great templates from there which that are pre-made that already look pretty amazing for $10 each. Some of them are illustrator files, some are Photoshop files. Basically, you can edit them. All of my covers come from Shutterstock graphics and I can customize the typography, the font, the title and any images, I can move them around. I you have any basic Photoshop skills, you can design your own cover and make it look awesome for $10 or everybody knows somebody who knows Photoshop skills."
How can people connect with you?
"I blog at, http://www.openworldmag.com/ . If you're interested in buying my audio book it's on http://www.buyyourownisland.com/audio-book. I also offer consulting for first-time authors and self-published authors so if you want to reach out you can contact me at [email protected]"
Please Leave Us A Review
Just like authors do with their books, we need reviews for our podcast! Reviews for our podcast help other authors to learn about and learn from The Author Hangout. Can you take a moment to leave a review for our podcast? If you don't know how but are willing to leave a review, please go here to learn how to leave a quick review for our podcast. It will only take a minute, but it will help a lot.
Thank you so much!
How To Listen
There are many ways to listen to the show:
Other Episodes
Get caught up on the other episodes of The Author Hangout that you may have missed: