Welcome to the 34th episode of The Author Hangout, a "Hangout on Air" designed to help authors, especially self-published and indie authors, with marketing their books and improving their author platform. Authors struggle with various aspects of marketing and we are here to help!
"You can write a great book but if nobody knows about it you're not going to sell."– John Tighe
Crush It With Kindle
In this episode, we interviewed bestselling author John Tighe. He shared many great insights, both with his struggle trying to be traditionally published, to the success he has seen with self-publishing. He also shared some of the specific things that have made him successful.
Listen to the Show / Podcast
Podcast: Play in new window | Download (25.3MB)
Subscribe: RSS
Episode Resources:

Intro
He's a former corporate lawyer turned entrepreneur, business coach, speaker, and online marketing pro. Besides being the best selling author of Crush it with Kindle, he also hosts, Publish Position Profit a highly rated business and marketing podcast, where he interviews successful professionals who are effectively using publishing opportunities to spread their message, position themselves as leaders, and profit from their passions. Please welcome the founder and CEO of Strategic Positioning Press Publishing House John Tighe.
How did you become an author and publish your first book?
"Like, I'm sure a lot of people who listen to your show I started out as a frustrated author. This was way back before Kindle Direct Publishing ever came about. I wrote my first book or the first 45,000 words in my first book, back in 1998 and it was a "thrower". That was back in the day when you had to get past the gatekeeper. You had to get an agent before you can even get in front of a publisher. I wrote off to all the agents in the UK that dealt with that kind of stuff that I could find from the writer's handbook. I just got a whole slay of 30 odd rejection letters. That was pretty discouraging because self-publishing wasn't a realistic option then. So I carried on with a day job and that was that for the time being. In 2004 I came back and had another crack. I wrote a book, which was about diet, weight loss, and nutrition because spent…I had a long interest in fitness and personal training. I spent 5 years coaching and that sort of stuff. So I put all this down, all the lessons I've learned. Very similar thing, you had to get through the agents and the feedback was, "It's good, but it's such a saturated market place that you need a celebrity to front this, endorse it to stand out." First of all I didn't want that and second that was a big if, just a whole headache there. Again I had 30 odd rejection letters. That was that at the time being and I really thought that was going to be it. Anyway, fast forward to mid-2012 that was when I discovered Kindle Direct Publishing. I'm sure people know that's the platform through which you publish your books onto Kindle and get them out off of Amazon. So that was the game changer."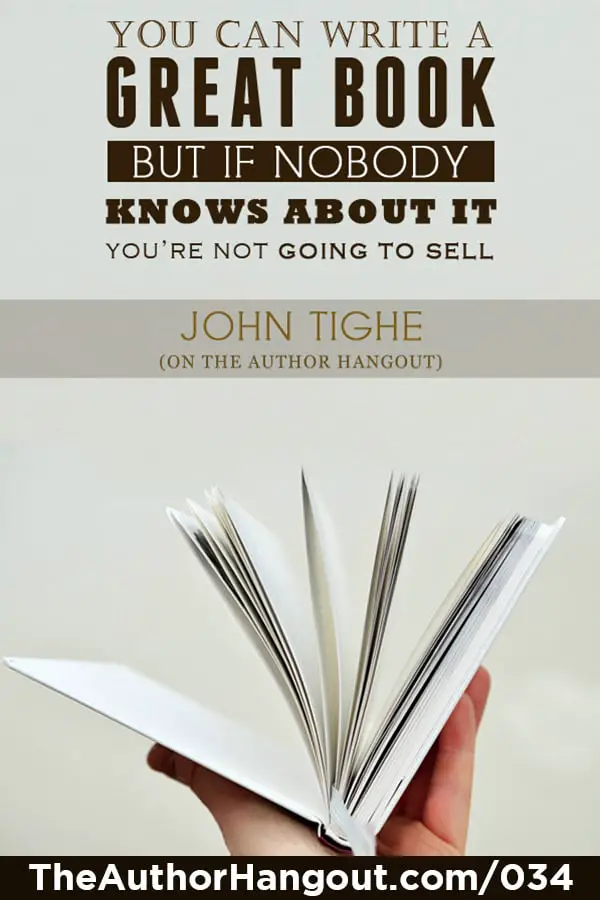 He and Shawn also talked about systems, and why systems are SO important to your business as an author/publisher. He said this:
"You can write a great book but if nobody knows about it you're not going to sell. Assuming that people want to sell books and make royalties from it and potentially in some cases build a backend business from it; if you are an expert coach, speaker, whatever that may be. Use it as a lead generation tool. You need a process to follow and if you've got a system in place, something to follow, first of all it gives you that piece of mind that you've got steps that are tried and tested that will work. It makes the whole process more successful because things need to happen in sequences. Certain things need to be in place."
He talks about some of these systems, so be sure to listen to the interview for these awesome tips.
What is your most recent project?
John has a couple of shorter books on the way, but he also has a great course for authors:
"I'm doing a self-publishing summit where I am bringing together 24 experts in the publishing and self-publishing industries. We are going to cover a whole range of topics, which provide massive value for people, and really cover the whole thing from getting the book written to the marketing to how to monetize and all of those different things."
To learn more, you can go to CrushItWithKindle.com to learn more.
Can you tell us about a time when you really struggled as an author?
John talked again about his prior rejection:
"Well it was 2004 that I wrote that second book and got another slay of rejection letters. So in my mind that was it, I sort of given up. It wasn't that I've given up in the sense that I thought that I'm never ever going to try this again, but I was thinking the only circumstance I can see myself trying to write another book was if I was financially secure and if it was like a hobby thing where there was no risk attached part. That was going to be sometime in the future… That book that was rejected, weight loss nutrition book, became a best seller and it got up to 247 on all of Amazon. It sold over 400 copies in just one day."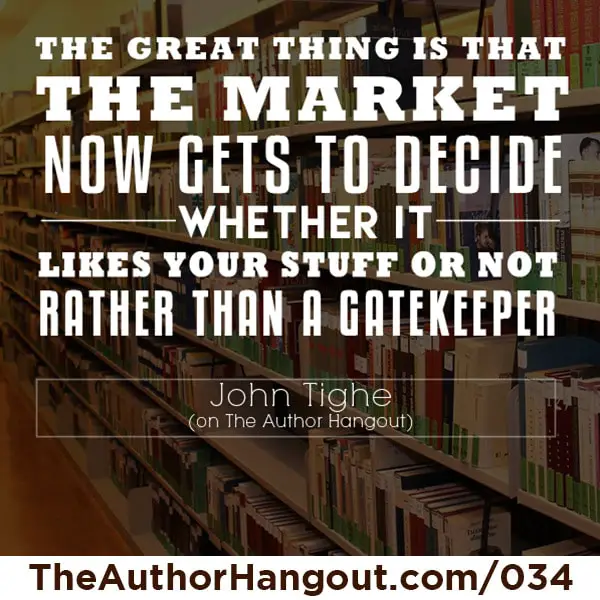 They also discussed why gatekeepers such as agents and publishers denied books. They wanted to make sure they had viable books. This is important for self-published authors as well:
"[To be] able to do something that you love and write for a living, it's got to be commercial as well. You can't just survive on art alone, whether you are writing fiction or non-fiction, it doesn't matter. You've got to be clear about why you're writing and how you're going to monetize that… make sure that you are going to write something that people are going to want to read. This means doing some market research… You can have all the passion in the world but if nobody is going to buy it you're not going to make a living. Equally you don't just want to go after the market and write something that is going to bore you to tears, so you need to balance the two."
What one marketing tactic is really working well for you?
John shared a bit about a mailing list, but also gives a great tip for where to promote the mailing list:
"If you're a fiction author this applies to your just as to a non-fiction author. It's just as important. You got to have something in your book, you've got to have a call to action in the beginning of the book and give somebody a reason to opt into your list."
He also shared some other email marketing tips:
"Give people a reason to opt in, get 20, 30, 40, and 50% of the people opting in to that list. Build up that list and then when you bring your next book out you have a ready-made audience. You can send it out and say it is discounted for the next however many days, jump across here to buy it. Maybe they send you a copy of the receipt and you give them an extra bonus if they buy with it a certain time window. Things that you can do to drive a lot of sales in a short space of time, push your book high up on Amazon."
If you started over today, what 3 things would you tell yourself to help you sell more books?
He circled back to the mailing list, because it is so important:
"The first thing is I would be much more conscious of building that email list. I did start building that email list from the beginning but I did not put as much effort in as I would have done had I really got my head around how important it is."
He also has a great tip about building a community:
"The second thing I would do is spend more time building a community around my books. This is where social media is useful and the combination of an email list plus social media is ideal to have a group or a page where you can interact with people through Facebook. It's a great platform for that, but also have the emails as well and people who get involved with both are your ideal customers if you are selling anything on the backend and are highly likely to buy your books. Again, just deliver lots of value, it's all about relationship building and giving value."
The 3rd is to write more, but he has some very specific reasons for saying so… but you will need to listen to the interview to get these tips!
How can people connect with you?
He mentioned CrushItWithKindle.com and also said this:
"The other place that I think would be valuable for your listeners would be to tune into the podcast where we have a lot of authors on there not just talking about there books but also the businesses they built around those books. Publishpositionprofit.com is the podcast and you can also find that on iTunes as well."
Please Leave Us A Review
Just like authors do with their books, we need reviews for our podcast! Reviews for our podcast help other authors to learn about and learn from The Author Hangout. Can you take a moment to leave a review for our podcast? If you don't know how but are willing to leave a review, please go here to learn how to leave a quick review for our podcast. It will only take a minute, but it will help a lot.
Thank you so much!
How To Listen
There are many ways to listen to the show:
Other Episodes
Get caught up on the other episodes of The Author Hangout that you may have missed: