Welcome to the 47th episode of The Author Hangout, a podcast designed to help authors, especially self-published and indie authors, with marketing their books and improving their author platform. Authors struggle with various aspects of marketing and we are here to help!
"Since most people can read more than one book a year, you're not in competition with other authors, so you need to start partnering with other authors."– R.J. Adams
Book Marketing On The Cheap
In this episode, we mixed things up a bit. Author BK Walker shared a great guest post on our blog about how to market your books with little to no budget. Shawn and R.J. explored this article, and gave their thoughts on the various tips provided in the guest post.
Let us know what you think of this style. We know everyone can't read every post on our blog, so we would love to highlight some of the best ones from time to time in this format, if it is something you enjoy.
Listen to the Show / Podcast
Podcast: Play in new window | Download (16.7MB)
Subscribe: RSS
Episode Resources:

Intro
Shawn Manaher & R.J. Adams run Book Marketing Tools and share their insights to how to market your book on the cheap.
Start Marketing Your Book Before It Is Published
It is always important to begin promoting your book before it is even ready. You want to launch to an excited audience. here's what R.J. had to say:
"It's just about getting the buzz out there. So whether doing interviews talking about your upcoming book, interviews on podcasts, and text interviews on blogs that either talk about your genre or talk about your topic if you're non-fiction or even if you are fiction there's different topics that might be discussed your books. Find blogs that talk about those topics even though they're not geared toward your specific genre because if that topic is in your book you can talking about your book and people who are interested in that topic will then be interested in your book. So all you need to do is start talking about your book on social media, on blogs and other places like that."
Create a Mailing List
Seriously… you need to create a mailing list… Here is what Shawn had to say:
"Having that mailing list, you guys have heard it, I'm going to stop talking about it and I'm going to challenge you. Here's your challenge this week. If you don't have a mailing list, if you don't have a provider that you've set up that you've worked with to create a mailing list for your website, then I challenge you this week to start that mailing list this week. When you set up your email list I want to know. You can send it to [email protected] and I will become your first subscriber. I mean that. So if you set up your email list and you've set it up, let me know that you've set it up and where it could be found on your website. Let us know at [email protected] and I'll be your first subscriber and I'll make sure that I tell other people about."
Partner With Other Authors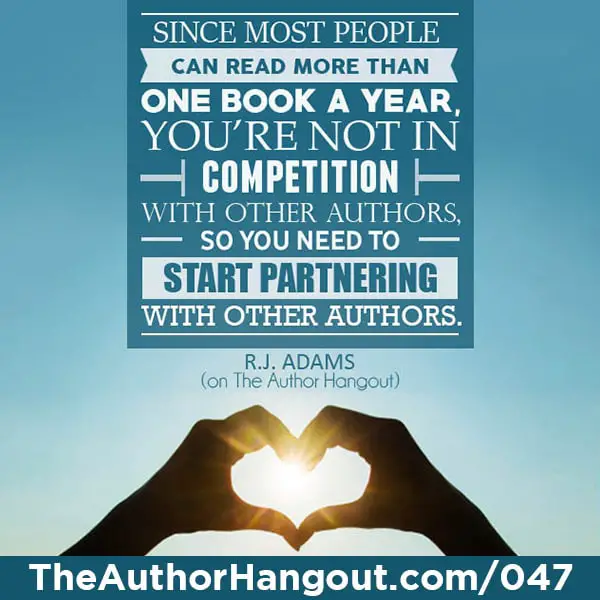 It is so important to partner with other authors to market your books. Here's what R.J. had to say:
"Because most people can read more than one book a year, you're not in competition with other authors so you need to start partnering with other authors, especially other indie authors that are in your genre. They are struggling too. They are reaching out. They are just trying to grow and build their own business too. By partnering with several of these authors, you guys can cross promote each other. You guys will have each of your own individual social media followers, mailing lists, etc… By partnering with them and telling each other about each other's books you're significantly increasing the number of people who are learning about your books. This doesn't cost you any money, it'll just cost you time and the willingness to reach out and partner with these other authors."
Be Visible On Social Media
There are some great tips about posting on social media. Here's what Shawn said:
"B.K. Walker talks about in the post that we are mentioning, "be active on social media posting every day, several times a day" and that several times a day is something that you need to consider. When you have a bunch of followers, say you have 1,000 followers, you need to know that your followers are not going to be on all the time. So by posting several times a day, you're going to be able to connect with and they're going to be able to see your posts, say on Twitter or on Facebook at the time in which it makes sense for them. By releasing multiple posts about different types of things you're going to be able to hit a different audience as well. The other thing with that is, posting consistently on a daily basis makes a lot of sense because people cannot and will not know who you are unless you are visible."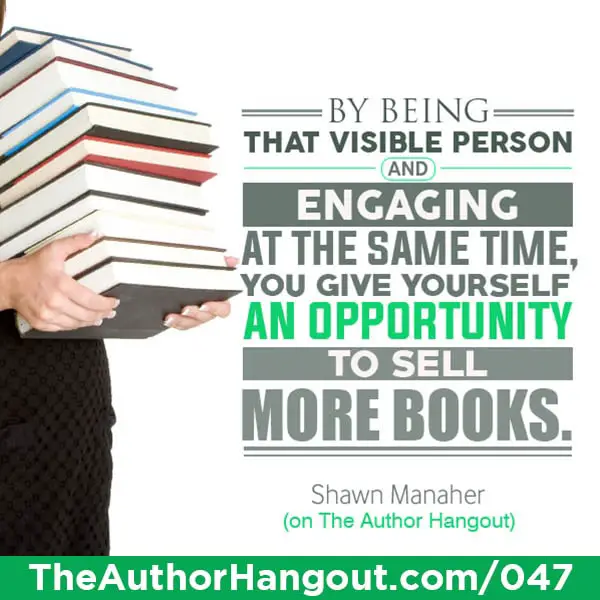 He finished with this gem:
By being that visible person and engaging at the same time, you give yourself an opportunity to sell more books much more than the author or person who's just not at all doing that. There are a lot of authors who are saying, "I'm not going to be on social media, I'm not going to be visible" and while an email list is the most effective way in which you can sell books, you generate traffic to your website by being active on social media.
Get Great Graphics
Even if you suck at graphics and art, you can get awesome graphics for promoting your work very cheaply. Here's R.J.'s take on it:
"Luckily you can easily and cheaply connect with people who are awesome at graphics through a website called Fiverr.com and you can get amazing graphics for just $5. Whether you have $50 to spend on graphics or all you can scrape up is $5 you can get an amazing graphic made. You can use that graphic on Google Plus, on social media, you can share it on your mailing list, you can share it on Twitter and it's just one more thing that's out there that's appealing about your book that you can reach readers with."
Shawn also had another great tip that is free:
"If you're more inclined to doing it yourself and you want to know an easy and simple way, I recommend that you go to https://www.canva.com/ and there they have a number of templates and ways that you can create these awesome graphics that don't take #1) a lot of time to manage and #2) it's free, so you have no cost out of pocket in order to generate some pretty cool graphics. Obviously, this takes your time but in using Canva.com, super easy and affordable to get started now."
Be Easily Accessible (Get A Website)
R.J. talks about why having a good website is so important:
"Make it so that you can be easily found and you can do that through your website. There's several places to get a free website or you can get them fairly cheap. Just get them so that people can connect with you. On your website you should have your bio, you should have your books obviously, where they can go buy your books, a mailing list, and a way for people to contact you. A forum or other way that they can connect with your links on social media, basically having a central hub where people can find out whatever information they need to know about you and your books."
We also shared a great resource for having a site made if you need a new one or need one period.
Please Leave Us A Review
Just like authors do with their books, we need reviews for our podcast! Reviews for our podcast help other authors to learn about and learn from The Author Hangout. Can you take a moment to leave a review for our podcast? If you don't know how but are willing to leave a review, please go here to learn how to leave a quick review for our podcast. It will only take a minute, but it will help a lot.
Thank you so much!
How To Listen
There are many ways to listen to the show:
Other Episodes
Get caught up on the other episodes of The Author Hangout that you may have missed: