Welcome to the 68th episode of The Author Hangout, a podcast designed to help authors, especially self-published and indie authors, with marketing their books and improving their author platform. Authors struggle with various aspects of marketing and we are here to help!
"The easiest way to have a bestseller is to do partnership opportunities with other authors in your genre."– Derek Murphy
Book Covers and Giveaways
In this episode we were joined by bestselling author and book cover design firm owner, Derek Murphy. He discussed many of the pitfalls with book covers, as well as one technique he used to get over 5000 genre-specific readers onto his mailing list.
Listen to the Show / Podcast
Podcast: Play in new window | Download (33.5MB)
Subscribe: RSS
Episode Resources:

Intro
He's a successful entrepreneur, author and book designer who's teaching his rapidly growing audience how to become creative geniuses without becoming starving artists. Besides authoring books such as How to Write Format Publish Promote Your Book Without Spending Any Money, he builds tools to make publishing easier and shares his tips on building profitable online businesses through his 21 day author platform, video courses and blog. Please welcome the founder of CreativeIndie.com, BookButchers.com and MarketingForWriters.com, Derek Murphy.
How did you become an author and publish your first book?
"I started my hand in writing a long time ago but I haven't finished any novels yet. But I did put out a really large non-fiction book that was a part of a master's thesis. That's kind of when I got into learning about book covers as I'm learning about marketing. I had a little bit of an online experience but I was literally starting from scratch. I've got this thing, how do I tell people about it, how do I get people to buy it. That was a 2 or 3 year process. I went through many covers and websites and re-launched it. Finally I did fairly decent for that kind of book and since then it's gotten really easy for me to put together non-fiction books. I've been using non-fiction books to grow my platform. I've been doing mostly services like cover design or marketing or formatting so I put out a lot of non-fiction about publishing so that I attract my own clients to me."
How do covers affect an author's ability to sell books?
"The cover is going to be the thing that screws that up. The reason that most fiction authors don't want a new cover is because if you design your own cover, if you have too much input even if you're hiring a cover designer, you probably told them what to do and what you wanted and they match your vision, which is something I stopped doing that with cover designs when I get new clients, they tell me their idea, I say, "That's not going to work but I can make you something else that works better." I lose a lot of clients with that because a lot of clients say, "But no, I have this vision, this is what I need." When they get the cover that's what they thought they wanted, they're usually pretty happy and so when they put it out there they like it. Even if they get…no one's really going to tell them it's not a great cover, even if they ask their friends' feedback you know…"
What is one time that you have struggled as an author?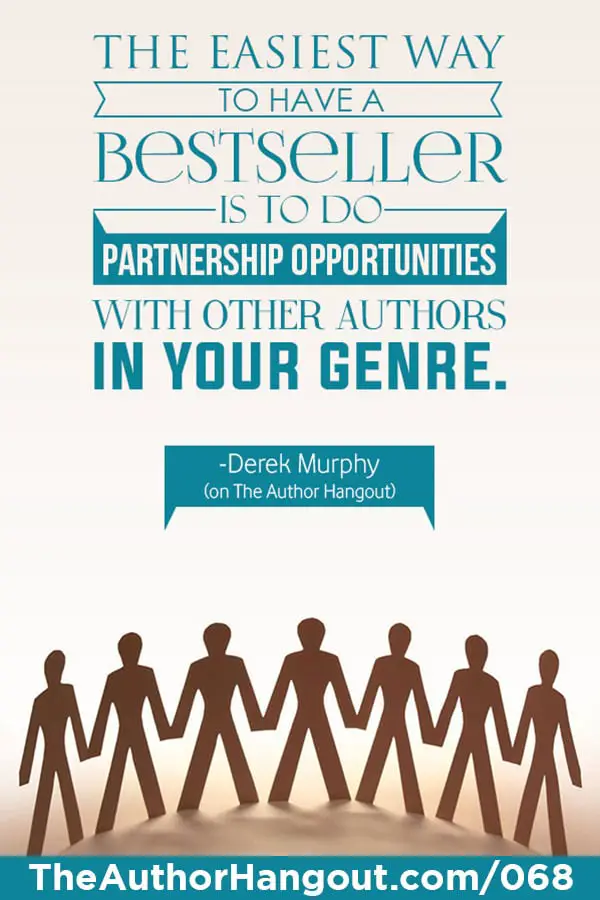 Don't miss this, as Derek has some great tips:
"I was always heavily on the art side of it. I was a believer of "follow your passion" so I painted, I did exhibitions, I wrote books that I wanted to write, I tried really hard to market them and connect with people. I think most authors are still on that stage where you're just focused on yourself. You're just focused on "how can I sell my book" and that's going to be your biggest problem because the easiest way to have a bestseller or a successful book launch is to have a partnership opportunities with other authors in your genre. That's really important and few authors are doing it because authors, they don't really like to make friends. They don't like to be social. They kind of stay at home because maybe they don't feel comfortable reaching out to other people but there's so many other self-publishing authors in your genre. Recently, because I'm launching fiction, I have a zero list. I have a big list for non-fiction stuff but I started this month for the fiction platform with nothing. I ran a give-away for young adult authors because I want to do a partnership with young adult authors in my specific field. I want to find ways for us to work together. So I did a give-away for them and I got 750 people on my email list that are just young adult authors. We can do some group promotions or review each other's books or stuff like that. I'm doing another give-away, where I'm just giving away 10 signed bestselling books in the young adult fantasy genre and I've got to 5,000 readers already. That's just young adult readers between 13 and 25, so it's a really targeted audience."
What one marketing tactic is really working well for you?
"I'm stacking giveaways. After this giveaway I'll have another giveaway. All I did was order, there's a young adult book conference that I was going to go to but I saw that you could just order the books online so I ordered the signed books so I can give them away. It cost a couple of hundred dollars but they're nice giveaway because people share it. The way giveaway works is people sign up for something and then they get extra entries if they get their friends to sign up. After I get a couple thousand people, I can email them and say, "Hey, keep sharing and you get more entries.""
If you started over today, what 3 things would you tell yourself to help you sell more books?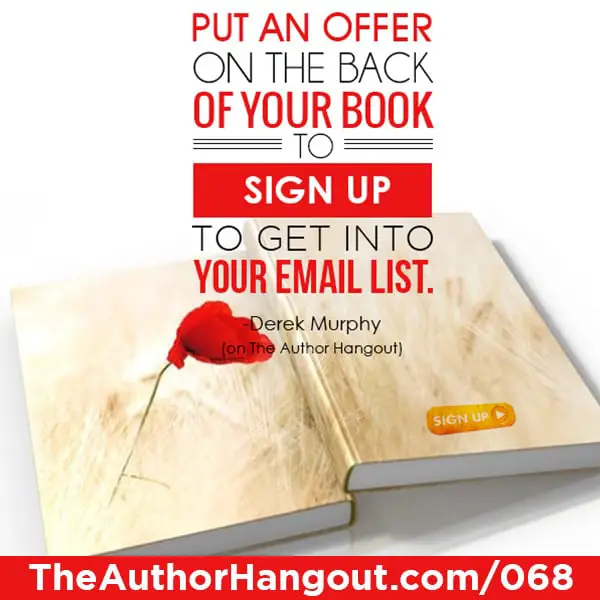 Here's Derek's response to our classic question:
"I'd focus on the list faster. There's been discussion recently. A lot of…the people who know about self-publishing keep telling people to make a really good offer, especially if you're doing a series. You should be doing a series because you make a lot more money. But put an offer on the back of your book to sign up to get into your email list. That's kind of like base line. You need to be doing that. It can't just be "subscribe" but you should have an offer like, come and get the second book in the series for free or come and get these other things for free, that should be on the back of your book right away. There's still so many authors, probably like 88-90% of authors who still aren't doing that. Focus on building your list but then like I'm doing is, before I launch my book, I'm doing a lot of free marketing with contests. Mostly contests, which I found is like the easiest way to build a very targeted list very quickly. That will help a lot for my launch."
Listen to the podcast to hear Derek's 3rd marketing tip he would tell himself if he started all over today.
How can people connect with you?
"My main blog is http://www.creativindie.com/. It's "creative" and "indie" together. My email is derekmurphy [AT] creativindie.com. So if you need feedback on self-publishing stuff, I have a ton of these sources like DIY book covers, DIY book formats for book designs with a lot of videos and tutorials, teaching people how to do stuff because I've kind of stopped doing that one on one client work so I'm just putting out videos so people could do that on their own. But if you get stuck on something, I'm pretty easy to find online. You can ask questions or whatever."
Please Leave Us A Review
Just like authors do with their books, we need reviews for our podcast! Reviews for our podcast help other authors to learn about and learn from The Author Hangout. Can you take a moment to leave a review for our podcast? If you don't know how but are willing to leave a review, please go here to learn how to leave a quick review for our podcast. It will only take a minute, but it will help a lot.
Thank you so much!
How To Listen
There are many ways to listen to the show:
Other Episodes
Get caught up on the other episodes of The Author Hangout that you may have missed: