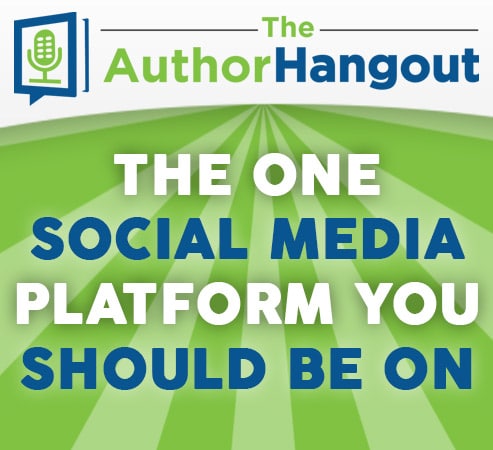 Welcome to the 82nd episode of The Author Hangout, a podcast designed to help authors, especially self-published and indie authors, with marketing their books and improving their author platform. Authors struggle with various aspects of marketing and we are here to help!
The ONE Social Media Platform You Should Be on Today!
In this episode, we continue the new series where we will share some of the key tenets of book marketing success. Last week we talked about how to develop a reader profile and this week we are diving into social media, looking specifically at which social media platform you should be on today.
Listen to the Show / Podcast
Podcast: Play in new window | Download (31.0MB)
Episode Resources:

Outline/Notes
Introduction
Social Media Rant! What it is not and what it is.
3 Questions That Will Help You Define The One Social Media Platform you should be on.
My Recommendation: The ONE social media platform you should be on today & Exceptions
Shawn's Social Media Rant
Social media is not about where you are, but what you do to create connection.
Social media is not about "how much is enough to get by", but the frequency and volume you can properly give.
Social media is not about loyalty to one channel, but omnipresence across many (The 10 X Rule by Grant Cardone)
Social media is not about precision but visibility
Social media is about the base, all about the base, all about YOUR reader base.
The Ultimate Social Media Strategy for Authors
Share value with your readers.
Create platform awareness
Sell books
While social media is hard, it takes work, it takes effort, it's doesn't mean, it's an impossibility.
How To Select the ONE Social Platform you should be on as an author?
Define Your Audience through A Reader Profile
Answer 3 simple questions
Where is my audience? Where is my audience active? What social media niches sites are right for you?
Why Facebook is The One Social Platform Every Author Should be on.
Demographic: The world is represented by Facebook
Usage: 30+ minutes / day
Paid: Facebook Ads
Financial: Profitability
Exception Apply Only IF…
You've mastered facebook first.
Seeing success, not just followers.
Are seeing sales through your book marketing system.
Selecting Your Social Media Platform
Step 1 – Research your audience by creating a reader profile.
Step 2 – Identify where they are at and ask key questions.
Step 3 – Start with Facebook.
Step 4 – Learn from others like Joanna Penn, Mark Dawson, Tim Grahl, etc on how to.
Step 5 – Master ONE and then learn them all to become omnipresent.
Please Leave Us A Review
Just like authors do with their books, we need reviews for our podcast! Reviews for our podcast help other authors to learn about and learn from The Author Hangout. Can you take a moment to leave a review for our podcast? If you don't know how but are willing to leave a review, please go here to learn how to leave a quick review for our podcast. It will only take a minute, but it will help a lot.
Thank you so much!
How To Listen
There are many ways to listen to the show:
Other Episodes
Get caught up on the other episodes of The Author Hangout that you may have missed: