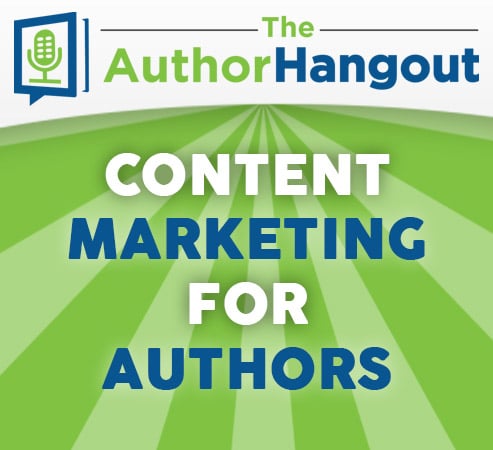 Welcome to the 83rd episode of The Author Hangout, a podcast designed to help authors, especially self-published and indie authors, with marketing their books and improving their author platform. Authors struggle with various aspects of marketing and we are here to help!
How To Use Content Marketing To Delight Your Readers
In this episode, we continue the new series where we will share some of the key tenets of book marketing success. Last week we talked about which social media platform you should be on today and this week we are covering how to use content marketing to delight your readers.
Listen to the Show / Podcast
Podcast: Play in new window | Download (56.3MB)
Episode Resources:

Outline/Notes
Introduction
Introduction to content marketing
10 Rules for Content Marketing
90 Content Ideas for your genre
Content Marketing Introduction
Content Strategy – The plan you have to use content to sell more books.
Content Creation – How you are going create the content.
Content Management- How you manage everything about content.)
Content Promotion – How you get the word out about your content.
Content Metrics – Measuring the results of your content strategy, creation, management and promotion.
The Purpose of Content Marketing
It's not about silver bullets, but consistent effort at the basics..
10 Rules To Content Marketing
Start Today!
Be Consistent
Calendars are your friends
80 / 20 Value
Re-purpose everything!
Give exclusive content
Delight, surprise and amaze
Make Deeper Connection
Engage
Outsource
90 Content Ideas for Authors.
Roamnce Authors
Christian Authors
Thriller Authors
Please Leave Us A Review
Just like authors do with their books, we need reviews for our podcast! Reviews for our podcast help other authors to learn about and learn from The Author Hangout. Can you take a moment to leave a review for our podcast? If you don't know how but are willing to leave a review, please go here to learn how to leave a quick review for our podcast. It will only take a minute, but it will help a lot.
Thank you so much!
How To Listen
There are many ways to listen to the show:
Other Episodes
Get caught up on the other episodes of The Author Hangout that you may have missed: