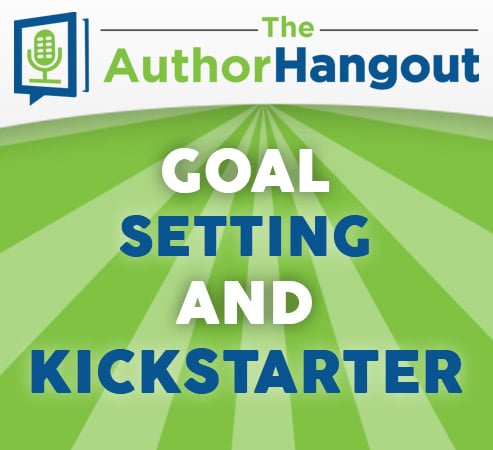 Welcome to the 70th episode of The Author Hangout, a podcast designed to help authors, especially self-published and indie authors, with marketing their books and improving their author platform. Authors struggle with various aspects of marketing and we are here to help!
"You need to have a powerful gift that you're giving to people in that first 15% sample of the book."– John Lee Dumas
Goal Setting and Kickstarter
In this episode, we interviewed podcaster & bestselling author John Lee Dumas, who shared some great insights from his latest project about setting and blasting through attainable goals for your business this year, as well as how he is using Kickstarter to launch this book.
Listen to the Show / Podcast
Podcast: Play in new window | Download (22.5MB)
Episode Resources:

Intro
He's a podcasting heavyweight, an author who's inspiring thousands of business owners to launch, grow and monetize their own podcasts through a variety of educational courses and resources, including his popular book, Podcast Launch, a step-by-step guide of how to launch your podcast, Entrepreneur on Fire is an award-winning daily show that attracts more than one million unique listens per month and generates a six-figure monthly income. Please welcome, a successful entrepreneur who has made it onto more top 10 lists than we can count, John Lee Dumas.
How did you become an author and publish your first book?
"So when I launched EOFire back in September of 2012, that's all it was. It was just a podcast. I did have a website where I threw up some show notes but that's kind of what I had and I said, you know, okay, a couple months later, it was January 2013, how can I continue to really expand my brand and get my voice out there, be found in other directories besides just iTunes and Stitcher Radio, like what can I do? And of course Amazon was just staring at me smiling and saying, "John, come to me. I have a huge audience, just do your thing." And of course I did the keyword search and to be honest with you, there just wasn't much in a way much of books specifically on how to create, grow and monetize your podcast. And the couple that were there were very outdated, so I said, it's a huge opportunity, I am not going to let another day pass. Shawn, I sat down in one weekend, all day Saturday, all day Sunday. I wrote the book Podcast Launch. Sunday night I submitted it to the Kindle Bookstore and by Monday morning I was a "published author." And that book since that day almost, it very quickly rose to be the number one ranked podcast book within that week in all of Amazon and it still is the number one ranked book on podcasting on all of Amazon to this day."
What is your most recent book or project?
"When I really kind of step back and thought like what's the one commonality that all my guests, successful and inspiring entrepreneurs, what's the one commonality they all posses? And it really hit me pretty hard one day and this is early 2015, I said, "Man, all of my successful guests know how to set and accomplish goals." In Fire Nation, my listeners that are struggling, I can tell that their struggles are really being able to be traced back to the fact they have no idea how to set and accomplish goals. So I decided to set on 2015 and change that. So it's been a passion project for this entire year. And so I thought about the name for a while, I thought about the process within. I spent a lot of time just really perfecting everything about it and now I'm actually holding in my hands as you and I are talking, Shawn, The Freedom Journal. It was just such a learning process and also just a passion project of mine. And now you know, I'm like holding this in my hands and this is exactly what it is. It's set and accomplish your number 1 goal in 100 days."
Don't miss out on a fantastic discussion about creating goals for your self-publishing business.
Can you tell us about a time when you really struggled as an author?
"I knew that I was going to rely on a lot of other people in the creation of this book as well. One of the most challenging things that I found was finding a way to reach out to people who I really was trusting and valuing and needing their feedback and opinions on a lot of different things and areas and not spoil the relationships wherein they just really weren't coming through. And so I had to reset my expectations in these areas and realize number one, a lot of these requests are going to take a lot longer time, but then number two, I just had to realize that not everybody was going to come through on this and I had to have backups."
What one marketing tactic is really working well for you?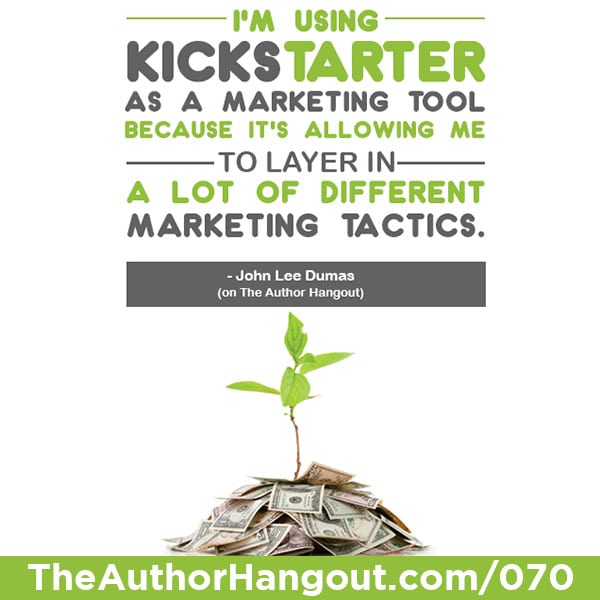 John went a different route in publishing his latest book:
"We went a very interesting route, and that was Kickstarter. And the reason why we've gone this route and the reason why it's very interesting is that we're not actually raising money for our project. We're not raising money so that I can then go ahead and get these books created. I've already outlaid all the money, so I'm not using Kickstarter in the traditional sense of raising funds for a project that if it gets funded, then we'll go off and do this, but like no, like I'm using Kickstarter as a marketing tool because it's allowing me to do a ton of rewards and layer in bonuses. It's allowed me to kind of layer in a lot of different marketing tactics and techniques."
If you started over today, what 3 things would you tell yourself to help you sell more books?
John Lee has some great tips that all authors should be ultilizing, but here was a really great one:
"The third thing I think is really important that a lot of people don't take advantage yet is when you get into Amazon, the first 15% of every book is available to be read and to be sampled. You need to have a powerful gift, free giveaway that you're giving to people in that first 15%. So even people that don't decide to buy, they think they're being all sneaky, like, ooh, maybe they don't know that I can see that first 15%, I'm going to grab this gift. They think they're being all sneaky by getting that free gift but not buying the book even though it's only like $1.99.
And guess what? When they go to that page, I'm collecting their email address because if they want to get that gift, they're going to enter their email address in so I can then email them the actual book or the actual gift. Now that allows me to continue to market to them down the road and have their contact information. So that's a really kind of ninja thing that I've enjoyed doing."
How can people connect with you?
"All the magic happens at EOFire.com and of course I'd love for you to check out The Freedom Journal campaign, just visit thefreedomjournal.com."
Please Leave Us A Review
Just like authors do with their books, we need reviews for our podcast! Reviews for our podcast help other authors to learn about and learn from The Author Hangout. Can you take a moment to leave a review for our podcast? If you don't know how but are willing to leave a review, please go here to learn how to leave a quick review for our podcast. It will only take a minute, but it will help a lot.
Thank you so much!
How To Listen
There are many ways to listen to the show:
Other Episodes
Get caught up on the other episodes of The Author Hangout that you may have missed: