There's something you need to understand right up front: your social media book launch campaign is not your broader marketing or social media strategy.
Instead, and much like your book launch plan, your social media campaign and tactical plan are derived from these big-picture strategies. This is a one-off, short-term plan that focuses on completing specific activities within a specified timeframe in order to achieve short-term goals.
Before you begin, you should have a clear idea of who you're targeting, what your goals are, and the message you want to convey during your book launch. If you haven't identified these things yet, you should do so now as they will be vital to the success of your book launch. When you have that information at hand, start planning the what, why, and how of your social media book launch campaign.
Step 1: Set Clearly Defined Campaign Goals and Metrics
Think about your book launch marketing plan goals and objectives for a minute. How can your social efforts tie into that?
For example, if one of your overarching goals is to increase your credibility as an author, and one of your objectives for that is to participate in interviews with prominent journalists, podcast hosts, and bloggers, then you might want to use social media as an outreach tool to connect with key people and start building relationships. If your objective is to generate reviews, you could create engaging and action-driven posts that encourage fans and followers to make their opinion known on sites like Amazon and Goodreads.
If an overarching goal is to grow your email list, and one of your objectives is to generate a certain number of unique subscribers with a relevant opt-in offer, you can easily create social media content promoting your freebie. In fact, Facebook now provides a special free feature for Fan Pages called Facebook Offers. These posts look different from the others, so they're sure to capture attention.
Here's a quick tutorial: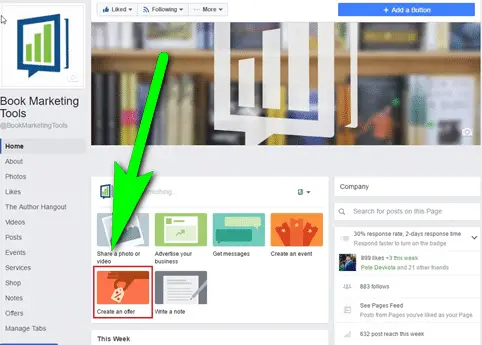 On your Facebook Page, click "Create an offer."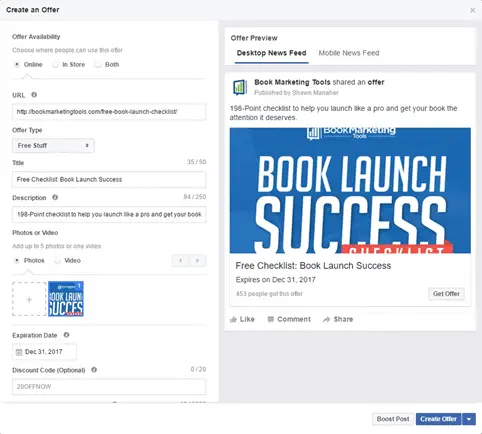 Fill in the details for your offer. Make sure you change the offer type to "Free Stuff," add the URL to the dedicated landing page that hosts your signup form, create a compelling title and description, add an expiration date, and upload an engaging, eye-catching image of your incentive. When you're done, click the blue "Create Offer" button to publish the post to your Timeline.
Below is what your post will then look like. You can see it's very different to regular Facebook posts and contains a prominent call-to-action button. Consider pinning it to the top of your Timeline for the duration of your launch so that it's front and center for all your Page visitors to see.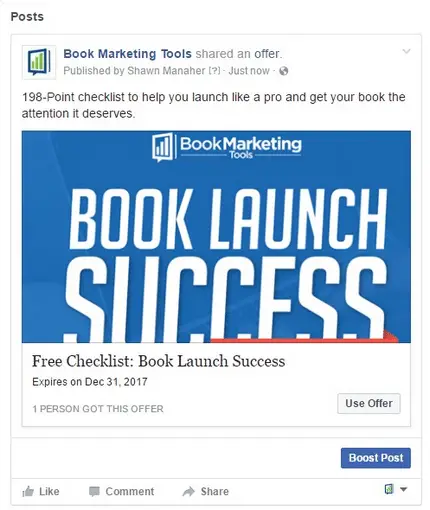 Along with setting your social media campaign goals, you should determine which metrics you'll track. This could include factors like reach, engagement (such as shares, comments, retweets, likes, and reactions), follower numbers, how many people got your offer, and more. The good news is that most social media platforms now have built-in analytics. This will give you a deeper insight into the type of content your followers love so that you can: 1) create more of it and 2) be strategic about how you use your channels and when you post content.
Step 2: Choose Which Networks You'll Use
You might feel the need to go in all guns blazing, but that's not necessarily the most effective use of your time or resources. Your decision to use  Facebook, Twitter, LinkedIn, Instagram, Pinterest, YouTube, Google+, Goodreads, or any one of the other popular networking sites will not only depend on your campaign goals, but it'll also depend on where your target audience congregates online. Concentrating your efforts on sites that are best for you, your readers, and your book will likely end in better results and more time to implement other highly effective tactics.
If you are finding it difficult to choose a social platform, then start with Facebook.  With 1.79 billion monthly active users, so you're bound to reach target readers.
Step 3: Give Your Profiles a Makeover
Starting on the day your campaign launches, you'll want to establish key moments to give your social media profiles and pages a facelift. These crucial moments can include:
The day you announce your book is on its way and it's release date (usually 2-3 months before launch)
The day your book is available for pre-sale (usually 2-3 weeks before launch)
The day your book goes on sale
Any timeframes after launch during which you plan to offer specials
In addition to updating your bios, links, and digital bookshelves (specifically on Goodreads and relevant Facebook Tabs), consider getting creative with your social media header and cover images. These banners offer a great way to advertise a new release in an eye-catching and imaginative way. Be sure to include elements like fun copy, a picture of your book's cover, and a compelling early review you might have. Your branding should also be consistent across your social media profiles.
Step 4: Develop a Content Plan
This is where you'll map out what you'll share, the format you'll share it in, and how much you'll share of it. When you're jotting down ideas for this section, think about your objectives. What will help you reach your campaign goals while strengthening your social media footprint, growing your following, and sparking conversation and engagement? The trick is to provoke and harness communication rather than control it.
Let's say you're a non-fiction writer who's about to release a diet book. Your social media book launch content could then be focused around healthy eating tips from your book, inspirational and motivational quotes, and recipes from your blog. As a fiction author, your content could be focused around your characters, storyline, book genre, subject matter, and more.
The aim is to generate buzz while getting people to care about your book and its characters or content before it's released. Rather than be salesy, you want to create an experience that gives potential readers a taste of what's to come.
Fortunately, there are plenty of content formats to help you make that happen. Besides the obvious blog post, images, and video, you could create webinars, podcasts, infographics, Q&As, expert interviews, quotes, polls, quizzes, surveys, and more. Keep in mind that you want variety to keep things fresh and interesting. Be useful, thought provoking, and humorous. Set milestones and then make appropriate announcements to build anticipation. Most importantly, always speak to the needs and wants of your target readership.
When deciding how much content you'll share, be aware that you'll need to keep your budget and time available in mind. Sure, you want to maintain a consistent flow of great content, but if you assign 200 posts to Facebook alone for the duration of your campaign, you might find yourself overwhelmed when planning for other sites. Ideally, you'll put effort into making stellar content for multiple channels rather than churn out subpar content and as much of it as you can. After all, less is more and quality is better than quantity. If you need help, consider asking family and friends to pitch in or hire a freelancer to manage the content for your accounts.
What makes a good social media post?
It's compelling, relevant, and interesting
It's targeted to your audience
It's true to your brand's voice (language, tone, delivery) and values
It contains eye-catching images when possible
It makes use of high-quality video when appropriate
It contains relevant links
It includes a natural use of keywords
It inspires action
It doesn't contain careless spelling or grammatical errors
Ultimately, your social media content should make the best use of the platform for which it has been designed.
Step 5: Establish an Editorial Calendar
Sporadic posting during a book launch will hurt your outcomes. It's tough enough getting people to pay attention to you in the best of times, which is why you need to remain visible and relevant while facilitating regular reader engagement throughout your campaign.  The best way to do this is through a consistent posting schedule across all chosen channels.
To create your calendar, simply open a new Excel spreadsheet or similar scheduling tool and then add appropriate columns or rows. These can include:
The social media platforms you'll be leveraging for your campaign
The topic you want to use for a particular post
The date you'll publish the post
The time of day you'll publish the post (i.e. when your audience is most active)
The type of content format for the post (e.g. text, image, video, presentation, etc.)
When you'll measure post metrics and the results
For convenience sake, consider adding a column where you can include the copy for the post and any applicable link that may accompany it. You can then easily copy and paste when you're ready without having to access other documents or go on a link hunt.
Here's an example of what a calendar might look like for an eco-friendly author around the pre-order week of a launch campaign: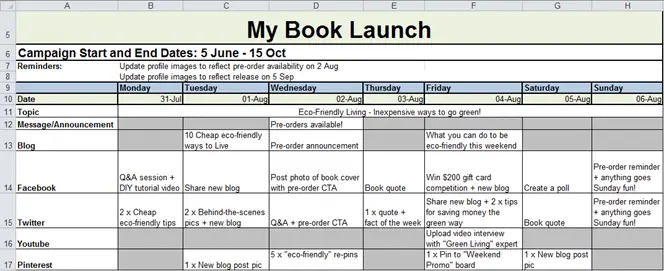 Step 6: Focus on Fostering Engagement
As vital to the success of your campaign as posting content is, interaction is equally as important. You can automate a lot of your book launch marketing efforts, but nothing beats true, meaningful conversation. You'll need to allocate 10-15 minutes each day to monitor engagement and then respond to comments, ask questions, answer questions, and keep conversations going. Since it's all too easy to get swept up in social media without contributing much to your campaign efforts, be sure to set clear boundaries for yourself.
While you're designing an orchestrated, multi-platform social media campaign around your book launch, you'll quickly discover that social takes the lead from many of the other digital and traditional campaigns you have outlined in your book marketing plan. Hosting a launch party, conducting a book tour, or running a publicity campaign will all provide fodder for social media posts. Got an interview? Promote it. Hosting a book-related event? Post pictures. Someone wrote a review on their blog? Share it. Just make sure your social efforts are a continuation of what you're already doing elsewhere both in terms of branding and promotions.
Have you created a social media campaign for your book launch? What are some of the ideas you've had for content pieces and social media posts? Share them with us in the comment box below. Don't forget to subscribe to our blog for more on book marketing and then download a copy of our free book launch success checklist.