Welcome to the 30th episode of The Author Hangout, a "Hangout on Air" designed to help authors, especially self-published and indie authors, with marketing their books and improving their author platform. Authors struggle with various aspects of marketing and we are here to help!
"You really do have to run it like you are running a small business. You allocate your time accordingly and it's good if you're able to be disciplined."– Ernie Lindsey
Writing, Productivity, and Marketing
In this episode, we interviewed bestselling author, Ernie Lindsey, who shares his tips for writing faster, being productive, and of course, some great tips about marketing your books.
Listen to the Show / Podcast
Podcast: Play in new window | Download (22.2MB)
Subscribe: RSS
Episode Resources:

Intro
He's an Amazon and USA Today bestselling author who found an outlet for his storytelling after attending creative writing workshops run by talented author Sheri Reynolds. With over a dozen novels and many short stories to his credit, his most popular works include Sara's Game, The Sara Winthrop thriller series, Warchild: Pawn from the Warchild series and Sledge. When he's not writing, he's reading the works of his favorite thriller writers and spending time with his family. Please join me in welcoming mystery and suspense author, Ernie Lindsey.
How did you become an author and publish your first book?
Here is how Ernie got started, in his own words:
"I started out writing fiction when I was in college. I took some, as you mentioned, creative writing workshops with Sheri Reynolds who's absolutely amazing. She was on Oprah's book club. She's fantastic! But I had to pay the bills so I started doing some technical writing and I worked for various software companies off and on for 12 years, writing documents that you immediately take out of a box and throw away. That's what I wrote. Technical writers are a kind of jewelry when it comes to software companies. So after I got laid off of my third company, I just decided it was time to really pursue this fiction thing. Once I spent some time doing some research and trying to figure out how I was going to do this route, I decided that self-publishing and coming at it from the indie side where I could run it like my own business and have complete creative control was the route that I wanted to go."
What is your most recent book or project?
Here is what Ernie is doing:
"I am working on promoting my latest book SkyNoise. I just finished it up and got it out in December. It is a time travel thriller, if you want to classify it that way. It explores the possibility of time travel. I don't know if you've ever seen the videos out on YouTube. You can go search for "Strange Noises in the Sky" and there's these giant whaling horns that sound like Gabriel's trumpet at the end of the earth. SkyNoise imagines this crazy scenario in which time travel and these horns in the sky are connected. I think it's a lot of fun. The main character, Helen, is a creative, non-fiction author and she gets mixed up with this conspiracy theorist guy, like Mel Gibson in whatever movie that was. He's trying to convince her that this is real and she's in danger and then it goes from there."
He also talked about how he approached trying to do both the writing and promoting at the same time. For any authors struggling to find that balance, you definitely want to listen to this episode.
Don't miss his specific technique that he uses to be more productive.
Can you tell us about a time when you really struggled as an author?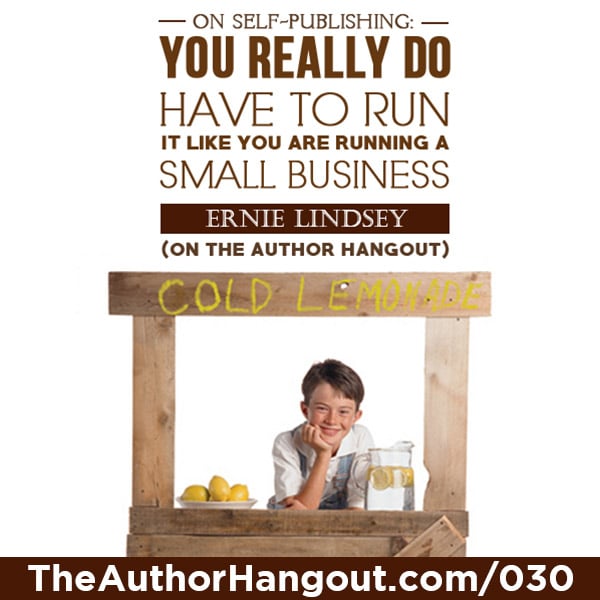 Ernie talks a bit about how he struggles with time management being a new parent, but the time management struggles can be applied to anything: your real job, taking care of aging parents, or anything else going on in your life:
"Our little guy just turned two but when he was first around, there's a major struggle in our household with just finding time to do it. I read something the other day that really stuck with me. There are folks who say, "I would love to write a book. I don't have time. If I could just find time to do it that would be great." The point I read was, "How do you find time to go fishing? How do you find time to sit down and read your favorite book? How do you find time to go to the theater?" The time is there. You just have to carve it out wisely. It's easy to get caught up in, "I have so much to do. I'm just not going to do any of it." I get the feeling that with my writing as a business now, there are always things that need to be updated. Always things that needs to be changed; updating the back matter of your books. It's easy if you create time management goals for yourself like, "I'm going to spend 30 minutes right now instead of playing Candy Crush on my phone. I'm going to spend 30 minutes updating the back matter of two of my books and that's out of the way." This becomes so much easier when you can set goals for yourself and stick to them."
He also stressed this point:
"You really do have to run it like you are running a small business. You allocate your time accordingly and it's good if you're able to be disciplined."
As a self-published author, or even as a traditionally published author, a lot of the marketing falls on you. You need to really run it like a business if you want to sell books and make money like a business.
What one marketing tactic is really working well for you?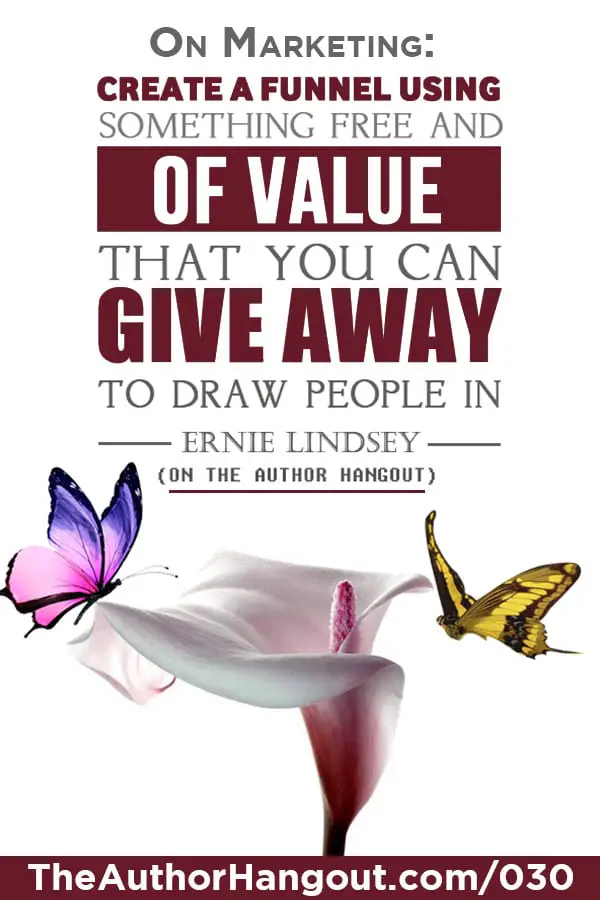 You have probably heard it a lot… that is because this really works:
"It's an evergreen marketing technique. You write a series and make the first one free. Or you create something of value that you as a non-fiction author or if you're a newly started fiction author, you write a novella. You offer something of value that you can draw your audience in with for free and then capture their mailing list; capture their emails for your mailing list. I guess if you boil it down to a three word statement for what this technique is, "Create a funnel." Create a funnel and you draw people in. Have access to their email list; get them on your email list because social media, Facebook has changed the rules where you don't get as much access from your people."
He also talked about how he specifically uses this technique in his own business, so if you are confused about just what to do, then you definitely need to listen to the interview to get tips from Ernie directly.
If you started over today, what 3 things would you tell yourself to help you sell more book?
He shared again about how important building the mailing list is.
He also talked about his own specific career, and how he wishes he would have stuck to a specific genre.
Lastly, he shared one thing he has recently noticed:
"I have this backlist out there, huge backlist that's not doing much because I haven't spent much time promoting it. I'm just been surging forward with always the next book, when I have all these other little units that could be earning while I've been ignoring them."
How can people connect with you?
Here is how you can get in touch with Ernie Lindsey:
"If you want to keep up with me, head over to ernielindsey.com. I have a blog over there. Those horrible cartoons. You can join my mailing list there. Get connected to me with Facebook and Twitter. And send me an email. I love hearing from you guys. It's so much fun hearing from readers. I've been there. I know what you're going through. If you want some help or want to shoot the breeze, send me a note and I'll usually respond faster than I should instead of writing."
Please Leave Us A Review
Just like authors do with their books, we need reviews for our podcast! Reviews for our podcast help other authors to learn about and learn from The Author Hangout. Can you take a moment to leave a review for our podcast? If you don't know how but are willing to leave a review, please go here to learn how to leave a quick review for our podcast. It will only take a minute, but it will help a lot.
Thank you so much!
How To Listen
There are many ways to listen to the show:
Other Episodes
Get caught up on the other episodes of The Author Hangout that you may have missed: