Serious readers live on Goodreads.com, the giant social reading site, and so should serious authors. Goodreads, which was acquired by Amazon in 2013, likely will integrate more with the big retailer this year. That means a new opportunity for authors.
The key to Goodreads for authors, which has had some unfortunate incidents of fake review bots and author bullying, is to establish and maintain a professional and polished author presence. Goodreads gives authors numerous opportunities to build that presence but the site is neither intuitive nor full of handy guides or tutorials. In addition, building your Goodreads author presence is best done on a computer. The site has a suite of apps for tablets and mobile devices but these don't have the same range of options.
Here are my latest hot tips for finding your audience—because first the readers have to find you.
The Basics
On Goodreads, you must first have a member account before creating an Author Profile and claiming your books. Once you have done that, you can find "Edit My Author Profile" from the My Account link under your picture in the top right corner of your screen.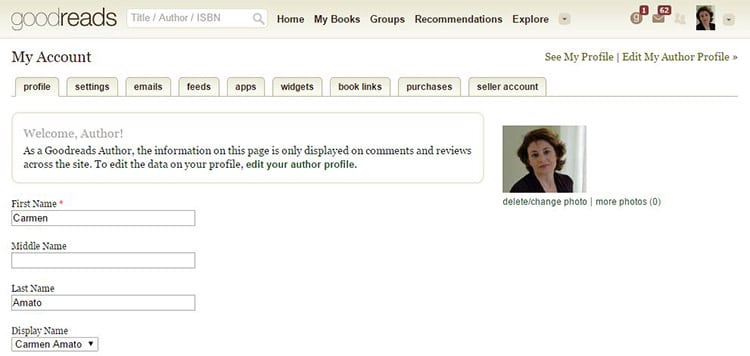 Once your author profile looks right, follow the link on the right to your Author Dashboard.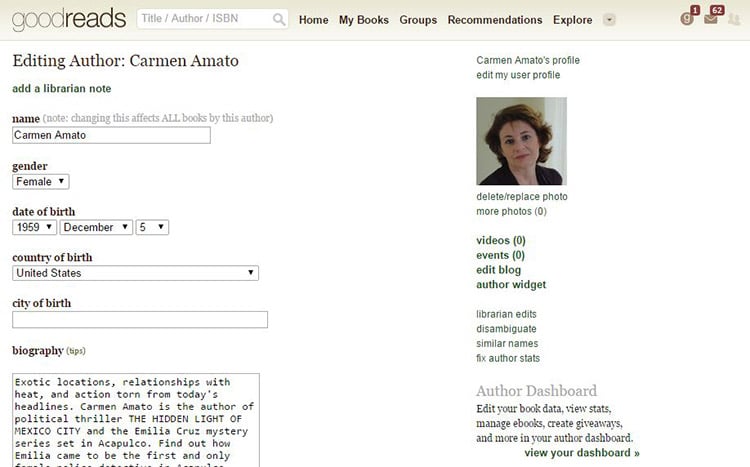 The Author Dashboard is the key to the professional author presence on Goodreads. Make sure to take advantage of every option, because the more you have on offer, the more likely it is that a reader will find you.
The Essentials
Answer reader questions
Goodreads has a set of pre-made questions for you to answer, plus you can salt this easy "interview" with your own question or two. It's a way for you to talk about your writing style, next projects, and inspiration. You can also prime readers by personalizing the message they see when invited to ask a question. Goodreads always has a page of Featured Authors who answer questions, and making it onto that page can really boost your visibility.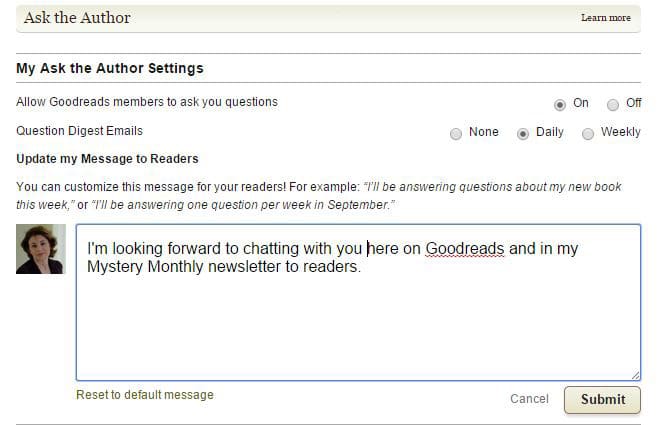 Upload ebooks
Every author can upload 2 ebooks. If your books are published and listed on Goodreads, then Goodreads will prompt you to make your ebook a lengthy excerpt. If your book is enrolled in KDP Select, no more than 10% should be uploaded.
Ebooks get their own space on the Author Profile that readers see and help polish your author presence. They also are included in a separate page of all ebooks where Goodreads ranks them by number of downloads.
Even if your ebooks never rise to the top on the aggregated page, they are a great marketing tool. Publish links to your ebooks on all your social media accounts with the hashtag #goodreads.
Add images
Goodreads gives you two smart places to add images to burnish your author presence: your Author Profile where you can add pictures and videos of yourself doing authorly things like reading, engaging with book clubs, signing copies, raising your glass at a launch party, etc., and the actual book page where you can upload complementary product pictures as long as they aren't additional book covers.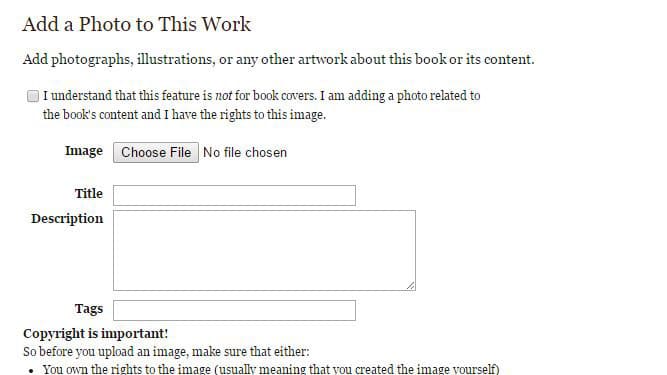 I love this last feature because you can create mini-promos for the books and upload them as images. Be creative with titles and captions. Combine quotes from the books with images that capture the vibe of the story.
Once again, after uploading, call attention to the images by publishing the link on social media sites using #goodreads.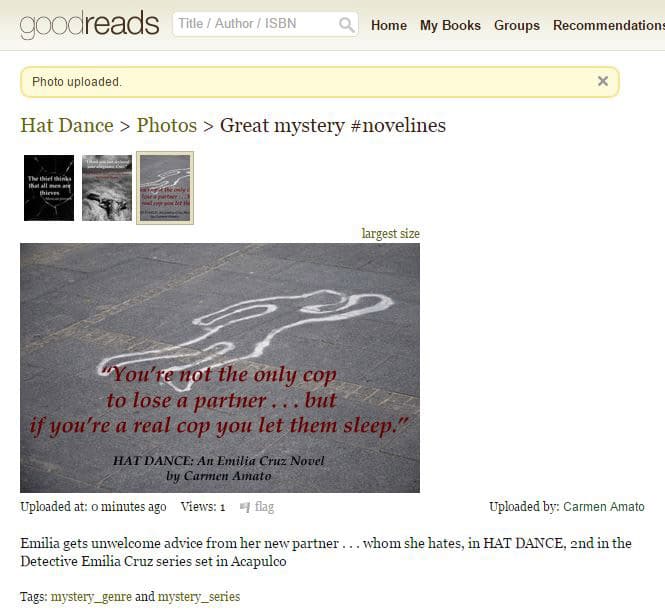 Bonus Tip: Use Your Genre
If your book fits one of the Goodreads genre categories, you can find book lists, groups, and tags used by people who read that genre. I especially like the fact that popular tags are listed on the bottom of the genre page, which you can add when uploading additional images and writing blog posts (you linked your blog to your Author profile, right?!) Here are some examples from the Mystery genre page: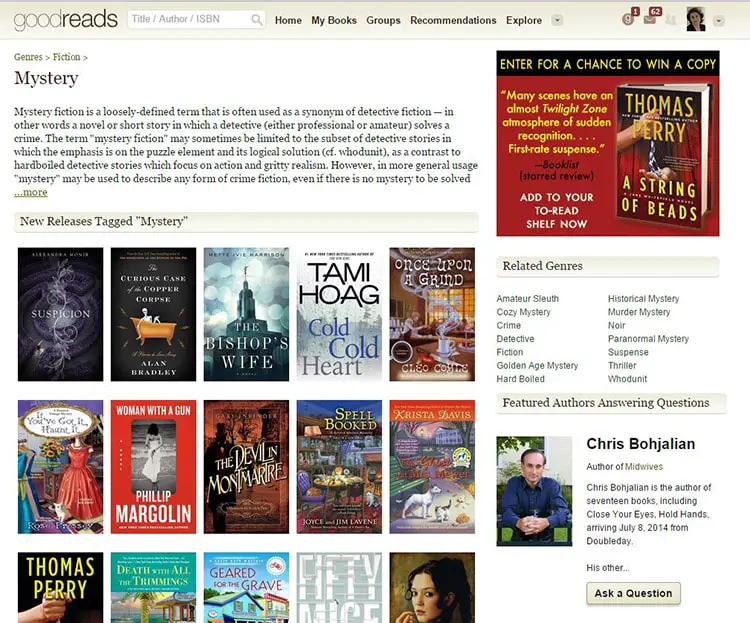 About the author
In addition to political thriller The Hidden Light of Mexico City, Carmen Amato is the author of the Emilia Cruz mystery novels set in Acapulco, including Cliff Diver, Hat Dance, Diablo Nights, and the collection of short stories Made in Acapulco. Her books all draw on her experiences living in Mexico and Central America. Visit her website at carmenamato.net for a free copy of The Beast, the first Emilia Cruz story.