Not so long ago, creating a landing page was a technologically challenging and time-consuming exercise. It was also outrageously expensive, which is not something an author on a shoestring budget wants to hear.
Fortunately, there are now multiple, cost-effective options for building a beautiful landing page with all of the dressing but none of the hassle. Simply follow our guide to create your own.
Step 1: Select a Solution
When it comes to building a landing page, you have three main options.
Option 1:
Hire a professional freelancer or graphic design firm to build and publish your book sales page for you. Besides being the easiest option, it also gives you the ability to create a truly unique reader experience. The downside is that it's likely to consume your entire budget.
Another check in the con column is that you'll need to go through the process of vetting various designers to find someone who's not only qualified and reliable but who's also a right fit for you (hopefully someone who's worked with authors before). After all, bringing your vision to life is no easy feat. You can search online or find freelancers through sites like Upwork, Freelancer.com, and Fiverr.
Option 2: DIY it with WordPress. The truth is that although it might look complicated, you don't need to be a coding genius or a design vanguard to pull together a gorgeous book sales page that captures attention. This option is also far less likely to be a burden on your wallet.
To get a WordPress page set up, you'll need to:
Purchase a relevant domain name (i.e. yourbooktitle.com) and hosting package through a web hosting service like BlueHost.
Install WordPress.org. If you're using Bluehost, you'll find they offer a 1-click installation option. Otherwise, you'll need to do it manually using WordPress's famous 5-minute install tutorial. Once you purchase your domain and hosting package, you'll receive a confirmation email. From there, you can set up a password for your hosting account and log in to install WordPress. When the installation is complete, and you've received your admin login details via email, you can access your dashboard by typing http://www.YourDomainName.com/wp-admin into your search bar and pressing enter. To access the site, simply fill in your admin information and password.
Choose a captivating landing page theme specifically for book sales. You can search via the "Appearance" tab on the left sidebar of your WordPress dashboard, online using relevant search terms, or on sites like Themeforest.net (e.g. Off the Shelf).
Option 3: Use a landing page builder like Booklaunch.io, LeadPages, or OptimizePress. These solutions are a game changer for authors, making the process a piece of cake with pre-built sales page templates for books and drag-and-drop customization anyone can use. Each solution offers different features and pricing options, so you'll need to review each platform based on your individual needs. Most of these solutions are optimized for mobile, so your page will look great on most devices.
Note: One other aspect to consider when deciding on a landing page solution is whether you want to sell directly through your book sales page rather than send visitors to book retailer sites. If so, you'll need to select an e-commerce solution like Shopify, Gumroad, or Woocommerce and then determine whether it can be integrated into your landing page. Configuring integration will depend on the landing page solution you choose, so search for tutorials related your specific platform.
Step 2: Customize Your Page
There's no one-size-fits-all solution for book sales pages, but there are certain sales components that communicate value and contribute to a high-performing page. Besides using evocative and powerful words and phrases, you want to ensure your copy is clear, concise, keyword-rich, targeted to your audience, and easily readable.
You also want to ensure you incorporate the following components:
#1. Your High-Quality Book Cover
Ideally positioned above the fold (i.e. the portion of your page that's visible before scrolling down the page), your eye-catching book cover can make an excellent first impression, keeping readers on the page.
Here's a fiction example from Joanna Penn: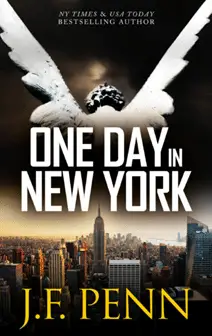 Here's one of her non-fiction examples: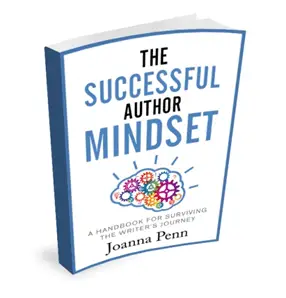 #2. An Attention-Grabbing Headline and Sub-Headline 
While your headline can be the title of your book, you also want to ensure you convey the book's value. If you're a fiction writer, consider using a 1-2 sentence pitch (i.e. your logline). If you're a non-fiction writer, this is where a bullet list of benefits can come in handy as your sub-headline.
In keeping with our examples above, here's what Joanna's headlines and sub-headlines look like…
From One Day in New York:
One Day in New York 
New York is built upon a dark secret. If this knowledge falls into the wrong hands, the city will crumble.
From The Successful Author Mindset:
The Successful Author Mindset. A Handbook for Surviving the Writer's Journey.
Being a writer is not just about typing. It's also about surviving the roller-coaster of the creative journey.
#3. A Compelling Call to Action
Depending on the length of your book page, you really want 2-3 call-to-action buttons positioned at optimal points on the page. One of these should be above the fold, and one of them should be at the end of your sales copy. Make sure the language you use is clear and irresistible—not just on the buttons linked to your shopping cart or retailer product pages, but the copy directly above and below the button, too.
For One Day in New York, a call to action might include copy along the lines of "Order this Action-Packed Page-Turner Now."
For The Successful Author Mindset, a call to action might be "Overcome Your Inner Critic. Order Your Copy Now."
 
#4. Your Book Description
People want to know what the book is about and why they should buy it. Whether it's enticing copy that sets the expectation for a compelling tale or strategic copy that addresses a pain point and offers a solution, your book description is a key element you can't leave out of your sales page structure.
From One Day in New York:
"When a woman is crucified on a burning cross in downtown Manhattan, it marks the beginning of a dangerous crusade. The Confessors seek the powerful relic of a dark angel and they will stop at nothing to get it. 
ARKANE agent Jake Timber is in New York to investigate the eleventh century Cloisters Cross alongside Naomi Locasto, a linguist, when they become entangled in the mystery. 
As his past threatens to overwhelm him, can Jake find the relic of the angel before the Confessors destroy the city?"
From The Successful Author Mindset:
"Self-doubt, fear of failure, the need for validation, perfectionism, writer's block, comparisonitis, overwhelm, and much more. When you're going through these things, it can feel like you're alone. But actually, they are part of the creative process, and every author goes through them too. 
This book collects the mindset issues that writers experience, that I have been through myself over the last nine years, and that perhaps you will experience at different times on the creative journey. 
Each small chapter tackles a possible issue and then offers an antidote, so that you can dip in and out over time. It includes excerpts from my own personal journals as well as quotes from well-known writers. I hope it helps you on the road to becoming a successful author."
#5. Reviews, Testimonials, and Endorsements 
In pursuit of a sale, you'll quickly discover that few things can rival social proof for convincing people to take action. Reviews, testimonials, and endorsements quell your readers' fears, helping them determine whether they'll enjoy a book like yours and putting them at ease over the prospect of handing you their money. Be sure to position reviews and endorsements in prominent places throughout your book's sales page.
When promoting her books, Joanna has a knack for pairing descriptive, interesting, and persuasive reviews with each book's sales copy.
Here are just two of the reviews she's used as social proof for her work…
For One Day in New York:
"As always, Penn brings the reader into the heart of the story and holds them there with a thrilling ride through ancient secrets and mystical possibilities lurking in the modern world. The book was a breathless read that left me hearing only the sounds Penn captured of New York's heartbeat in competition with my own thudding heartbeat as the action intensified. The research was flawless and matched only by the author's imagination–a beautiful combination." – Maryann Madsen
For The Successful Author Mindset:
"… many passages of this book felt like [Joanna] was speaking directly to my soul – to that place inside every writer that is vulnerable and sensitive … This book reaches out to that part, gives it a hug and tells it to not be afraid." – Nataliya, Amazon Review
#6. A Well-Produced Book Trailer 
While not a necessity, a book trailer can add a wonderful visual component to your sales page and create intrigue and excitement around your book. If you have one, be sure to include it.
Here are some of the most-viewed book trailers to inspire you…
Fiction examples:
Non-fiction examples:
#7. Your Author Bio 
A short, engaging bio can help people relate to you and your work. By offering relevant details about your life, career, or family, readers have an opportunity to qualify you, get to know a personal side of you, and see that you're human just like them. Try to keep the focus on why you write and what your book can do for the reader.
Since Joanna is both a fiction and non-fiction author, she has masterfully created two distinctive bios.
For J.F. Penn (her fiction penname):
J.F.Penn is the New York Times and USA Today bestselling author of the ARKANE supernatural thrillers and London Psychic crime series. Her books weave together ancient artifacts, relics of power, international locations and adventure at the edges of faith. Joanna lives in Bath, England and enjoys a nice G&T.
For Joanna Penn:
J.F.Penn is the New York Times and USA Today bestselling author of thrillers on the edge, as well as bestselling non-fiction for authors published under Joanna Penn. Joanna's site for writers, TheCreativePenn.com has been voted one of the Top 10 sites for writers three years running. She is a professional speaker on creative entrepreneurship, digital publishing and internet marketing, and was voted one of The Guardian UK Top 100 creative professionals 2013.
#8. A Sneak Peek, Free Chapter Download, or Excerpt from the Book
Most people like to try before they buy, so including a sneak peek or preview can help set your book apart and demonstrate to readers why it's unique. Consider that readers in brick-and-mortar bookstores have an opportunity to hold a book, page through it, and get a feel for the value they're getting. It's not so easy in an online environment when your book is digital. Even Amazon has a "Look Inside" program because they know how effective it is for nailing the sale.
In addition to these items, don't forget to include publishing date details if your book isn't yet available. If you're offering a pre-order special, guarantee, or bonus, then you'll definitely want to make that clear, too. These promises can increase value while decreasing fear, helping you persuade your visitors to take action. Ultimately, everything on your page should be geared towards one outcome: a sale.
Step 3: Publish Your Page
Depending on the solution you choose, these pages can live in several places. These include:
The default dedicated URL provided by the service you're using (e.g. booklaunch.io/username/book-title)
A custom domain you purchase through a web hosting company
A subdomain on your author website (if you have one)
Your WordPress site
A Facebook Fan Page as a tab
To publish the page up on anything other than the default URL provided to you, you'll need to check out your service provider's instructions. Ideally, you'll purchase a custom domain no matter how you choose to build your landing page.
Step 4: Track Your Page's Analytics
As mentioned before, landing pages gather loads of data that can tell you how well the page is performing. Most landing page builders have analytics built right into their toolset, so you don't have to worry about taking any further steps. However, you'll need to install Google Analytics if you've chosen to create a landing page on a WordPress website without the help of one of these tools.
Once you're set up, it's time to promote!
How to Promote Your Book Sales Page
The great thing about having a book sales page is that you can place the link almost anywhere. The more points of contact you have, the better your chances are of driving targeted traffic to the page. Your link should always accompany a relevant call to action that entices people to click.
Not sure where to promote it?
Here are some ideas:
Add a link to your email signature.
Include a link in a P.S. at the end of emails (e.g. S. Love a good romance book with a happily ever after? Check out my latest romcom here: [Insert link]).
Add a link to your newsletter if you have one.
Include a link to the sales page in blog posts and articles you write. Make sure that it fits in naturally with the topic you're covering.
Add a link to your author bios.
Add a link to your social media profiles.
Add a link to any relevant forum signatures you might have.
Use a link to your book sales page in any relevant paid advertising campaigns you run.
Promote the page in social media posts.
Create images that include the link for your page.
Add a link to promotional materials.
Share the link during interviews, speaking engagements, and conferences.
Encourage others to share the page.
Add the link to the back matter of future books so that you keep the momentum of this one going. 
Ultimately, a highly targeted and focused sales page can bring a single book to life and convince people to buy it. It can broaden opportunities for your target audience to find you via search engines, create a better user experience for visitors, and create opportunities for people to easily share it. A book sales page is not only a shortcut for authors who are ready to launch without a website, but it's also an asset to those who want to build buzz for their upcoming release. If you already have an author website, you can apply many of these same principles to design a dedicated page on a subdomain.
Now it's over to you…
Have you been using book sales pages for launches? If so, we'd love to hear your take on the topic, so drop us a line in the comment box below. If you have a question, feel free to let us know and we'll do our best to get you an answer. You can also download our free book launch success checklist to ensure you don't miss a beat for your book launches.