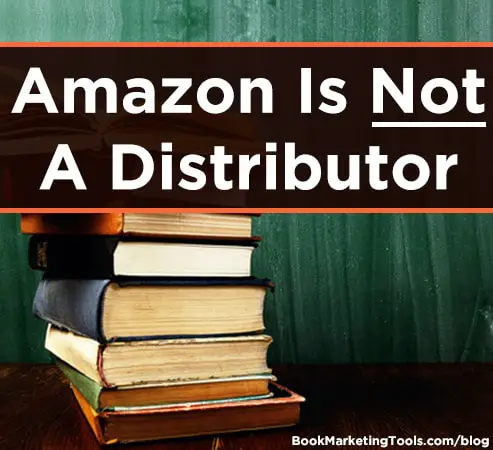 The learning curve to publishing a book is steep. First there is the craft of writing good prose, then one must learn the finer points of book design, and after that, one is faced with acquiring knowledge of book formats and choosing a printer. Finally, learning how to promote and market a book and understanding the book-selling industry is an education in and of itself.
Too often, I find that understanding the book-selling industry is one area many independently published authors neglect in their book publishing education.  Often these authors will tell me that Amazon is the distributor for their book.
Does Walmart buy books from Target to sell in their stores? Does Barnes & Noble buy books from Books-A-Million to sell in their stores? Of course not. If one retailer bought product from another retailer, they would not make a profit and would go under.
If you asked bookstore owners and managers who their biggest competitor is, many would say Amazon. That's right. Amazon is a bookstore. It happens to be the largest bookstore in terms of sales in the United States. It is not a distributor.
Yet, so many independently-published authors seem to think that Amazon is a distributor. When I ask authors to list their distributor, many say Amazon. Why would a bookstore buy books from their largest competitor? That would simply help Amazon grow bigger and put the bookstore out of business.
Bookstores buy books from distributors, not their competition. Distributors sell books to bookstores at a discount, usually at 40 to 45 percent off the retail price. The bookstore then sells the book for the full retail price, keeping this 40 to 45 percent of retail price as their profit.
The larger distributors (and wholesalers) that bookstores buy books from are:
Ingram
Baker & Taylor
IPG
BookMasters
There are also a myriad of smaller distributors around the country. Getting a bookstore to stock an independently published title is an uphill battle to start with. Bookstores do not want to purchase a book directly from an author to sell in their store. It is too much work in terms of accounting for them. Instead, they prefer to place large orders with one company—a distributor. So, unless your book is listed with a major distributor, you often don't have a prayer of having bookstores stock your title.
Bookstores do not buy books from Amazon. Although, in some cases, they will resort to purchasing a book directly from the publisher or author if a customer has asked the store to special order a book that is not listed in the distributor's database that the bookstore uses.
Fortunately, it is easy to obtain distribution through Ingram for your book if you use one of the following book publishing services: CreateSpace, IngramSpark, or Lightning Source, Inc.  CreateSpace offers free expanded distribution, which means that when you sign up for this service your book will be placed in Ingram. IngramSpark and Lightning Source both offer distribution via Ingram for a fee of just $12 per year. Having your book listed with Ingram means that any bookstore is able to order your book.
If you are an independently published author and someone asks you who distributes your book, don't say Amazon. That is where consumers buy books, not retailers. Get your book listed with a distributor so that you can answer the question correctly.
Sarah Bolme is the author of the award-winning Your Guide to Marketing Books in the Christian Marketplace (www.marketingchristianbooks.com), now in its third edition. As the Director of Christian Small Publishers Association (www.christianpublishers.net) she helps independent authors and small publishers market their books in the Christian marketplace.